If you are wondering how to heal your super-dry skin, you've come to the right place.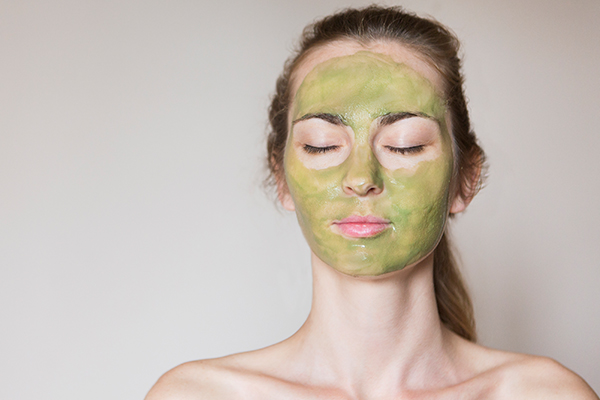 Aloe vera and green tea can be a marvel for your dry and dull skin. When mixed in humble amounts, they can bestow their healing effects on dry skin.
Aloe vera is a boon for dry skin as it is a natural astringent (a drug that can tighten surfaces by altering cell protein) and humectant (a substance that retains and preserves moisture).
Moreover, aloe vera has antiaging, anti-inflammatory, and antioxidant properties, making it your best shot at healing dry and dull-looking skin. (1)
Green tea contains moisturizing and anti-inflammatory properties and has a plethora of antioxidants. Applying green tea to aging skin can reduce wrinkles and fine lines and improve dry skin. (2)
The fusion of green tea and aloe vera makes an unstoppable duo. Along with providing hydration, they also make your skin smooth, supple, and healthy looking.
Read further to uncover the perks of using aloe vera and green tea and say goodbye to dry skin.
How Can a Mixture of Aloe Vera and Green Tea Improve Dry Skin?
The mixture of green tea and aloe vera can satisfy dry skin in the following ways:
1. It moisturizes the skin
Green tea and aloe vera are good moisturizing agents for dry skin.
Green tea hydrates and moisturizes the skin; it has been used in moisturizing creams recently. (3)(4)
Aloe vera improves the skin barrier function and elevates skin hydration. A humectant, aloe vera is an excellent moisturizing agent for dull-looking and dry skin. It contains mucopolysaccharides (heparin and hyaluronic acid) and other elements that are great for binding skin moisture. (5)
2. It reduces UV-induced damage
Green tea and aloe vera can help reduce UV-induced damage.
Green tea contains chemicals that prevent skin cancer and other problems brought on by extreme sun exposure. It also reduces sunburn and the risk of getting sun tan, and it prevents the skin from aging fast. (6)
3. It helps calm inflamed skin
Green tea and aloe vera can help calm inflamed skin.
Green tea has anti-inflammatory properties (9) that aid in reducing redness, skin irritation, and swelling. Its topical application is beneficial for dermatitis (a condition that makes skin red, sore, or swollen), rosacea (a condition that manifests as small, red, pus-filled bumps and causes redness), and psoriasis (a condition that causes an itchy rash with scaly patches). (10)
4. It slows skin aging
Green tea and aloe vera can aid in slowing down skin aging.
Green tea contains polyphenols that have antiaging effects on the skin and reduce wrinkles and fine lines. (12)(13) The leaves of green tea rejuvenate the skin, improve blood circulation, and restore skin elasticity. (14)
Aloe vera is a great antiaging agent. It makes your skin smooth and young looking by stimulating the skin cells to produce elastin and collagen. Collagen and elastin reduce wrinkles and makes the skin more flexible and less likely to sag. They allow your skin cells to stick together, making your skin smooth and soft and reducing wrinkles. (5)
It is clear from the above-mentioned properties that a green tea and aloe vera blend can treat dry skin issues.
How to Use Green Tea and Aloe Vera to Tackle Dry Skin
You can use green tea and aloe vera for dry skin as follows:
As a toner for dry skin
Take a cup of hot water and steep green tea bags in it for about 5 minutes. Remove the tea bags after the water cools down.
To 1 cup of green tea, add 1 teaspoon of aloe vera gel, and mix until no lumps of aloe are left.
Pour the concoction into a spray bottle or a glass jar.
Apply this toner either by spraying it on your freshly washed face and neck. You may also dampen a cotton pad with the toner and gently rub it onto your skin.
Apply a face oil or natural moisturizer as needed.
As a face mask for dry skin
To prepare this green tea and aloe vera mask, you may additionally use lavender oil.
Lavender oil promotes skin healing and soothes the skin. (15)
Mix 1 tablespoon of green tea powder and 1 tablespoon of aloe vera gel. You can add 2–3 drops of lavender oil to the mixture.
To open up your pores and achieve better results, cleanse your face with warm water.
Put the mask on. Allow it to sit for 15–20 minutes or until it's dry.
Wash off the mask with warm water and put on a moisturizing cream.
Additional Tips to Improve Dry Skin Naturally
If you want to heal your dry skin and prevent the dryness from coming back, follow these tips recommended by dermatologists:
Put on a moisturizer right after washing your face.
Instead of a lotion, use a cream or an ointment as they are more effective and less irritating on the skin.
Look for an ointment or cream containing either one or more of the following ingredients: glycerine, dimethicone, jojoba oil, lactic acid, hyaluronic acid, mineral oil, lanolin, shea butter, and petrolatum.
Always use gentle and fragrance-free skin care products, as scented products such as deodorant soaps can be harsh for sensitive and dry skin. (16)
How Do I Do a Patch Test to Know Whether My Skin Is Dry?
Take a sheet of blotting paper and pat it on different regions of your face gently. To find the visibility of the oil, lift the sheet to the light. If there is little or no oil on the sheet, your skin is most likely dry.
Final Word
Aloe vera and green tea are highly beneficial ingredients that can help maintain the suppleness and elasticity of the skin. Include them in your daytime and nighttime skin care routine and see the difference for yourself.