Braiding dates back to as far as 500 BC and is still thought to be the most popular form of hairstyle. (1)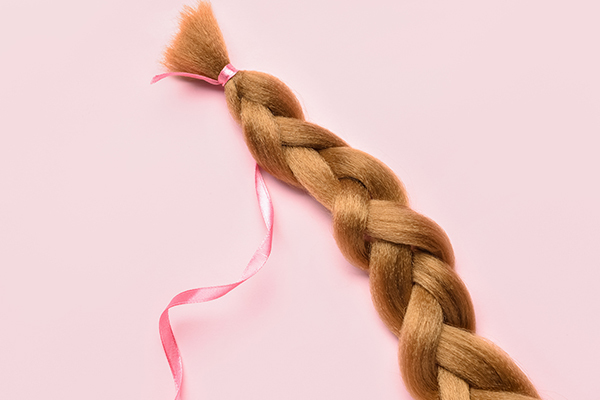 As suggested in a study by the American Academy of Dermatology, you should style your hair only when it is dry. (2) Hair extensions, twists, and braids are usually done on dry hair.
You can towel-dry your hair if it is wet before braiding as wet hair is fragile and breaks off easily. (2) Moreover, you can get silky smooth hair if you switch to proper drying methods.
Therefore, when it comes to braiding, drying your hair first is your safest bet.
Note of caution: Do not tug your hair too hard and be gentle if you must braid while your hair is wet.
Read below to know more about hair braiding in depth.
Why You Should Braid Your Hair Only When Dry
Here are the reasons to braid your hair dry:
Dry hair is easy to manipulate as it does not involve gathering and wrapping breakable wet strands. Braiding dry hair gives an overall pleasant feeling.
When the hair is in a dry state, it is at its strongest state and allows for a stronger hold while braiding. The hair will now stay in its new shape as compared to the hair structure in wet condition, because certain changes occur in hair structure between chemical bonds of hair during wet and dry condition and the changes in the protein structure of the hair during dry condition allows for a stronger hold without any kind of damage. (3)
Researchers also state that you should not comb while your hair is wet. Comb your hair when it is a bit dry and use a wide-toothed comb. (4)
Why You Should Not Braid Your Hair When Wet
Here are the reasons not to braid your hair when it is still wet:
1. Hair is weak when wet
The hair shaft is more prone to swelling and damage when the hair is wet.
According to research, around 45% of water is absorbed by the hair, elevating its weight by 12%–18%, making hair heavier and weaker and causing swelling of the hair shaft (the part of the hair that is visible) and hair is more sticky and stretchy sticking out of the skin and thus the hair becomes susceptible to damage due to this. (5)
2. Combing and braiding wet hair lead to breakage
Hydrogen and disulfide bonds hold the protein structure of the hair together.
Researchers state that the bond between hydrogen and water is weak (6) and the keratin protein of the hair gets altered a bit when hair is wet. (3) These changes in the properties of the hair when it is wet can lead to more breakage, especially the long segment of the hair. (7)
3. Combing force is higher in wet hair
Combing wet hair stretches dull and tangled hair to its breaking point. Thus, the combing force is high when braiding wet hair, which leads to more breakage. (8)
4. Pulling and stretching wet hair cause damage
Your hair gets stretched when you comb it while still wet, and this leads up to 80% of hair breakage. (8)
5. The inner layer of wet hair is exposed to water and other substances
When you comb or braid wet hair, you expose its inner layer to water and other substances, which can lead to the breaking, cracking, or removal of cuticle scales, making the hair vulnerable and weak.
This eventually affects the look and shape of your hair fibers. (9)
6. Wet hair braiding leads to bad odor
One of the main contributors to the musky smell of braids is braiding while the hair is wet. It happens because sweat gets caught in the scalp, and when you tie your hair, there is no place for it to escape.
If you do not dry your hair appropriately, a mildew scent arises from wet braids. Just like damp clothes, wet braids have a lingering smell.
It can be concluded that braiding is advisable when the hair is already dry, as compared to wet hair, as it is strongest in a dry state and weakest in a wet state.
What Is the Correct Way to Braid Hair?
To correctly braid hair, follow these tips:
Spray dry shampoo on both roots and lengths of the hair when braiding.
Use a comb with fine teeth to gently comb your hair.
You can create a rope braid with two strands if you find three-strand braids difficult.
Twist two sections of the hair and join them together by twisting in the opposite direction. Use a clear rubber band (they are fine and thin and look like there's nothing there) to tie up the braid in the end.
Some Points to Keep in Mind to Maintain Hair Braiding
Leave out your edges when braiding your hair. If you want to style the edges, you can use an edge control balm.
Generally, avoid the up-dos when braid styling, but if you do prefer up-dos, you can gently loosen the ends of frontal hairline braids as it decreases tension after you tie your hair in place.
If you experience pain or a stinging feeling, ask your stylist to loosen up your braid as this may give rise to traction alopecia (hair loss caused by repetitive tension on the hair). Braids that are very tight pull the hair from the roots, resulting in damage and hair fall. (10)
Do not do one hairstyle daily for more than 2–4 weeks. Keep changing your hairstyles to reduce any breakage. Moisturize along the frontal hairline. You can consider twists instead of braids. Avoid repetitive patterns that cause tension on the hair, and take breaks between cornrows and braids.
To protect your hairline and hair, use a velvet wig band or satin wig cap. Avoid the usage of nylon and cotton as they absorb moisture and cause friction. (11)
Do Frequent Braiding Cause Hair Damage?
According to a study done in 2021, women who braid their hair frequently (more than 8 times a year) have thinner hair with more cuticle damage and weaker hair fibers, as evaluated by tensile testing.
Braiding requires combing of the hair, and 480 strokes of combing caused more damage to the cuticles than frequent braiding, as stated by the study. (12)
Is it Advisable to Moisturize Your Scalp With Oil Prior to Braiding?
If you want your hair to stay hydrated for the entire time your braids are in, moisturize your hair well before braiding. Using products rich in natural ingredients that offer deep nourishment such as argan oil, coconut oil, castor oil, and olive oil is recommended by experts. (13)
Final Word
Braiding when your hair is dry has more positive effects than braiding while they are still wet. If you braid your hair wet, there is a risk of damage and breakage. Therefore, the drier your hair, the safer it is to braid.