Yes, you can blend both coffee and shampoo to nourish your hair. You can even buy hair care products such as shampoo, serums, and masks containing coffee extract.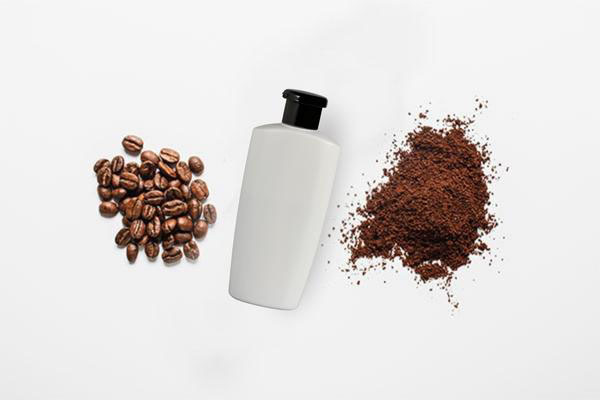 Coffee improves mood, energizes the body, lightens skin tone, and can help you achieve your hair goals. When mixed with other hair-beneficial ingredients, coffee can bring life to your tresses and stimulate hair growth.
Moreover, research suggests that coffee accelerates hair growth, strengthens hair strands, and improves hair quality. In addition, it prevents hair loss and makes your hair shiny and smooth.
Coffee contains more than 1,000 bioactive compounds, three of which provide therapeutic antioxidant, anti-inflammatory, and anticancer effects that reduce various skin disorders. Its main compounds are caffeine, chlorogenic acids, diterpenes, cafestol, and kahweol. The biochemistry of coffee is used extensively everywhere. (1)
How Much Coffee Should You Add to Your Shampoo?
Take ½ tablespoon of coffee powder.
Take 4–5 tablespoons of shampoo.
Mix the shampoo and coffee powder and give the mixture a nice whisk.
Moisten your hair with water, and apply the mask to your hair.
Wait for 2–3 minutes, and then rinse your hair with lukewarm water.
Does Coffee Improve Hair Health?
Many countries are addicted to coffee, including the United States, Spain, Italy, and Norway. Coffee is loaded with antioxidants and phenolic compounds that reduce the signs of aging.
Coffee also contains chlorogenic acid, a potent antioxidant compound that reduces fine lines, wrinkles, sagging, and dark spots. The antioxidant activity of coffee depends on its chemical ingredients. (2)
A small study published in 2012 pointed out that when coffee is applied with shampoo for 2 minutes, the follicular penetration of coffee spikes the growth of hair follicles.
The main effect of the topical application of caffeine is improving androgenetic alopecia, which is attributed to the inhibition of phosphodiesterase that leads to enhanced barrier function, follicular penetration, stimulation, and hair growth. It is a potent adjuvant that can help treat androgenetic alopecia.
However, more studies still need to be done to confirm caffeine's role in managing androgenetic alopecia. (3)
Reasons to Add Coffee to Shampoo
Here are some benefits of coffee when added to shampoo.
1. Promotes hair growth
The body goes through wear and tear, and so does the hair. Over time, poor lifestyle, unhealthy habits, and hard water can take control of your mane and inhibit hair growth.
Caffeine exfoliates the scalp and promotes hair growth. (4) It also stimulates the hair follicle when applied to the scalp (5) and treats baldness and hair loss. (6) Moreover, caffeine blocks dihydrotestosterone (DHT) buildup.
One of the essential components of hair growth is testosterone, and DHT is its by-product. (5) DHT is further broken down, leading to hair growth. However, when enzymes lose their ability to break DHT down, it accumulates.
The buildup of DHT damages the hair cells, weakening the hair follicles. Caffeine blocks the DHT buildup, which enables the hair cells to function.
2. Improves blood flow
Caffeine stimulates blood flow through the scalp and boosts hair growth. (7)(8) Hence, adding coffee powder to the shampoo will make your hair grow faster.
3. Maintains the pH level of the scalp
The pH level of your hair is 3.67, while the scalp is 5.5 and is acidic. (9) The acidity present in coffee rebalances the pH level of the hair and scalp. (10)
4. Exfoliates the scalp
Coffee powder acts as an exfoliant too. (11) A coffee mask could be your best bet if your hair looks greasy.
Coffee grounds are abrasive cleaners and remove dead skin cells. A homemade coffee mask will exfoliate the scalp. Moreover, its high acidic content maintains the pH levels of the hair.
You can use gentle coffee scrubs to get rid of the dead cells on the scalp.
5. Improves hair texture
Brittle and dry hair can lead to a bad hair day; thus, many people turn to hair conditioners to revive the appearance of their tresses.
One treatment that can restore your hair's luster is the application of a coffee hair mask, which is rich in flavonoids (antioxidants that promote growth). As a result, the hair shaft becomes manageable and easy to detangle.
Additionally, caffeine does not strip the hair of its natural oil but helps lock in moisture to create a luscious sheen. (12)
Does Washing Hair With Coffee Makes Hair Look Dark?
No, the tint only lasts for 3 weeks. If you wash your hair frequently, the color will last a week. However, washing your hair less regularly could extend the coffee tint for 2–3 weeks.
Note that coffee is not like a chemical hair dye, so it is not as powerful, but the coffee tint will come out a bit more with every wash using coffee.
General Queries Related to Coffee for Hair Health
Does caffeine in shampoo get absorbed into the bloodstream?
The caffeine available in cosmetic products is absorbed through the skin; it increases blood pressure. But for caffeinated shampoo, the amount absorbed is minimal. (8)
Is the topical application a better alternative to oral consumption?
Yes, topical application of coffee is better for your hair as it lets you use a higher dosage without any side effects than when you drink or consume coffee.
Will drinking coffee result in luscious hair?
Constant consumption of coffee will not lend you luscious locks and healthy hair, and ingesting too much coffee can even cause serious problems. Topically applying caffeine-containing hair products is the best way to add shine to your tresses.
Are there any side effects of using coffee on hair?
Applying too much coffee can backfire too. So, use it as per the instruction given above.
Can you put coffee in a shampoo?
Yes, you can blend both ingredients to strengthen your hair locks.
Final Word
Coffee has the potential to improve the health of your tresses. It reduces hair loss, promotes growth, eliminates gray hair, and offers other health benefits.
Whether you use DIY coffee hair masks or caffeine-containing hair products, it may take time to achieve your desired results. Just remember to consider your hair type when using coffee as a hair treatment.