Niacinamide is a popular active ingredient in skin care and one of the most widely used in the industry today. Niacinamide (also known as nicotinamide) is a form of vitamin B3 that is available over the counter and has numerous health benefits.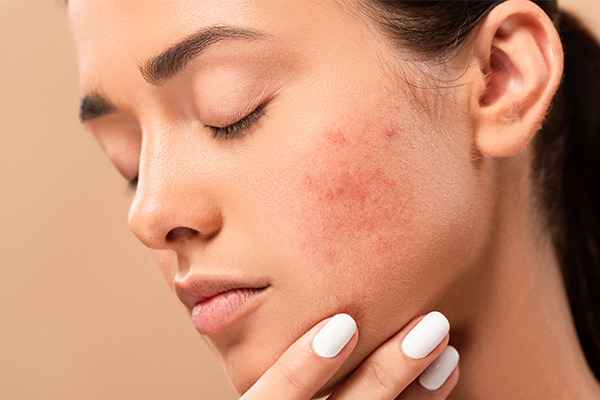 It has been reported that niacinamide reduces sebum (oil) secretion, (1) which suggests that it may be effective in treating both acute acne vulgaris and its complications, such as pigmentation changes. (2)
Excessive production of sebum makes the skin oily and shiny and the pores enlarged and more visible. It also makes the skin prone to acne. (3)(4)
Acne is a major skin issue for oily skin, and it is characterized by the development of blackheads, whiteheads, comedones, papules, pustules, nodules, and cysts on the face. (5)
The vitamin B3 amide niacinamide (NIA) is a crucial ingredient in many topical treatments. Aside from its antimicrobial properties, it also has photoprotective, illuminating, antipruritic (itchy skin), and antioxidant properties. (2) Thus, it can be deduced that niacinamide benefits oily, acne-prone skin.
How Does Niacinamide Benefit Oily, Acne-Prone Skin?
Niacin (vitamin B3) exists in two forms, niacinamide and nicotinic acid, both of which have applications in cosmetics. (6)
An international team of researchers found that a topical niacinamide solution of 4% significantly reduced acne severity.
Researchers in 2010 and 2020 came to the same conclusion: a gel containing 4% niacinamide was effective and safe for treating mild to moderate acne, with an especially notable reduction in pustules (a small blister or pimple on the skin containing pus). (7)
Results showed that niacinamide gel, which treats acne via an anti-inflammatory mechanism of action, is as effective as topical clindamycin. (8)(1)
All forms of acne benefit from niacinamide's anti-inflammatory properties. (7)
1. Niacinamide decreases sebum secretion
Niacinamide works on oily, acne-prone skin by inhibiting triglyceride synthesis by 20–50%. This is achieved by curbing the triglyceride synthesis enzyme. (9)
Triglyceride is the main component of oily skin. Large amounts of triglycerides and fatty acids are found in sebum. (10) This finding was corroborated by at least one study. (2)
2. Niacinamide fades away hyperpigmentation
Acne is triggered by oily skin, and acne causes scarring and discoloration. (11)
A human study showed that niacinamide significantly reduced hyperpigmentation. (12) Niacinamide, when used in conjunction with sunscreen daily, was found to be more effective (13) in reducing hyperpigmentation and increasing the lightness of basal skin color than sunscreen alone. (13)
When used at a concentration of 2%, niacinamide has been shown in clinical trials to significantly reduce the total area of hyperpigmentation and increase skin color lightness. When applied topically, niacinamide helped diminish acne-related hyperpigmentation, redness, wrinkles, and yellowing. (14)
Topical 2–3% niacinamide alone or in combination with N-acetyl glucosamine prevented further hyperpigmentation, according to a study published in 2010. (15)
3. Niacinamide reduces oil production and inflammation
The oil-reducing and anti-inflammatory properties of niacinamide help to lessen the flushing of the face that comes with acne. (15) There is also evidence that niacinamide can effectively shrink pores. (16)
Moreover, its anti-inflammatory properties help reduce acne's severity and the number of lesions, thereby lowering the risk of post-inflammatory hyperpigmentation (PIH) and other types of hyperpigmentation.
4. Niacinamide offers long-term defense against bacteria
Bacteria can aggravate acne by causing inflammation and infection. Niacinamide inhibits the growth of bacteria.
The bacterial load of P. acnes can be reduced with the help of antibacterial adhesive agents (ABAs), which have been shown to have antiproliferative, anti-adhesive, and anti-biofilm properties. Antibacterial and anti-inflammatory actions to decrease sebum, dryness, irritation, and photosensitivity are just a few of the etiopathogenic properties attributed to these agents.
Moreover, in one study, niacinamide greatly enhanced the antimicrobial response of the skin and killed bacteria (E. coli and S. aureus) in just 6 hours. (17)
Can Niacinamide Be Taken Orally?
Acne vulgaris can be effectively treated with 600–750 mg of niacinamide taken orally once to four times daily. (2)
Home Remedies DIY for Oily, Acne-Prone Skin
Honey for oily, acne-prone skin
Honey's antibacterial properties create unfavorable pH conditions for bacterial growth. Moreover, its natural ability to produce hydrogen peroxide makes it an effective antibiotic that can be used to kill bacteria and eliminate acne.
Additionally, honey has antioxidants that can neutralize harmful free radicals. (18) It also has anti-inflammatory properties that lessen acne redness.
How to use:
Put 1 tablespoon of raw honey in a bowl.
Use your fingertips to apply a thin layer of raw honey to your skin.
Wait for 15 minutes before rinsing off the honey with water.
Oatmeal mask for oily, acne-prone skin
To combat oily skin and breakouts, try an oatmeal mask. It works well by soaking up the excess sebum. Acne sufferers can benefit from oatmeal's natural anti-inflammatory, antimicrobial, and antioxidant properties.
How to use:
Mix ½ cup of ground oats with hot water to form a paste.
Add 1 tablespoon of honey. Give everything a good stir.
Rub this oatmeal mask on your face and neck for 2–3 minutes, massaging the entire time gently.
Use lukewarm water to wash it off, and then pat your skin dry with a soft towel.
General Queries Related to Niacinamide for Oily, Acne-Prone Skin
Can anyone use niacinamide?
Niacinamide is a great ingredient that helps people of all skin types. It helps keep your skin's natural barrier strong and healthy (6) while treating oily skin, fine lines, and wrinkles.
A safe and effective treatment for acne, niacinamide can be used by people with any skin type, though it may cause flushing or irritation in some people. This is usually the result of using high doses or mixing it with actives (which can cause flushing).
If you are unfamiliar with niacinamide or have sensitive or reactive skin, you should test out a lower concentration first to see how your skin reacts.
What causes the skin to produce more sebum?
Increases in sebum production have been linked to both dietary fat and carbohydrates. Carbohydrate-rich foods include bread, beans, milk, popcorn, potatoes, cookies, spaghetti, soft drinks, corn, and cherry pie.
Some studies even show that the type of carbohydrate consumed can affect sebum composition. (19)
What are the food sources of niacinamide?
Niacinamide can be found in many foods, including fish, mushrooms, and nuts.
Final Word
Niacinamide applied topically has been shown to control sebum production in the skin. It has properties that are useful in managing acne. (20)
Niacinamide aids in keeping the skin moist, but it can also make the skin dry. This results in drier skin, smaller-looking pores, and the absence of acne because the pores are not being clogged by excess sebum.