Baking soda works effectively to lighten hair color and is used by many people for this purpose. Baking soda is a good scrubbing agent and thus cleans your hair effectively. However, there are chances that it can shed off your natural hair color slowly and simultaneously damage the hair quality.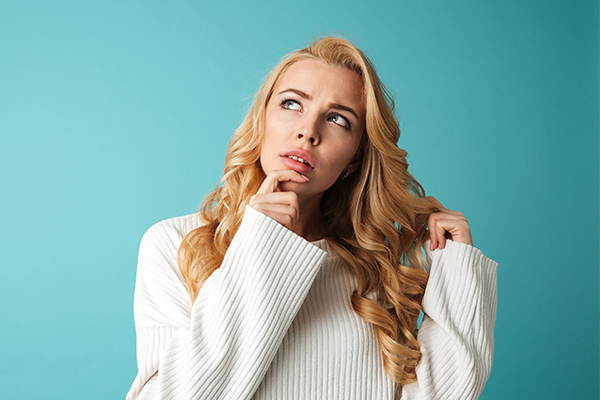 Baking soda, or sodium bicarbonate, is a chemical compound that contains sodium (Na+) and bicarbonate (HCO3-). It is water-soluble and is popularly used as an additive in foods, mineral water, and medicine. (1)(2)
Moreover, baking soda is a popular cleaner widely used to keep things and the environment clean. It is also used to lighten hair and remove stains.
Baking soda can work effectively as a hair lightener and remove hair dyes.
Ways to Remove Permanent Hair Dyes With Baking Soda
Here are various methods to remove permanent hair dyes using baking soda.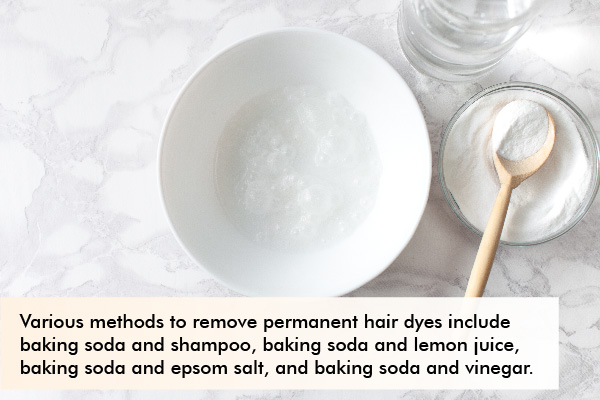 1. Baking soda and shampoo
How to use:
Gently mix equal parts of shampoo (3) and baking soda in a bowl. You can mix them even in the palm of your hand, and the ratio can be slightly different.
Coat your strands from roots to ends with the mixture.
Allow the mixture to soak. The shampoo and baking soda will require a little time to penetrate the strands and act as a dye. Leave it on your hair for 5–7 minutes.
Rinse your hair thoroughly. While rinsing your hair, you can see that your hair color is becoming lighter.
You can apply the mixture several times as needed. It works effectively when you have dyed your hair recently rather than several months ago.
2. Baking soda and lemon juice
Lemons contain strong bleaching properties (4) that help lighten hair color. When lemon juice is mixed with baking soda, it helps to lighten your hair and remove any permanent hair dye in it.
How to use:
Mix 2 tablespoons of lemon juice and 2 tablespoons of baking soda in a bowl till it becomes a smooth mixture.
Gently apply this mixture to your colored hair.
Leave it on your hair for 15–20 minutes.
Carefully wash your hair with shampoo and conditioner.
Repeat the process for 3–4 successive days.
3. Baking soda and Epsom salt
Epsom salt is another effective means of reducing the color of your hair, though there is no scientific evidence that supports this remedy.
How to use:
Mix 1 tablespoon of baking soda, 1 tablespoon of Epsom salt, and 1 cup of water in a bowl.
Soak your hair with the mixture and let it rest for around 20 minutes.
Repeat the process for 3–4 consecutive days.
4. Baking soda and vinegar
Vinegar and baking soda are considered effective cleaning agents for stains and dirt in place of harsh chemical-based cleaners.
The acidic pH of vinegar (5) allows it to penetrate the hair shaft and release the bonds with the artificial hair dye inside and on your strands. Its low pH of 2.5 is well suited for hair with a pH of 3.6 compared to alkaline ingredients such as baking soda.
Allow it to sit for a few minutes on your hair to get the best results. The acid requires enough time to oxidize and fade your hair color.
Baking soda and apple cider vinegar are two great cleansing agents that effectively fade hair dyes.
How to use:
Gently mix 1 tablespoon of apple cider vinegar, 2 tablespoons of baking soda, and ½ cup of warm water, and pour the mixture into a spray bottle. Spray the mixture carefully on your damp hair, and leave it on your hair for 5–10 minutes. Wash your hair with the shampoo of your choice. Then apply a conditioner that suits your hair, and rinse it. Complete the process by rinsing your hair with cold water.
You can also straight away wash your hair with the mixture while taking a shower or before applying shampoo.
Side Effects of Baking Soda
Baking soda is a popular ingredient actively used in making homemade dye removers. It is much more alkaline, with a pH of 9, than the scalp and hair, (5) which have a pH of 5.5 and 3.6, respectively.
Due to baking soda's highly alkaline and slightly abrasive nature, it may have unpleasant effects on the hair:
Dryness – Baking soda removes natural oils from the hair and scalp and thus leads to hair fragility and more breakage.
Abrasion – The tiny crystals of baking soda can lead to scratches on your scalp when massaged with force. If you have delicate hair, there is a high chance that it can tear your hair fibers, resulting in hair loss and breakage.
Scalp irritation – People with sensitive scalps are prone to scalp irritation and inflammation. Thus, if you have conditions such as eczema or psoriasis, do not use baking soda on your hair.
Hair breakage – Using baking soda on your hair regularly or incorrectly can weaken it, as its continued use can lead to reduced hydration. Over time, it can harm your hair from the inside and cause hair fall and damage.
General Queries Related to Baking Soda for Hair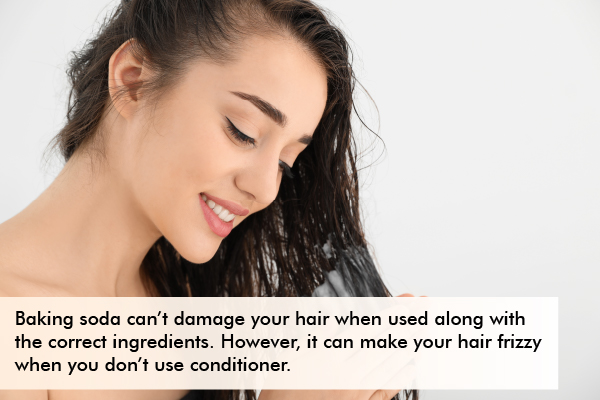 How long does it take for baking soda and peroxide to lighten hair?
Apply baking soda and peroxide on your hair for around 30–60 minutes. Wash the mixture off after 30 minutes. If your hair is not yet light enough, you can leave the baking soda and peroxide mixture in your hair for 1 hour.
Can baking soda damage my hair?
No, baking soda can't damage your hair when used along with the correct ingredients. However, it can make your hair frizzy when you don't use conditioner.
Final Word
Baking soda is an effective cleansing agent and a popular alternative to several harsh chemicals. It is a natural lightening, scrubbing, and cleansing agent, which helps remove hair color reliably.
You can get the best results only after a few washes with it. Baking soda is a natural ingredient far better than hair color removers that are packed with chemicals.