Yes, hair oils have an expiry date just like other products, even if they are stored well.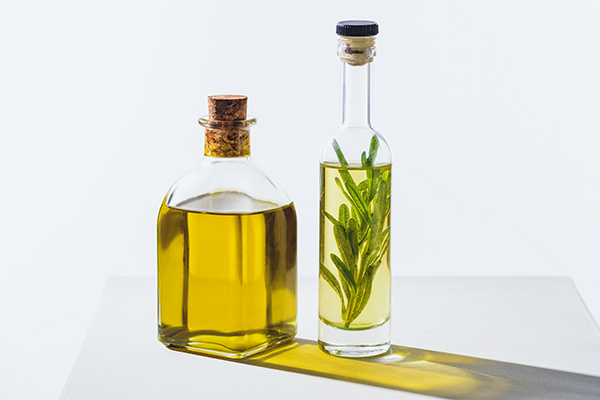 Some reasons they go bad are not following the manufacturer's instructions when storing them and exposing them to too much light, heat, water, or cold.
The American College of Healthcare Sciences Aromatherapy Science stated that delicate essential and base oils used in hair oils have a limited shelf life.
One of the main reasons hair oils go wrong is oxygen; when a base oil is exposed to it, the oxygen molecules grab the double-bonded carbons in the oil and steal a carbon to produce a carbon-oxygen bond.
Hair oils soften and nourish the hair and are more than just emollients. (1) When using hair oils, you must check for the ingredients, storage instructions, and shelf life to use them effectively. An oil's shelf life depends on its exposure to heat, water, air, and manufacturing date.
Read on to learn more about hair oils and their expiry date.
Is It Safe to Use Expired Hair Oil?
No. Using a hair oil that has become rancid or spoiled can harm your hair and health, according to one study published in the Journal of Oleo Science. The research showed that rancid oil, or the oil that has gone bad after prolonged exposure to sunlight, heat, water, etc., has undergone changes in its chemical composition and can be toxic. (2)
Types of Oil and Their Shelf Lives
Here are different essential and carrier oils and their life span and storage requirements.
1. Argan oil
Argan oil is a popular hair oil choice because of all the goodness it offers to the body.
There are two forms of argan oil, one is the cosmetic argan oil and the other is food argan oil. The difference between them is edible argan oil underwent kernel roasting and has a longer shelf life than cosmetic oil.
The lower moisture in edible argan oil, its phospholipid content, and the formation of active antioxidant compounds during the roasting process contribute to its longer shelf life.
A study found that edible argan oil prepared by cold-press extraction had a storage period of 2 years at 25°C. Under these same circumstances, cosmetic argan oil can only be preserved for 1 year. (3)
2. Coconut oil
According to research, coconut oil is a very useful hair emollient that can penetrate the hair shaft more than any other oil. You must store this oil away from direct sunlight in the pantry, in the fridge, or at room temperature.
Coconut oil has a melting point of around 75°F (24°C). If kept in a room with a higher temperature, it may liquefy, and if held in a place with a low temperature, it will have a jelly consistency.
In cold temperatures, coconut oil becomes a solid mass, and if kept inside the fridge, it becomes hard as a rock. (4)
3. Castor oil
Castor oil has a higher shelf life in comparison to other oils. Refined castor oil can be kept for around 12 months and should not be subjected to high temperatures to avoid becoming rancid. (5)
4. Olive oil
The shelf life of olive oil is 12–18 months. If the manufacturer's instructions for storage have been appropriately followed and it has been kept away from direct sunlight, heat, and water, its shelf life can go up to 2 years without its sensorial properties being altered. (6)
5. Sesame oil
Sesame oil is a highly stable oil but turns rancid when exposed to high temperatures. (7) It contains antioxidants including sesamin, sesamol, sesaminol glucosides, and tocopherol, which help to make the oil stable and have a long shelf life. (8)
6. Essential oils
Essential oils contain antifungal and anti-inflammatory properties, which help increase their carrier oil's shelf life. Their antioxidant effect is attributed to the ability of their phenols to delay or stop the oxidation of organic matter. (9)
The shelf life of different essential oils varies; generally, they have a shelf life of 1–2 years and even more when stored properly.
Essential oils should always be stored in dark bottles in a cool place, away from direct sunlight, when not being used. This is done to preserve the delicate essential oils from the harsh UV rays that can alter their components.
A 2001 study on coriander essential oil showed changes in its composition due to direct exposure to sunlight. (10)
Therefore, you should not just check the product label for the essential oil's GC/MS numbers (gas chromatography and mass spectrometry) that tell you about its chemical composition, but you should also take the above precautions to preserve and prolong their shelf life.
The shelf life of essential oils also depends on the carrier oil used to dilute them, such as almond oil, olive oil, and coconut oil.
For How Long Does an Unopened Hair Oil Stay Good?
Hair oils have a shelf life, and if the bottle does not have an expiration date, you should discard an unopened hair product after 36 months.
However, if you follow all the instructions for storing the hair oil properly, you can undoubtedly increase the shelf life of an unopened bottle of hair oil.
General Queries on Expiry Date of Hair Oils
How long does coconut oil last?
Every bottle or jar of coconut oil has a best-before date, which would be somewhere between 2 and 4 years from the date of manufacture. It's difficult to say if coconut oil is usable after the expiry date, but if microorganisms do not contaminate it, you can use it for some more months or years. (11)
What happens if I use expired hair oil?
When the hair oil has expired, it loses its ability to soften, hydrate, treat, and improve your hair. If that happens, then you know it's time to dump it.
How long can you keep hair oil?
Do high-quality base oils expire, too?
Yes. Base oils can become rancid over time, whether stored in the fridge or not. It's best not to buy base oils in bulk unless you know you use a large quantity on a regular basis.
Base oils dilute essential oils for body massage blends, bath blends, aromatic blends, body scrubs, and more.
It is highly recommended that you use a high-quality, cold-pressed, unrefined vegetable, nut, or seed oil such as almond, jojoba, grapeseed, and argan oil, with a single essential oil or blend for topical use to be able to use it for a more extended period.
Do essential oils have a shelf life?
According to the American College of Healthcare Sciences, essential oils don't get spoiled but change over time. It's hard to say what happens to them internally and if they are still safe to use, so avoid inhaling and applying expired essential oils to your skin.
Final Word
Hair oils have been used for ages to smoothen, nourish, and invigorate the scalp and hair. Hair oils have a shelf life and can turn into a gross foul-smelling mass that can harm your hair due to the toxins that form in them when they are not stored properly or when they are past their expiry date.
Follow the above practices of storing your hair oil in dark, cool places to make it last longer, and keep an eye on its expiry date to stay safe.