You've tried every type of hair oil since you were little to achieve your dream hair, and among those oils, castor oil must have been one of them.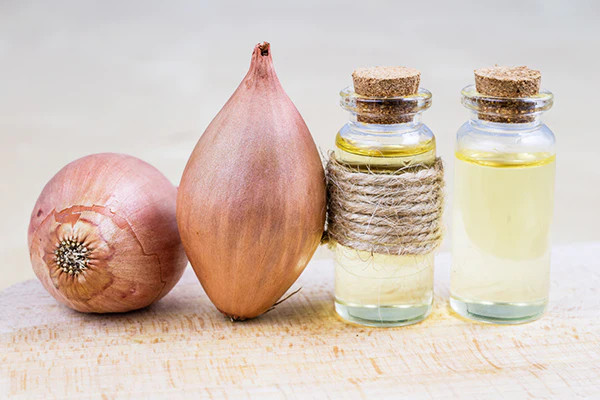 Meanwhile, onion juice, a common household ingredient, is having a moment in the limelight nowadays because of its multiple benefits for the hair, especially its powers to rejuvenate hair strands and keep the scalp free of bacterial and fungal infections.
Get to know these two ingredients and how they can be used alone, together, and with other ingredients to shake up your hair care regimen.
How Onion Juice and Castor Oil Benefits Your Hair
Castor oil is a nutrient-rich oil extracted from the seeds of the plant Ricinus communis.
This thick oil is composed of monounsaturated fatty acids and is used widely in hair care products because of its humectant and moisturizing properties. It can also be applied to the eyebrows and eyelashes for good hair growth in these areas. (1)
Castor oil contains proteins, vitamins, and antioxidants such as tocopherols and tocotrienols, which reduce lipid peroxidation and oxidative stress on the scalp, thus helping prevent premature graying of hair, encouraging healthy hair growth, treating alopecia, and many more. (2)
Onion juice is rich in sulfur and helps to induce hair growth. This powerful ingredient provides anti-inflammatory and antioxidant benefits due to its high content of quercetin, which fights against free radicals, pollutants, and harmful chemicals that destroy hair cells and cause hair loss.
Benefits of Using Castor Oil for Hair
Due to the adverse effects of chemically loaded products, people are turning towards natural hair care ingredients such as castor oil to get healthy and thick hair.
Here are a few benefits of using castor oil for the hair and scalp:
1. Nourishes the hair
Castor oil is extremely rich in monounsaturated fatty acids (1) and is nourishing for the hair and scalp. It is replete with proteins, vitamins, and antioxidants that help in nurturing the hair follicles, resulting in hair growth.
2. Curbs microbial growth
Castor oil possesses antimicrobial properties, (3) which help fight scalp fungi and bacteria.
3. Reduces scalp flaking
The thick and polar nature of castor oil helps in attracting dirt and can effectively cleanse the scalp from dust and pollution. (1)
4. Protects against hair breakage
The high amount of ricinoleic acid in castor oil (1) helps improve blood circulation in the scalp, which leads to proper blood supply to the hair follicles, resulting in the growth of healthy hair with less breakage.
5. Adds shine and moisture to hair
As castor oil is a humectant, it helps lock in moisture (4) and adds shine to the hair.
Who Should Use Castor Oil for Their Hair?
Castor oil is helpful for those with dry or flaky scalp and brittle hair. It should be avoided by those with oily hair due to its high fatty acid content. (1)
Benefits of Onion Juice for Hair
1. Promotes hair growth
Onion juice contains sulfur, which helps in hair regrowth in people with alopecia by nourishing and stimulating the hair follicles. (5)
2. Reduces scalp dandruff
Onion juice has antibacterial and antiseptic properties that reduce the formation of dandruff on the scalp and keeps it free from disorders. (6)
3. Conditions the hair naturally
Onion juice works as a natural conditioner, by hydrating your hair, making it more manageable, and preventing frizziness.
There is no research regarding the hydrating properties of onion juice however, it contains many compounds such as flavonoids and is a rich source of quercetin which may help in conditioning of hair. (7)
4. Prevents premature graying of hair
Onion juice contains minerals and antioxidants such as catalase that promote hair growth and delays the process of premature hair graying.
However, there is no direct research on the role of onions for premature graying of hair. (8)
5. Improves blood circulation
Onion juice improves blood circulation as it contains anti-inflammatory and antimicrobial properties that reduce itching, flaking, and inflammation, and consequently boost hair growth. (9)
How to Extract and Use Onion Juice
Onion juice can be easily made at home, and it is recommended to use homemade juice because bottled juice contains preservatives that are harmful to the hair.
Remove the outer skin of 1–2 onions and chop them into pieces.
Blend them and remove the juice with a strainer to get a clear liquid.
Mix some amount of onion juice with a carrier oil to reduce its potency.
Using a cotton pad, apply the onion juice mixture to your hair and massage it in circular motions for 5–10 minutes.
Let it sit in your hair for 30 minutes and wash off with a good quality shampoo and conditioner.
Repeat the process twice a week to achieve desired results.
Precautions to Consider When Applying Onion Juice
Before using onion juice on your hair, here are a few precautions to consider.
1. Strong odor
Onions have a pungent smell that does not go away easily. Blending it with oils such as coconut oil, castor oil, and others is suggested to eliminate the smell of onions.
2. Not suitable for sensitive skin
Onion juice has a high potency and can cause harmful effects on your scalp such as blisters, redness, and itchiness. It is advised to mix it with castor oil, coconut oil, or aloe vera oil to get maximum benefits.
How to Make an Onion Juice and Castor Oil Mask
Combine 2 tablespoons of onion juice and 2 tablespoons of castor oil and mix them well.
Apply the mixture to your hair before washing it.
Repeat the process twice a week for healthy, hydrated, and bouncy hair.
General Queries on Onion Juice and Castor Oil for Hair
Why should I apply onion juice to my hair?
Onion juice conditions your hair and encourages hair regrowth, prevents breakage, and delays graying of the hair due to the presence of catalase in it. (8)
Does castor oil fix dry hair problems?
Castor oil hydrates dry and fragile hair that was harmed by chemicals and pollution. (1) Regular usage of castor oil can help in restoring the hydration of dry hair.
Final Word
Using castor oil and onion juice on the hair has provided impressive results to many, and if you've got a goal of achieving a full head of hair this year, try these two miracle ingredients.
Just make sure to do a patch test to check if you're allergic to them or not.
Make natural ingredients a part of your hair care regimen and use them regularly to achieve results.