Have you ever noticed dried blood on your scalp? Don't be alarmed. Dried blood on the scalp can be due to inflammation, (1)(2) fungal infection, (3) or parasitic infection on the scalp and hair. (4)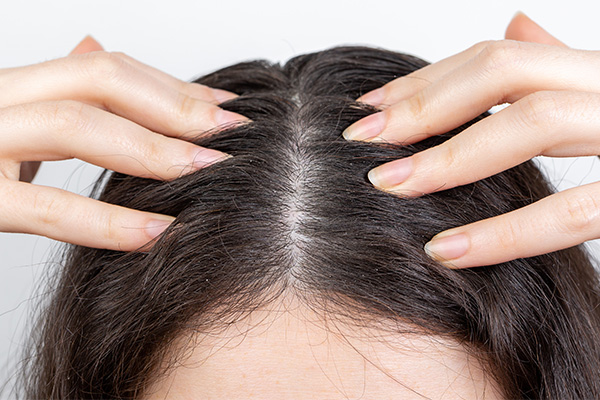 Regardless of what causes dried blood, it is imperative to keep your scalp and hair clean by removing it. Lucky for you, dried blood on the scalp can be removed using household ingredients.
So, read further to learn how to remove dried blood from your hair.
Note: If the dried blood on your scalp stems from an injury, consult your doctor before trying to remove it. It is always advisable to perform a patch test before the full use of a remedy to ensure you are not allergic to any of the ingredients.
How to Get Rid of Dried Blood From the Scalp?
Cleaning fresh blood from your hair is much easier than removing dried blood. It takes a simple wash or wet wipe to clean it, whereas removing dried blood can damage your scalp if not done correctly.
1. Use lukewarm water and shampoo
If there's little blood on your hair, flush it with lukewarm water. Lukewarm water is better than cold water as it does not bond with insoluble dirt.
Clear as much dried blood as possible before washing your scalp. Gently brush your hair to get rid of any dried blood clumps, and do not tug too hard on your scalp or hair.
How to use:
Mix ⅛ teaspoon of hydrating shampoo and 4 cups of lukewarm water.
Shake it to form a mixture.
Drench your hair in lukewarm water thoroughly.
Spray this diluted foam blend on top of your head near the roots.
Let this foam run down your wet strands, from roots to tips.
Wash it off and apply a conditioner.
Let the conditioner sit on the hair for a few minutes, and then rinse it off with cold water.
2. Use hydrogen peroxide and lukewarm water
Researchers suggest using hydrogen peroxide to remove dried blood clots from the skin as it is an effective agent. (5)
Note: Hydrogen peroxide can irritate your scalp and weaken your hair if used in high potency and not correctly. It can also cause scalp dermatitis and hair loss.
How to use:
Dilute ⅛ teaspoon of hydrogen peroxide with 4 cups of lukewarm water.
Using cotton swabs or balls, apply the mixture to dried blood to soften it.
Pull the clumps from your hair gently using your fingers.
Note: Do not remove dried blood due to a surgical procedure without consulting your physician.
3. Apply a baking soda paste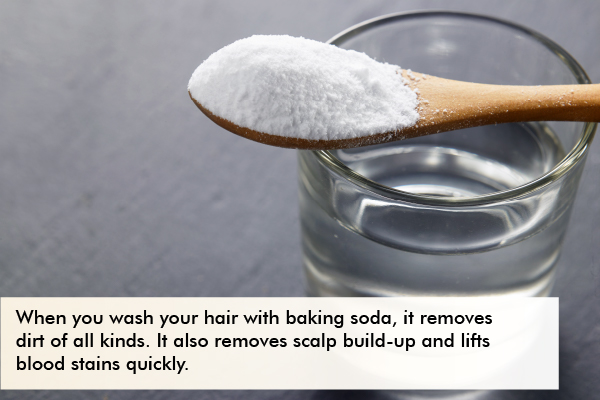 Washing your hair with baking soda removes dirt of all kinds. (6) It also removes scalp buildup and lifts blood stains quickly.
Note: Thoroughly clean your hair after applying baking soda, as its residue can cause dryness, itchiness, and scalp sensitivity. It may also lead to hair breakage and hair loss.
How to use:
Mix 1 cup warm water and 2 tablespoons of baking soda until a paste forms.
Apply this paste to areas of the scalp with dry blood and massage it gently.
Let it sit for 10–15 minutes.
Wash it off using warm water.
4. Use water and vinegar
Vinegar is a natural bleaching agent that can remove dried blood and its stains from your scalp and hair. It has antioxidant and antimicrobial properties that can aid in healing infections (bacterial and fungal) and wounds. (7)
Note: Vinegar may effectively remove blood stains but can lead to hair fiber dryness and damage. Thus, use it sparingly, and if no other method works, do a patch test first to see its reaction to your hair texture and color.
How to use:
Mix ½ cup of water and ¼ cup of vinegar.
Pour this mixture into your hair.
Leave it on for a few minutes.
After it has eased your bloodstains, use cold water to wash it off.
Use a gentle shampoo and massage your hair, concentrating on the stained areas.
Wash it off with cool water.
Repeat the process if required.
What Causes Dried Blood in the Hair?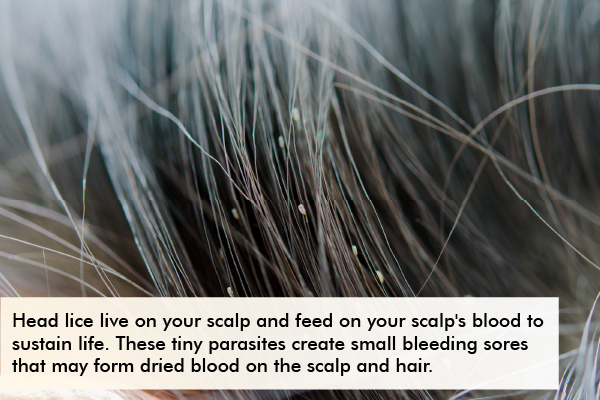 Dried blood can appear in your hair due to several reasons.
1. Severe scalp psoriasis
Psoriasis can affect the scalp, causing scales and redness. Sometimes, its effects are mild and in small regions; other times, it is severe, covering the entire scalp.
A 2021 research reported that around 80% of patients with psoriasis had scalp psoriasis. (8) This scalp condition can make you unhappy and uncomfortable, compromising your life quality.
Psoriasis can cause scalp bleeding, pain, itchiness, and flakes that can also be visible on your shoulder. (1) It can make you scratch your scalp rigorously, leading to bleeding and the accumulation of dried blood.
2. Ringworm
Scientifically known as tinea capitis, scalp ringworm is a fungal infection of the scalp. This infection can lead to redness, irritation, itching, and circular raised patches on the skin. (3)(9)
If you scratch your inflamed skin frequently and excessively, your scalp may get damaged, leading to bleeding wounds.
3. Head lice
Head lice live on the scalp and feed on the scalp's blood to sustain life. These tiny parasites (4) create small bleeding sores that may form dried blood on the scalp and hair.
4. Atopic dermatitis
Atopic dermatitis, also known as scalp eczema, can cause discomfort to your scalp, making it itchy and dry. Scalp eczema can also cause inflammation, bleeding, irritation, and cracking.
Scratching this irritated part of the scalp can cause bleeding. (10)
5. Scalp injury
Severe scalp injury is also one of the reasons why your hair may get stained with blood.
Why Does Blood Turn Black or Brown When It Dries?
The color of the blood depends on how much oxygen is present in the red blood cells.
When the amount of oxygen is high, the color of the blood is bright red. But when the blood dries, the oxygen levels go down, and the color of the blood turns dark, such as brown or black.
Final Word
Be patient and gentle when removing blood from your scalp, and follow the steps carefully to avoid any more injury or aggravating the already damaged region.
Contact your surgeon before removing surgically dried blood stains.