If you have washed your hair and still don't feel a fresh and clean scalp, the reason could be scalp buildup. It can be seen and felt, but removing it is not easy. It doesn't always wash away with regular shampoo, especially if it does not contain sulfates.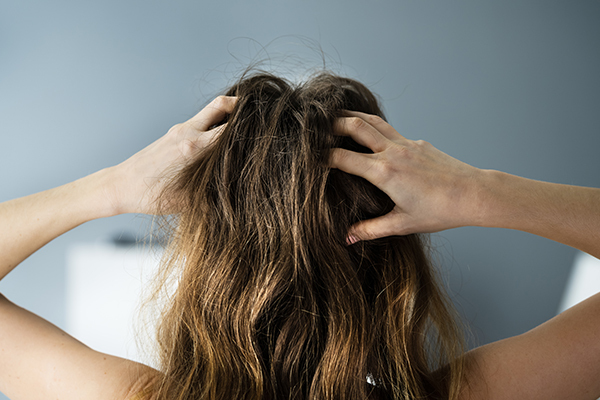 It is crucial to understand that scalp buildup can be more damaging than having a bad hair day.
Getting rid of scalp buildup may seem challenging and annoying, as it affects everyone. But rest assured it can be treated. Engaging in proper hair care practices and using the correct hair care products can help manage scalp buildup.
Read further to know what causes scalp buildup and how to remove it.
What Causes Scalp Buildup?
A 2021 research reported that there are different sources of scalp and hair buildup. These sources are dead skin cells and sebum (natural oil) from your body, hair treatment products, and environmental factors including air pollution, materials from tobacco smoke, and pollens. (1)
The scalp is wet, dark, and oily and becomes a good place for microbes (tiny living things) to thrive. These microbes use dirt as a food source, making it worse for the skin underneath. (1)
How to Remove Scalp Buildup Naturally?
To remove scalp buildup naturally, consider the following.
1. Use apple cider vinegar
A 2021 research reported that apple cider vinegar (ACV) helps remove dirt, oil, and buildup from the hair and scalp.
It is a natural antifungal agent that helps eliminate dandruff from the scalp and hair. (2) It also conditions the hair making it shiny, soft, and smooth.
Note of caution: ACV is acidic, so it must be diluted with water before applying it to the scalp.
How to use:
Mix 2 tbsp of ACV and 1 cup of warm water properly.
Wash your hair with shampoo as usual.
Slowly pour the vinegar and water solution on your head.
Let it sit for 2–3 minutes.
Wash it off with warm water and massage the scalp gently.
Do this once a week.
2. Use shikakai powder
A 2022 research documented the several functions of shikakai since ancient times, such as strengthening the hair from the roots, cleansing the scalp, giving relief from scaling, and decreasing dryness, irritation, and greasiness.
Shikakai means fruit for hair. (3) It may help get rid of oil buildup on the hair and scalp and make the scalp unsuitable for organisms to grow. (4)
How to use:
Mix 2–3 tbsp of shikakai powder and add 2 cups of water to make a paste.
Wet your hair and massage your scalp with this paste for 2–3 minutes. Apply this paste to your hair length as well.
Wash it off with cool water.
Use this paste once or twice a week to eliminate scalp and hair buildup.
3. Use neem paste
Experts observe that neem (Azadirachta indica) helps cleanse the scalp.
With antiseptic and healing properties, neem can be used for several hair problems, such as removing dandruff, unclogging the pores, and enhancing hair growth. It also removes excess buildup, leaving the scalp healthy and clean. (5)
Note of caution: According to researchers, neem oil may induce allergy. (6) Therefore, if used too much or undiluted, neem may cause scalp irritation.
How to use:
Take some neem leaves and dry them for a few days in the shade.
Grind them until powder is formed.
Take 2–3 tbsp neem powder and add enough water to make a paste.
Thoroughly apply this paste to your scalp and hair.
Let it sit for at least 40 minutes.
Wash it off with plain water and mild shampoo.
Use this paste once or twice every week to eliminate scalp and hair buildup.
4. Use hibiscus
According to researchers, the hibiscus plant has cleansing properties that can remove oil, and dandruff buildup, soothe the scalp, and balance scalp pH. It also removes chemical residue and pollutant buildup from the scalp and hair. (7)
How to use:
Take 15 hibiscus leaves and 5 hibiscus flowers.
Boil the petals and leaves in 1–2 cups of water. Make sure the quantity is enough to make a shampoo for your hair.
Let it cool. Add 1–2 tbsp gram flour.
Use this herbal blend instead of your regular shampoo to thoroughly wash your hair. (7)
5. Use bhringraj
Bhringraj has antioxidant properties that cleanse the scalp, kill bacteria, unclog pores, and boost hair growth. Its antifungal and antimicrobial properties help reduce dandruff and provide conditioning.
Moreover, bhringraj helps improve psoriasis and other skin irritations and increases blood circulation on the scalp. Thus, bhringraj can eliminate scalp buildup. (5)
How to use:
Mix ½–1 tsp of bhringraj powder and 2 tbsp of coconut oil.
Massage the mixture on the scalp.
Let it sit for 1–2 hours. Wash it off with herbal shampoo.
Use this mixture thrice a week to eliminate scalp buildup.
Can Scalp Buildup Lead to Hair Loss?
Yes, if left untreated, scalp buildup can cause hair loss. It happens when your pores are clogged due to the accumulation of oil, sweat, and dead skin.
It can also lead to inflammation in the hair follicles caused by fungal or bacterial infestation. This condition is called scalp folliculitis. (8) It can cause permanent hair loss or scarring.
When the hair follicle gets covered or filled with dead skin, products, or hardened sebum, the hair opening becomes smaller and smaller. The hair becomes thinner and thinner until it can no longer get out at all.
It blocks hair growth as no moisture or nutrient can penetrate the scalp and hair tissues, causing malnourishment and dryness of the hair and scalp. Ultimately, it leads to hair fall.
How to Tell if You Have Product Buildup on the Scalp?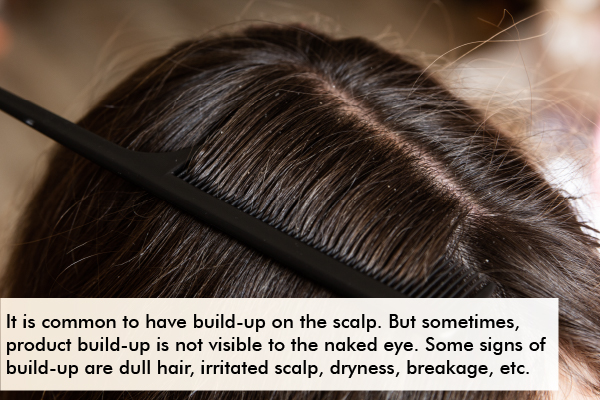 It is common to have buildup on the scalp. But just because you think you have a product buildup doesn't necessarily mean you do. It depends on the type of product you use.
The visibility of the buildup can be in the form of dusty cast or white dots.
In some cases, product buildup is not visible to the naked eye. So, you may have to look at other signs of buildup, such as the following.
1. Dull hair
You may notice dull and lifeless hair even after shampooing and conditioning. The dullness is due to the buildup wrapped around the hair. It hides the natural luster of the hair.
2. Irritated scalp
Your scalp may feel irritated due to the ingredient deposition from the products you use. Some ingredients are not supposed to sit on your scalp for long durations.
When you have product buildup, the residue from the product isn't washed away completely. It leads to bumps, redness, itchiness, and swelling.
3. Hair dryness and breakage
If you don't take care of the product buildup, moisture will not penetrate your hair, leading to dryness. No matter how much you moisturize, it will stay dry due to the buildup. This will lead to hair breakage.
4. A covering sensation on your scalp
When there is product buildup on the scalp, you may feel something covering your hair. It could be a direct result of the remnants sitting on your strands, which may not wash off even after shampooing.
If you notice any of the above-mentioned signs, you may be having product buildup.
When to See a Doctor
Consult a doctor immediately if you experience the following:
Constant flaking even after trying home remedies for some time
Increased scalp pain and inflammation, which might worsen the condition
If you are experiencing other skin conditions such as eczema, seborrheic dermatitis, or scalp psoriasis, the doctor assesses the root cause and plans treatment for the same.
General Queries
How to do a scalp buildup test at home?
You can do a scalp buildup test at home by scratching your scalp.
1. Part your hair.
2. Run your fingernails along the parting.
3. Check the accumulation of waxy residue below your nails. 
If you feel the buildup has become thick, you can use a dandruff comb before hair washing to loosen up the flakes.
What does sebum buildup on the scalp look like?
Sebum buildup on the scalp looks like a yellowish or white residue. It is often confused with psoriasis, scalp eczema, or dandruff, as it produces flakes on the scalp.
Fluid or pus-filled pockets on the scalp that are uncomfortable and become crusty may indicate serious issues. In such cases, consult your doctor immediately.
Final Word
You can prevent scalp buildup with proper hygiene, a good hair care regime, and the use of suitable products.
Moreover, using Ayurvedic herbs based on your condition and hair type and the right formulation can eliminate scalp buildup and keep your scalp and hair healthy.