Having a head full of thick and voluminous hair is everybody's dream, but hair loss and breakage can ruin it and result in thin hair.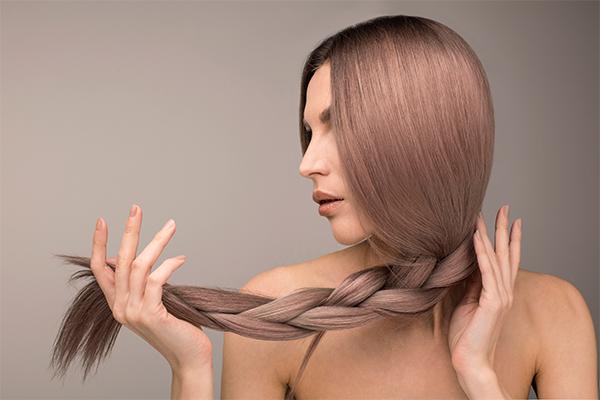 On average, women have 80,000–120,000 vital terminal hairs on their scalp. Hair follicles typically go through a period of growth and rest. (1)
Hair volume can be determined by calculating the number of hair follicles growing per square inch of the scalp and the hair follicle thickness. The density and diameter of hair vary in different parts of the head. One reason could be that the area where the hair follicle develops well is more voluminous. (2)
Hair volume decreases during telogen/anagen effluvium, alopecia, hirsutism, developmental disorders, (3) and hair aging.
Since the hair shaft is made of keratin, which is a protein, you must follow a protein-based diet to increase the volume and production of your hair. (4) Consuming protein, calories, vitamins, and trace elements are essential for proper hair follicle growth.
Ways to Increase Your Hair Volume
Here are some natural ways to increase your hair volume.
1. Onion juice
More people are turning to onion to get better hair volume because it contains vitamins and minerals that are good for the hair, such as vitamin C, vitamin B6, sulfur, magnesium, calcium, germanium, and potassium.
Sulfur is present in body cells, with the most concentrated in the hair. It has terrific qualities such as its ability to increase blood circulation and reduce inflammation and irritation, which make it an essential mineral. Due to these qualities of sulfur, people believe that it can contribute to hair growth.
Researchers have found that onion juice is rich in sulfur and highly influential in regenerating hair follicles, leading to hair regrowth. It has also been shown that naturally occurring sulfur compounds contain hair-restoring properties. (5)
How to use:
Peel and chop 4 onions and blend them into a paste.
Strain them with a strainer to extract the transparent onion juice.
Store the juice in a bowl and keep it in a refrigerator for up to 5 days.
Take 2 teaspoons of the juice and apply it to your scalp using a cotton pad or add it to your shampoo when washing your hair.
Use this treatment twice a week for good results.
2. Rosemary oil
Rosemary essential oil has been scientifically proven to help in hair growth. (6) It contains 1,8-cineole (52.2%), camphor (15.2%), and α-pinene (12.4%). (7)
A 2020 study concluded that it helps in lessening hair loss and in the regrowth of hair. Moreover, rosemary oil was found to be as effective as minoxidil 2% for hair growth. (8)
How to use:
Add 4–5 drops of rosemary oil to 1 teaspoon of carrier oil such as jojoba oil or coconut oil.
Mix the oils well, apply them to your scalp, and massage in circular motions for 5–10 minutes.
Leave it on your head for 40 minutes and then wash it off with water.
Use a natural shampoo and conditioner to wash your hair.
3. Fenugreek seeds
Fenugreek seeds, or methi, are known to induce hair growth and have been used for centuries to achieve good hair volume. Fenugreek seeds contain hair-friendly nutrients including B vitamins, antioxidants, and elements that play a role in hair growth. (9)
Fenugreek helps to stimulate blood circulation to hair follicles, and the steroid saponins in the seeds interact with DHT metabolism. DHT effects on hair follicles are thought to be one of the reasons behind male- and female-pattern hair loss. (9)
How to use:
Add 1 teaspoon of fenugreek powder to 2 tablespoons of coconut oil in a bowl and heat it.
Remove from the heat and cool down.
Massage this oil on your scalp 2–3 times a week.
4. Scalp massage
Hair volume is known to increase at 24 weeks of standardized scalp massage. Proper blood circulation to the scalp helps in increasing hair thickness due to the stimulation of the cells. (10)
How to use:
Take a few drops of coconut oil, olive oil, almond oil, or any other hair oil, and massage your scalp and hair in circular motions for 5–10 minutes.
Wrap a wet towel dipped in warm water on your head for 30 minutes.
Use a natural shampoo and conditioner to wash your hair.
Lifestyle Changes to Increase Hair Volume
Implement these simple changes to your routine to achieve a thick head of hair:
Stop smoking – Quit smoking as it causes inflammation throughout the body and the scalp, which causes hair loss and breakage.
Eat healthily – If you are not getting enough hair-friendly nutrients such as iron and protein, then start eating foods that are abundant in them, such as green leafy vegetables, dal, and onions, among others, to aid in your goal of increasing your hair volume.
Stop restrictive dieting – Eating too few calories can lead to loss of hair volume. Ensure that you have adequate calories in your meals.
Consider food supplements – Before taking supplements for hair growth, check with your doctor first. (11)
General Queries Related to Hair Volume
How long should you massage your scalp for hair growth?
Massage your hair for 10–20 minutes (12) to stimulate your scalp and encourage hair growth and volume.
Can the diet influence hair volume?
Poor diet and nutritional deficiencies can lead to less hair volume and growth. (13) Conversely, a healthy and well-balanced diet can support hair growth and can lead to voluminous hair.
Final Word
At any given time, 85% of your hair is in the anagen phase (growth phase). (14) A hormonal dysfunction or food deficiency impacts the duration of the anagen phase, leading to low hair volume. (15)
If you follow the remedies mentioned above, you can see an improvement in your hair volume and growth.