Castor seeds from the Ricinus communis plant are crushed and pressed to produce a thick, viscous oil that is widely used in hair care. There are many different types of castor seeds with varying oil content, but it usually ranges between 45%–55%. (1)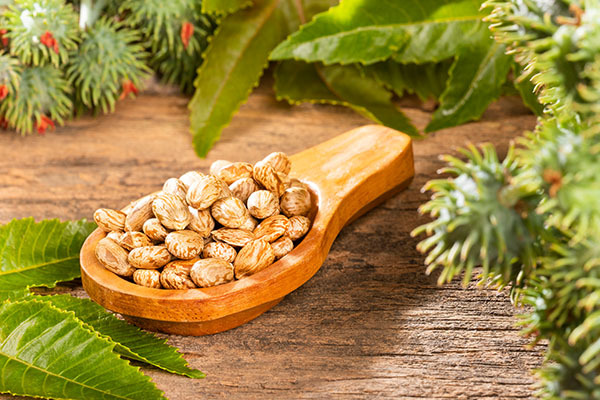 Ricin and albumin are extremely toxic and heat-sensitive proteins found in the outer shell of these seeds, which make them unfit for consumption. Even though most of these allergens get eliminated during the oil extraction process along with the pulpy residue, small traces may infiltrate into the oil and cause adverse reactions in some people.
However, the hair benefits of castor oil significantly overweigh these minor drawbacks. (2)
Castor oil has a higher fat content than other hair oils such as coconut and argan oil, which makes it more lubricating and nourishing for your damaged tresses.
When used regularly, castor oil can help stimulate hair growth, curb hair fall, and repair hair damage. It can help make your hair strong, smooth, and shiny while also combating dandruff and other scalp infections.
How to Use Castor Seed Oil for Healthy Hair
Here's how you can incorporate castor oil into your hair care regimen.
Castor oil for hair regrowth
Castor oil is very thick which means it does not spread easily. So, you need to dilute its consistency by mixing it with a thinner oil such as coconut oil, olive oil, and jojoba oil. Combine equal amounts of both oils and apply the mixture to your scalp and hair.
Use your fingertips to massage it into the scalp.
Leave it overnight for best results.
Given how dense it is, castor oil can be difficult to rinse out with a single hair wash. So, shampoo well, wash your hair, reapply the shampoo, and leave it in for some time before finally rinsing it off with lukewarm water.
Castor oil for hair strength
Mix 1 tsp of castor oil with 1 tsp of coconut oil and ½ tsp of methi seed powder.
Apply this mixture to your scalp.
Let it sit for 20 minutes.
Shampoo well, multiple times, if needed, to remove all traces of this oil from your hair and scalp.
Castor oil as a hair scrub
Grind 10 whole almonds into a fine powder.
Mix in 3 tbsp castor oil to make a smooth paste.
Apply this mixture to your scalp and the entire length of your hair.
Gently massage it into the scalp with your fingertips to boost blood circulation in the area and exfoliate the dry, flaky skin from the scalp.
Leave it on for 10–15 minutes.
Rinse it off with your regular shampoo.
Use this scrub once a week for best results.
Benefits of Castor Seed Oil
Here are a few claims about castor oil and hair growth:
Massaging castor oil into the scalp helps stimulate blood flow to the hair follicles. More blood brings more oxygen and nutrients, enabling your hair follicles to produce long, strong hair at a much faster rate.
Castor oil contains essential fats, proteins, and antioxidants that further nourish your hair follicles while also strengthening and repairing your damaged tresses.
Castor oil can provide intensive hydration to your dry, irritated scalp. (3) A healthy scalp is a prerequisite for healthy hair growth.
Castor oil is credited with antibacterial and antifungal properties that can help fight dandruff and scalp infections.
Castor oil can also be used to grow your eyebrows and eyelashes.
Castor oil contains potent antioxidants that help protect your hair and scalp from the onslaught of free radicals. Free radicals are unstable molecules that attack healthy cells, causing inflammation and damage through oxidative stress. If left unchecked, they can destroy the hair follicles and trigger hair loss. The antioxidants in castor oil help neutralize the activity of free radicals to minimize the hair damage caused by them.
Castor oil is loaded with omega-6 fatty acids that lubricate and nourish your dry, damaged hair and scalp. These healthy fats may also help curb inflammation in the hair follicles to support healthy hair growth. (4)
Since castor oil is so thick and heavy, using it too much can end up clogging your hair follicles, resulting in pimples on the scalp.
Precautions When Using Castor Oil
Castor oil is largely considered safe for topical use, but here are some things you need to be wary of:
Always go for cold-pressed castor oil because heat processing can destroy some of the proteins and fatty acids in it and reduce its nutritive value and potential benefits. Moreover, it has a thinner consistency, making it easier to apply as opposed to other variants.
Castor oil at its original consistency is extremely thick and sticky, making it difficult to apply. Thus, you must always mix it with a carrier oil such as jojoba or coconut oil so that it spreads easily all over your scalp and hair.
Due to its high viscosity, castor oil can make your hair stick together and become entangled if applied directly without diluting first. This is known as hair felting, which, if serious enough, may require you to chop off the knots.
Castor oil gives off an unpleasant smell, which can be hard to tolerate. But mixing it with another hair oil before application can help subdue this foul odor.
Like any other oil, castor oil has a limited shelf life. So, it is important to ensure that the product is well within its expiry date before application.
Castor oil can leave stubborn stains on your clothes, so apply with caution.
You cannot rely on castor oil to combat or reverse severe hair loss, which is generally triggered by some underlying condition. In such a case, you need to consult a doctor or dermatologist to diagnose the root cause of your problem and then treat it accordingly.
General Queries Related to Castor Seed Oil for Hair
Are there any side effects of using castor oil?
As mentioned earlier, castor oil may contain traces of ricin and albumin, which can cause adverse reactions on sensitive skin, especially when used too much. If you experience any redness, burning, stinging, or itching after applying castor oil, wash it off and stop its use.
Some people also develop pimples along the hairline, but it's nothing that can't be fixed with a few changes in your hair care regimen. Simply use a milder concentration of the oil by mixing in larger amounts of another carrier oil, reduce the frequency of application, and make sure to rinse it off thoroughly.
How long should I leave castor oil in my hair?
People with thin and medium-length hair only need to apply it for half an hour before shampooing, whereas those with thick, coarse, and extremely dry hair should leave it in overnight for best results.
Final Word
Castor oil is renowned for its ability to improve hair growth, quality, and volume, but there aren't enough clinical studies to confirm these claims. Thus, more extensive research is needed to properly assess the hair benefits of castor oil. (5)
The good news is there is still plenty of anecdotal evidence to suggest that this hair tonic can do wonders for your worn-out tresses.
However, for any remedy to work, you need to use it correctly and consistently. The same holds true for castor oil. It is not a magic potion that will eliminate all your hair troubles, but it is definitely an ingredient that belongs in your hair care regimen.