A specific skin care goal may seem unattainable but it isn't. You can get your desired result by using the right ingredients. One such ingredient is mulberry.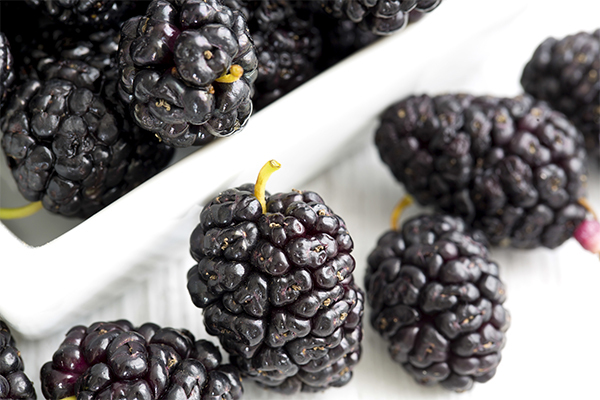 When talking about mulberry, what's the first thing that crosses your mind, the fruit or the color? The mulberry color looks cool but the fruit is even delicious. It may be a tiny fruit, but its extract has powerful benefits for the skin.
Mulberry (leaves, stem bark, and flowers) has anti-inflammatory, (1) antityrosinase, (2) antioxidant, (3) and antibacterial properties (4) helpful in protecting the skin against sun damage, promoting skin lightening, treating acne, and soothing and calming the skin. Using a mulberry extract on your skin can give it a healthy look. (5)
Read further to learn more about the benefits and usage of mulberry extracts for the skin.
Perks of Mulberry Extract on Skin
Mulberry extract offers the following skin benefits.
1. It is a good skin-lightening agent
An enzyme called tyrosinase produces melanin (a pigment providing color to your skin). A process called melanogenesis is triggered, where tyrosinase activates melanin production, when your skin is exposed to sunlight. (6)
In studies, a natural substance called mulberry extract was found to have the potential of slowing down or blocking the activity of tyrosinase. It can make your skin lighter by reducing the production of melanin.
Mulberry extract is also used in the cosmetic industry to make products that can minimize the appearance of uneven skin tone, dark spots, or hyperpigmentation. (2)(7)
Other studies also found that mulberry root and leaf extract (black mulberry or wild mulberry) had a potential activity of skin lightening. (8)(9)
2. It protects the skin from UV damage
One study concluded that black mulberry fruit contains a type of antioxidant called anthocyanins, (3) which has the ability to shield your body cells from the damage caused by harmful molecules known as free radicals. A lot of factors give rise to free radicals including smoking, pollution, or UV exposure. (10)
UV exposure happens your skin is exposed to the sun's rays. It can lead to wrinkles, sunburn, or even skin cancer.
Anthocyanins can reduce these effects by neutralizing some of the free radicals and absorbing some of the UV rays. (11) Black mulberry fruit has an abundance of anthocyanins and can treat damages caused by the sun. (3)
3. It helps in treating acne
Acne is one of the most common skin inflammatory diseases often occurring during adolescence. The main cause of acne on the face is acne-causing bacteria such as Staphylococcus epidermidis and Propionibacterium acnes.
Two studies concluded that black mulberry (stem bark, leaves, and fruits) is replete with phenolic compounds that have excellent antibacterial and antioxidant properties that can treat acne. (4)(12)
4. It calms and soothes the skin
Antioxidant and anti-inflammatory properties are present in mulberry leaf or its leaf extract. (1) It helps prevent skin irritation and rashes and provides a calm, soft, and soothing sensation to your skin naturally.
5. It prevents premature skin aging
A 2014 research reported that mulberry leaves contain large amounts of polyphenols. Polyphenols are natural plant compounds with antiaging effects. (13)
Another 2022 research reported that the natural polyphenols from mulberry extract can delay skin aging and other aging-related problems such as wrinkle formation, loss of skin elasticity, and age spots. (14)
How to Make Pure Mulberry Extract Powder at Home
To make mulberry extract powder at home, you will need the following:
Fresh or dried mulberries
A food processor
A fine-mesh strainer or sifter
Simply follow these steps:
Wash and dry the fresh mulberries, or soak dried mulberries in water for a few hours for rehydration.
Using a food processor or blender, blend the mulberries into a fine powder.
Strain the powder using a fine-mesh strainer or sifter to leave out larger pieces.
Fan out the mulberry powder onto a baking sheet and let it dry completely.
Store this powder in an airtight container for future use.
DIY Face Masks Using Mulberry Extract
You can make a DIY mulberry extract face mask to achieve different skin goals.
To get glowing skin
Take 2 tablespoons of mulberry powder and 1 tablespoon each of aloe vera gel and mashed banana in a bowl.
Mix them properly to get a smooth mixture.
Apply it to your face and neck, and let it sit for 15–20 minutes.
Wash it off with lukewarm water.
To get rid of acne
Take 2 tablespoons of mulberry extract powder, 1 tablespoon of aloe vera gel, and enough jojoba oil to make a paste.
Put all these ingredients in a bowl and mix them well until a paste is formed.
Spread this mixture on your skin and rub it in a clockwise motion.
Leave it on for 5–10 minutes and wash it off using lukewarm water.
Aloe vera gel is great for moisturization and acts as an anti-acne agent. (15) Jojoba oil is good for skin hydration and helps fight acne. (16) You can safely use these ingredients if you have oily skin. They cleanse the pores, which reduces acne.
To soothe inflamed, irritated, and sensitive skin
Combine equal amounts of mulberry extract powder and chamomile.
Add a desired amount of rosehip oil until a loose paste is formed.
Apply it to your skin for 5–10 minutes.
Rinse it off with water.
Both chamomile and rosehip oil possess antioxidant and anti-inflammatory properties. (17)(18) So, they are good for moisturizing and calming skin redness.
To fight skin aging
Take 2 tbsp of mulberry extract powder, 1 tbsp of yogurt, and ½ tbsp of cucumber juice in a bowl.
Mix all these ingredients until a paste is formed.
Evenly spread the paste on your face and neck using your fingertips.
Leave it on for 15–20 minutes.
Wash it off with water.
Some Tips to Follow When Using Mulberry Extract on Skin
Follow these additional tips when using mulberry extract on the skin.
Do not use mulberry extract with other brightening or exfoliating products: Mulberry extract may provide a mild exfoliating effect on your skin. It can help improve the texture of your skin and remove dead skin cells. Using additional products with similar effects such as AHAs (alpha-hydroxy acids), BHAs (beta-hydroxy acids), vitamin C, or retinoids can lead to overexfoliation followed by irritation. Therefore, either stick with one product or use them alternatively.
Keep it in a cool and dark place: If exposed to light, air, or heat, mulberry extract can lose its potency. To avoid this, seal it in an airtight container away from high temperatures and direct sunlight.
Consult your doctor if you are pregnant or breastfeeding or have any medical conditions: Mulberry extract may affect your hormone levels or interact with certain medications. If you are pregnant or breastfeeding or have any concerns regarding your health, consult your doctor before using it.
Do a patch test before applying: Some people may be allergic to natural ingredients. Therefore, before applying it to your face, take a small amount of mulberry extract and apply it to your inner elbow or behind your ear and wait for at least 24 hours. If there's any rash, swelling, itchiness, or redness, stop its usage and consult your doctor.
Use often for best results: Mulberry extract is a good option to brighten skin tone, fade dark spots, and diminish signs of aging. Use it regularly as a part of your skin care routine to see noticeable changes, which may take some time. Also, apply it to clean and dry skin.
General Queries
Can mulberry extract be applied to the skin directly?
According to experts, you can directly apply mulberry extract to the skin to get rid of certain skin-related issues.
Does mulberry offer nutritional perks?
Mulberries are nutritious and contain a wide array of vitamins, minerals, antioxidants, protein, lipids, water, and dietary fiber. They also contain minerals including zinc, phosphorous, potassium, sodium, iron, and magnesium and vitamins such as vitamins A, C, and E. (17)
What are the different kinds of mulberries?
The different varieties of mulberries are white mulberry (Morus alba), black mulberry (Morus nigra), and red mulberry (Morus rubra). (18) The most common and popular mulberries are red and black mulberries.
White mulberry is used in traditional Chinese medicine and alternative medicine. It is often used as a natural remedy for a wide range of disorders such as cough, cold, high blood pressure, high cholesterol levels, constipation, anxiety, diabetes, and many more. 
Final Word
Mulberry offers a lot of fantastic skin care benefits. The list is never-ending; from skin lightening to antiaging, it does it all! It is also a great ingredient for face masks made at home.
So, give a little extra love to your skin and use mulberry. See your skin go from dull to bright to radiant in no time!