Onion juice contains vitamins, minerals, and antioxidants and is highly beneficial for hair growth. It has become one of the most popular ingredients for promoting hair growth and preventing hair loss.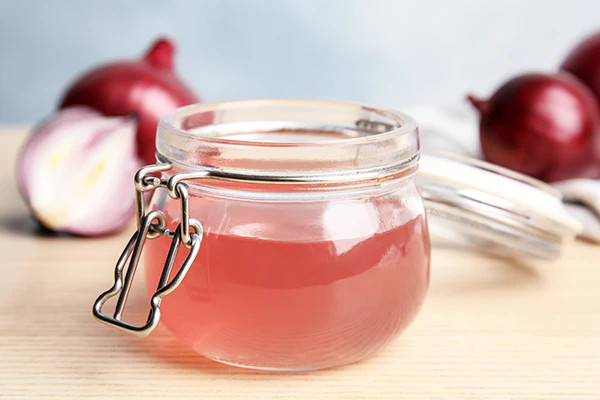 It is also true that no one treatment can magically transform your hair and scalp in one night. Therefore, you will need to use onion juice consistently to get favorable results. (1)
It would also help if you follow the recommended amount of onion juice as well as the method and duration of application to your scalp. Onion juice must also be thoroughly rinsed off.
However, although onion juice is known to encourage hair growth, there are some side effects of using it that can affect your hair and scalp's health.
Side Effects of Using Onion Juice on Hair
Onion juice is an excellent remedy for hair growth, and using it appropriately and in a suitable quantity is essential to avoid unexpected side effects. Using it in large amounts for longer than the recommended time can cause hair and scalp problems.
Here are some side effects associated with using onion juice on the scalp and hair:
1. Hair loss
Onion juice is rich in sulfur and can dry your scalp quickly by stripping its natural lipids. This usually occurs when onion juice is used regularly and is not appropriately cleaned after application. As a result, the scalp becomes dry, irritated, and itchy.
Scratching the scalp due to itchiness can further damage the scalp, which can lead to infections. Sometimes, irreversible hair loss may occur.
2. Increased risk of eczema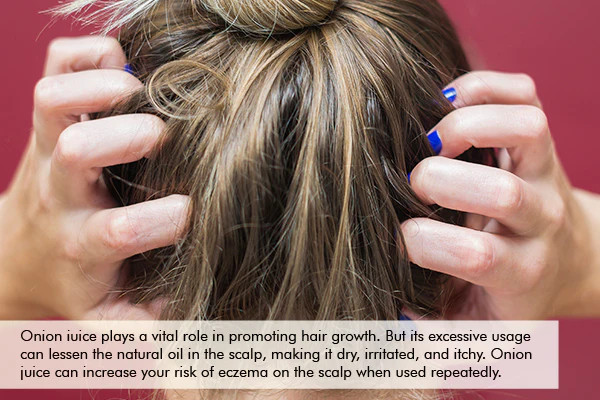 Though the sulfur in the onion juice plays a vital role in promoting hair growth, its excessive usage can still lessen the natural oil in the scalp, making it dry, irritated, and itchy.
When used repeatedly for a prolonged period, onion juice can increase your risk of eczema on the scalp. (2) If you already have a dry scalp, the chances of developing eczema are doubled.
Eczema has noticeable symptoms, including a dry, itchy, and scaly scalp. In severe cases, there are chronic inflammation, redness, discharge, and pain. (3)
3. Eye irritation
When your eyes are exposed to the sulfuric vapors of onion juice, itching, redness, and a burning sensation ensue.
Thus, when using onion juice on your hair, be very cautious. It is also recommended to wear a shower cap after applying it. Then, rinse your eyes with water. (4)
4. Unpleasant odor
Onions possess a strong, pungent odor that doesn't easily go away even after cleansing your hair with shampoo, and excessive shampooing can reduce the moisture content of your scalp and hair. (5)
Benefits of Onion Juice on Hair
Using onion juice regularly can help strengthen and improve the quality of your hair. Here are a few other benefits of applying onion juice to your scalp and hair:
1. Improves blood circulation
Onion juice application can enhance blood circulation in the scalp and increase the supply of nutrients and oxygen to the hair follicles.
When the hair follicles get extra nutrition, the hair becomes healthy and strong and grows at a faster rate.
2. Promotes hair growth
The high amounts of sulfur in onion (6) play a vital role in stimulating inactive hair follicles and promoting hair growth, which helps in adding volume and length to the hair.
Additionally, sulfur is a component of the hair-building protein called keratin, which is essential for the elasticity and strength of the hair.
3. Prevents premature graying of hair
Onion contains an antioxidant enzyme called catalase, (7) which helps retain the hair's natural color. A deficiency in catalase can lead to premature graying of hair. (8)
Gray hair becomes weak and tends to break, causing hair loss. This hair problem can be avoided by regularly using onion juice as it provides catalase to the hair follicles.
How to Make Onion Juice?
Onion juice can easily be prepared at home. Simply follow these steps:
Take around 5–6 onions, peel and wash them, and then chop them finely.
Blend the onion pieces.
Pass the pulp through a sieve to strain out the juice.
How to Apply Onion Juice?
Dip a cotton pad in the juice and dab the juice on your entire scalp or only the affected area.
Massage the area gently with your fingers for about 10 minutes so that it penetrates well into the scalp.
Leave it on for 15 minutes.
Wash it off with a mild shampoo and conditioner.
How Often to Use It?
Use this treatment 2–3 times a week to see a visible difference in your hair after a month or two of regular use.
General Queries Related to Onion Juice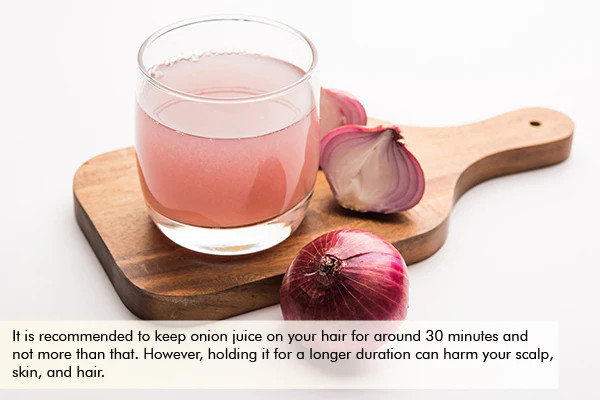 For how long should I keep onion juice on my hair?
It is recommended to keep onion juice on your hair for around 30 minutes and not more than that. Holding it for a longer duration can harm your scalp, skin, and hair.
Is it safe to keep onion juice on the hair overnight?
It should be avoided as keeping onion juice for more than 2 hours can damage your scalp. It can cause harmful side effects on sensitive scalp.
Can onion juice be used in combination with other oils?
What component of onion juice is harmful to your hair?
The sulfur in onion juice can harm your scalp when kept in your hair for a longer duration.
Final Word
Many people can attest that onion juice is the best remedy to achieve long, healthy, and strong hair as it has been scientifically proven to benefit the scalp and hair.
However, check for any allergies or side effects first before making it a regular part of your hair care regimen.