Most dermatologists would tell you that an unhealthy scalp leads to unhealthy hair. (1) When it comes to hair, scalp care is crucial because it determines the health and condition of the hair and prevents diseases of the scalp and hair. (2)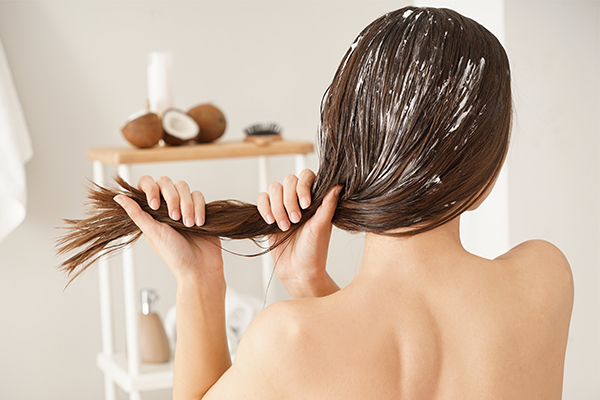 Hair serves as a protective covering (3) and is an important part of grooming, and therefore, you need to have a regular hair care regimen consisting of oiling, shampooing, and conditioning.
If you're wondering whether applying hair conditioner on the scalp is good or not, then here is the answer: Applying conditioner directly to your roots is a big no-no. It should be applied to the hair strands to make them immaculate, but not directly to the scalp.
Conditioners are formulated to lessen the friction between individual hair strands, smooth out frizz, and enhance your hair's ability to be styled; using them too frequently and in excess can leave your hair looking greasy and dull. (4)
Conditioners should always be applied to the hair strands at least at a distance of 5–10 cm from the roots.
According to experts, conditioners when used on the scalp may cause buildup and make it appear greasy, so it is generally not advised to use it on the scalp. Certain conditioners are formulated for the scalp, so if you want to use, then you may look for such products.
Why Is It Unhealthy to Apply Conditioner to the Scalp?
Here are some reasons why you should not put conditioner on the scalp:
1. Leads to a greasy scalp and flat hair
Product accumulation on the scalp might obstruct healthy hair growth. Experts say you should not use conditioner on the roots or close to your scalp since it can cause greasiness on your scalp.
Conditioning the scalp can lead to the accumulation of residues under the cuticle scales, (5) which makes the scalp greasy and allows the cuticle scales to flatten against each other. Therefore, avoid applying conditioner to the scalp if you want thicker hair.
2. Causes buildup on the scalp
Researchers have found that specific polymers present in conditioners cause buildup on the hair shaft and bind themselves to anionic surfactants in conditioners, (6) making the hair oily and heavy.
Silicones are usually found in conditioners and can cause scalp buildup. Several types of silicones with different deposition, adhesion, and wash-out capacity will lead to further conditioner performance such as changes in the properties of hair, may cause it to become more adhesive, and when used on the scalp, its deposition thus causes scalp buildup. (6)
3. Contributes to dandruff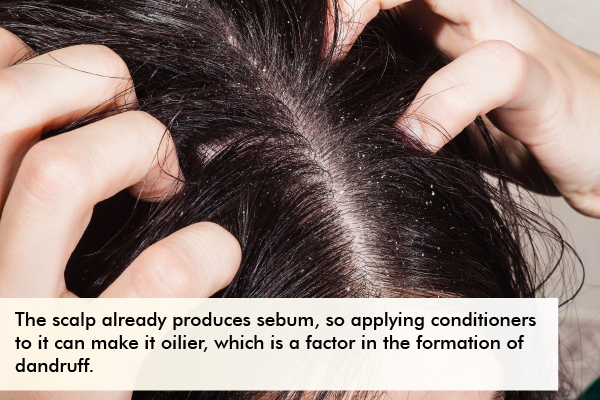 Most conditioners are not designed for the scalp as they can increase scalp oil and contribute to dandruff.
The scalp already produces sebum, (7) and so applying conditioners to it can make it oilier, which is a factor in the formation of dandruff.
4. Can hamper hair growth
Experts say applying conditioner to the scalp and roots blocks the hair follicles, impedes hair growth, and increases oil production, which leads to scalp buildup.
Thus, such scalp buildup can cause hair loss if left untreated and the dead skin, oil, and sweat can clog your hair follicles, which can disrupt your hair growth.
How to Apply Conditioner Correctly
You can reap the benefits of conditioners when you apply them correctly. Follow these steps:
Before you apply conditioner to your hair, make sure to rinse it first.
Follow the instructions on the bottle for proper usage and the amount to be applied.
Start applying the product from the hair shaft down to the edges. Don't apply conditioner to your scalp.
Use a wide-toothed comb or your fingers and run them down through your hair.
Leave the conditioner on for 1–2 minutes.
Rinse off entirely; don't leave any product on.
What Kind of Conditioner Can Be Applied to the Scalp?
Conditioners specifically designed for the scalp are widely available, but experts advise to look for conditioners that work well with your hair's natural texture and type instead.
However, there exist co-washing products (which can be applied to the scalp as a shampoo) that may contain cationic surfactants and oils. These products may prevent hair breakage and promote the balance of sebum production by decreasing the overproduction of sebum and improving dryness that follows deep cleansing, but there are no scientific data to prove these effects. (5)
How Do I Deal With Overconditioned Hair?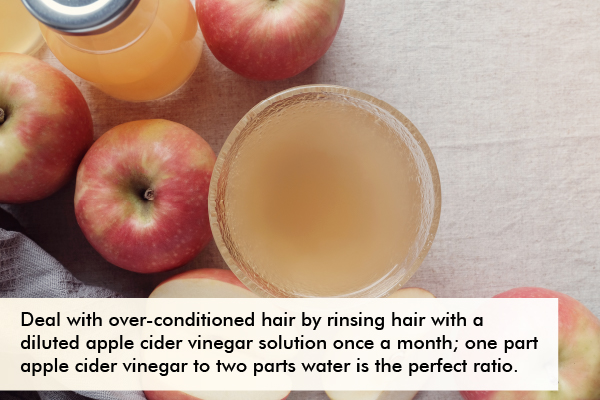 Start by using less conditioner for a few washes.
Rinse your hair with a diluted apple cider vinegar solution once a month; one part apple cider vinegar to two parts water is the perfect ratio.
The best way to eliminate the conditioner buildup on the hair and scalp is to use a clarifying shampoo.
Refrain from applying excessive conditioner until you've washed off all the buildup.
Final Word
Conditioners are intended to lubricate and add shine to the hair. Using conditioner on the scalp is not recommended as it causes buildup and dandruff, which may weaken the hair roots and damage the hair.
Thus, conditioner should be applied only to the hair strands, not to the scalp.