One of the many gifts of nature is wood. It's an excellent resource with numerous uses. One of its beneficial uses is as a material for a hair comb in the cosmetic industry.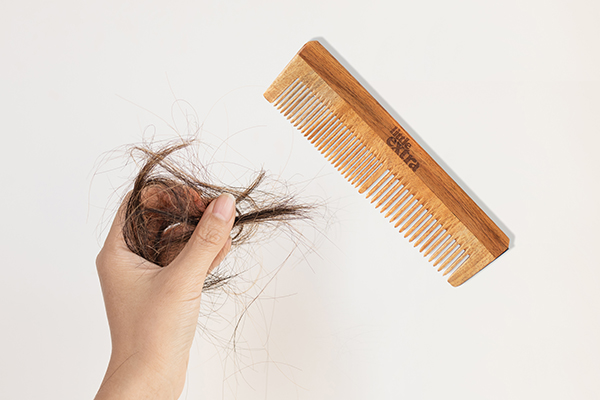 Wood is carved into combs for comfortable and efficient hair grooming.
"Does a wooden comb cause hair loss?" No, wooden combs do not cause hair loss. They have been used since time immemorial for scalp and hair health and beauty. They are strong, durable, and smoothly glide through the hair, preventing damage and breakage.
However, if you use a dirty wooden comb or one with the wrong bristles (such as detangling your hair with a fine-toothed wooden comb instead of a wide-toothed comb), there may be some risk of scalp and hair damage or infections.
Additionally, wooden combs are static-free with reduced friction as they are bad conductors. It has a negative charge, similar to that of hair!
Continue reading to learn more.
How Do Wooden Combs Benefit Your Hair and Scalp?
Wooden combs benefit hair and scalp in the following ways.
1. It is soft and gentle on the scalp and hair.
The bristles of a wooden comb are delicate and smooth on the hair, preventing pulling and tugging.
The comb also massages the scalp, triggering acupuncture points and increasing blood circulation, increasing oxygen flow to the scalp area.
Moreover, the comb blends in with the hair and detangles it effectively.
2. It nourishes and conditions the hair.
The scalp produces sebum and natural oils. However, their accumulation can make the hair weak and can block the pores.
A wooden comb's bristles distribute the oil evenly to each strand through the hair length, making the hair silky, soft, and smooth. It provides more nourishment and less greasiness.
3. It stimulates blood circulation.
Proper scalp blood circulation is crucial for healthy hair growth. A wooden comb is carbon based, and its antioxidant properties (1) prevent bruising or scraping of the scalp.
Moreover, it massages the scalp gently and calms your nerves, boosting blood circulation and allowing strong and fast hair growth.
It also brings nutrients and oxygen to the roots, making hair healthy and thick.
4. It prevents hair loss and breakage.
Plastic combs tug and pull the hair, which isn't the case with wooden combs. Wide-bristled wooden combs are suitable for detangling hair and preventing hair loss and breakage.
Wooden combs glide smoothly, making combing calming and easy.
5. It prevents static electricity.
Static electricity can damage your hair, making it dry and brittle. Wooden combs have a neutral charge that keeps static electricity away, preventing damage.
6. It helps reduce dandruff.
The bristles of a wooden comb are gentle and soft on the scalp, preventing scalp irritation and itching. The bristles don't cut or scratch the scalp; they evenly distribute oil to the scalp and hair, eliminating the chances of dandruff.
A good example of wooden combs is neem wooden combs, which are made from the bark of the neem tree. Neem wood combs have antibacterial, antifungal, and anti-inflammatory properties (2) that cut down scalp irritation and infection, keeping dandruff at bay. (3)
7. It prevents allergies.
Using a wooden comb on a sensitive scalp is a wise choice, as it is made from natural compounds that create a protective coat around the hair and scalp, thus reducing irritation or allergic reactions.
8. It makes hair bouncy and shiny.
When the sebum from your scalp is evenly distributed across each strand, it nourishes, conditions, and protects your hair, making it shiny and bouncy. Wood absorbs sebum and coats each strand to give it a healthy bounce.
Tips for Using Wooden Combs to Achieve Healthy Hair and Scalp
Remember the following tips when using a wooden comb:
Keep your wooden comb clean to eliminate germs and bacteria and avoid potential skin infections or issues.
Remember, there's a wooden comb for every hair situation. So, use the one your hair needs (for instance, for detangling, use a wide-teeth wooden comb; for keeping your hair in place, use a fine-toothed comb)
Make sure to clean the comb at regular intervals to remove dirt and product buildup.
Make sure to remove stuck hair on the comb before using it.
What Precautions Should Be Taken When Cleaning a Wooden Comb?
Always be gentle when cleaning a wooden comb, and use natural solutions for best results. Do not submerge your comb in water for more than 2 minutes, as it may damage it.
Also, thoroughly dry your comb after cleansing.
Final Word
If used hygienically, correctly, and according to your hair needs, a wooden comb is a boon for your hair. Choose your wooden comb wisely to get all of its perks.