Acne can be annoying, and the first thing you feel like doing when you see one is to pop it. Acne is a chronic inflammatory skin disease that affects the face, chest, and back.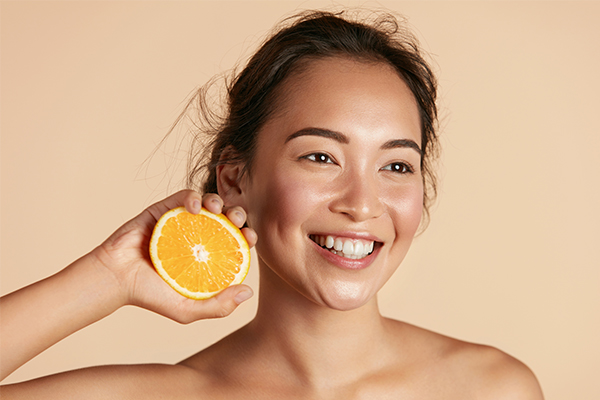 Acne among adolescents is widespread, with prevalence estimates of 81%–95% among young men and 79%–82% among young women. (1)
Acne affects more women than men (85% vs. 15%), is strongly influenced by genetics (70%), and is more prevalent in adult smokers than in younger ones (5%). (1)
Experts and researchers agree that eating oranges can help clear acne because of the high concentration of antioxidants and anti-inflammatory compounds in them. (2)
Moreover, oranges, which are popular fruits around the world, are rich in vitamin C. (3)(4) Red oranges have a vitamin C concentration of 32–42 mg/100 mL. (4)
Why Eating Oranges Is Good for Acne?
Consuming oranges can offer the following benefits for acne and skin.
1. Provides high concentrations of citric acid
Consumers and juice processing companies (3) typically dispose of orange seeds, but scientists have isolated and identified four beneficial organic acids from orange juice, namely, citric acid, ascorbic acid, malic acid, and succinic acid.
Citric acid, the most abundant organic acid in orange juice, (5) is responsible for its beneficial effects on the skin, including removing dead skin cells and opening clogged pores.
Regularly consuming citrus fruits rich in flavonoids, phenolic acids, coumarins, terpenoids (limonoids and carotenoids), vitamin E, and minerals such as zinc, copper, and iron (6) can help to clear acne by regulating hormone levels and improving digestion.
2. Provides dietary fiber and potent natural antioxidants
Oranges have high levels of natural antioxidants and fiber. (7)
Due to the presence of high levels of antioxidants in blood oranges, (8) consuming them can help maintain clear skin and reduce the severity of acne breakouts.
Both soluble (pectins) and insoluble (cellulose) dietary fiber can be found in orange juice. On average, a glass of orange juice with pulp provides 5% of the daily value for dietary fiber. (9)
If our digestive system is not working optimally, it can lead to acne breakout where a diet replete with fiber plays an important role as fiber reduces fat absorption in the intestine and thus can be helpful in the fight against oily and acne-prone skin.
Inflammation caused by acne can be calmed with the help of omega-3 and omega-6 fatty acids, which are found in foods high in fiber. (10)
3. Decreases redness and acne breakouts
Vitamin C, flavonoids, and other bioactive compounds in sweet orange juice may have anti-inflammatory effects. (2)
Redness and pain are associated with acne inflammation. New research suggests inflammation and oxidative stress can be lowered with something as simple as a daily glass of freshly squeezed orange juice.
Results from a small study published in Advances in Nutrition show that healthy and high-risk adults who drink 100% orange juice have significantly lower levels of the inflammatory marker interleukin 6 and two other inflammatory and oxidative stress markers than those who don't. (11)
4. Improves skin health
Clear, spotless skin is a sign of good skin health (12) and eating a diet rich in fruits and vegetables has been found in several high-quality intervention studies to improve skin health, which may benefit your appearance and vitamin C status is closely related with fruit and vegetable intake, which contributes to skin health. (12)
Oranges have a higher concentration of vitamin C, so eating it daily will surely benefit your skin health. (4)
How to Consume Oranges
Eating half or a full orange every day is recommended. Fresh orange juice is also acceptable to consume.
Salads, puddings, and other sweets benefit from the addition of oranges. You may also dab some orange juice on your face to diminish the appearance of scars, age spots, and acne.
Topical or Dietary Vitamin C: Which Is Better for Acne?
A three-month study by Traikovich found that vitamin C (orange) is more effective when applied topically rather than taken orally. The anti-inflammatory, antioxidant, and wound-healing properties of this vitamin make it a valuable component of acne skin care.
Therefore, research suggests that topical vitamin C is preferable to dietary vitamin C for skin health, but both approaches can be beneficial when employed simultaneously. (11)
Effects of Diet on Acne
It is commonly believed that chocolate, fatty foods, and milk are to blame for acne breakouts. Saturated fatty acid and sugary product consumption, sugary beverage consumption, and milk consumption have all been linked to acne in the present day in adults. (13)
In the study, researchers evaluated each participant's dietary records to determine their daily intakes of different food groups (in grams per day) and nutrients (in milligrams or grams per day) such as fruits, vegetables, meats, fish, milk, dark chocolate, milk chocolate, refined cereals, snacks, fast foods, and fatty and sugary products. (13)
The results showed that nearly half of the participants had experienced acne at some point in their lives (either during the study or in the past), with 32% attributing their acne to their diet, 31% attributing it to other factors, and 37% remaining unsure. (13)
General Queries
What part of the day is it recommended to consume oranges?
Oranges can be eaten at any time of the day and are particularly good as a supplement to breakfast or an afternoon snack. You can maximize their benefits this way. Eating fruit while already full is not a good idea.
Do oranges have higher levels of vitamin C than lemons?
The vitamin C content of oranges and lemons is nearly identical, with oranges having a slightly higher amount. The skin of both fruits is richer in vitamin C than the pulp itself.
Contrary to popular belief, lemon juice has more vitamin C than orange juice.
Final Word
Since oranges contain the highest concentration of vitamin C among all foods, they can effectively fight acne and reduce the inflammation that contributes to the condition when applied topically.
Orange's vitamin C aids in lightening discoloration, tightening pores, and washing away dead skin. Thus, eating oranges can help you fight acne. The versatile orange can be enjoyed in a variety of forms, including juice, segments, and even salad.