"What should I use on my face: a face serum, face oil, or moisturizer?"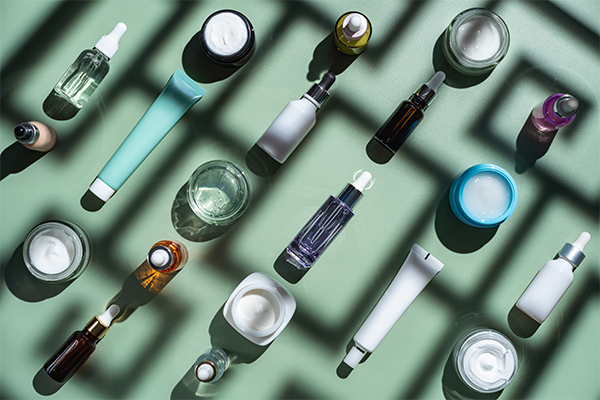 If you know the ideal skin care routine, you know that you need a face serum, face oil, and moisturizer.
Skin care is imperative for rejuvenating your face. (1) Yet, creating a proper skin care regimen can be tricky, as many facial products have similar purposes such as hydration and moisturization.
So, what product should you choose? The answer is based on your skin needs and the product characteristics.
Face serums, face oils, and moisturizers are three skin care products that nourish and hydrate the skin and make it soft. They may seem similar but they differ in composition, properties, type, moisturization and hydration effects, active ingredients, and molecular size.
Continue reading to learn more about them.
Differences Between Face Serums, Face Oils, and Moisturizers
The differences between face serums, face oils, and moisturizers are as follows.
Composition
Face serums are water based (humectants). They may contain hyaluronic acid (2) and glycerin, (3) which are well known for enhancing skin hydration. (3)
Face oils consist of a single or a combination of multiple oils and soluble actives.
Moisturizers contain numerous ingredients, such as emollients, lipid mixtures, preservatives, occlusive agents, emulsifiers, and humectants. (4)
Properties
Face serums such as retinol-based and hyaluronic serums (5) have antiaging and anti-inflammatory properties.
Face oils such as jojoba oil (6) and coconut oil (7) have antimicrobial, anti-inflammatory, and antioxidant properties.
Moisturizers have antipruritic, photoprotection, antimitotic, and anti-inflammatory properties. (8)
Skin type
Face serums treat oily (9)(10) and dry skin. (11)
Face oils, such as jojoba oil treat oily skin, (12) argan oil treats dry skin, (13) and castor oil treats sensitive skin. (14)
Moisturizers treat oily, (15)(16) dry, (17) and regular skin.
Hydration and moisturization effects
Face serums hydrate the skin, and applying a face serum for 30 days straight effectively increases skin hydration. (18)
Face oils moisturize the skin and do not hydrate it. Some great face oils are coconut oil, (19) grapeseed oil, (20) jojoba oil, (21) and marula oil. (22)
Moisturizers enhance skin hydration and increase the water content of the outer skin layer by supplying water to the skin. (17)
Active ingredients
Face serums contain active ingredients, including vitamins C and E, peptides, glycolic acid, hyaluronic acid, and retinol at high concentrations.
Face oils contain herbal and natural ingredients such as almonds, jojoba, and neem at different concentrations to boost hydration.
Moisturizers contain active ingredients in low percentages. Some common active ingredients are lanolin, mineral oil, cetyl alcohol (fatty alcohol), stearic acid, paraffin, and lecithin. (23)
Types
Face serums: Hydrating, skin-brightening, exfoliating, antiaging, firming, and acne-fighting serums.
Face oils: Rose-hip seed oil, grapeseed oil, jojoba oil, coconut oil, ylang-ylang oil, and argan oil.
Moisturizers: Water-based (humectants), occlusive, and oil-based (emollients) moisturizers.
Molecular size
Serums are water-based and have smaller molecules.
Face oils have bigger molecules and more significant molecular concentrations.
Moisturizers may have larger or smaller molecular sizes depending on their base (oil or water).
What Are Face Serums and Their Benefits?
Face serums are lightweight or gel-like lotions that penetrate the skin layer to deliver active ingredients. (24)
They offer various benefits:
Serums make the skin texture smooth and firm, reduce pore size, and increase the skin's moisture levels. (24)
Serums make the skin elastic, tight, resilient, supple, hydrated, and bright.
Serums reduce wrinkles, fine lines, and skin aging, clear skin tone, and improve photodamage. (25)
What Are Face Oils and Their Benefits?
Face oils comprise a single or a combination of multiple oils and soluble actives. They are rich in emollients that nourish the facial skin deeply.
Face oils offer many benefits:
Face oils trap moisture, hydrate the skin, and strengthen the skin barrier.
Face oils make the skin soft and supple, even out skin complexion, and reduce wrinkles, fine lines, blemishes, and acne breakouts due to their anti-inflammatory properties.
Face oils regulate sebum production, cleanse the skin (due to their antibacterial properties), and boosts skin elasticity and resilience.
Face oils neutralize free radicals and thus provide antiaging effects.
Face oils soothe sensitive skin, reduce the appearance of enlarged pores, and treat skin rashes, eczema, and rosacea.
What Are Moisturizers and Their Benefits?
Face moisturizers are formulated to increase the skin's water content, and they are noncomedogenic and nongreasy. (26)
Moisturizers offer several benefits:
How to Apply Face Serums, Face Oils, and Moisturizers in the Right Order?
Here are the correct sequence and way to apply face serums, face oils, and moisturizers to your face:
1. Serums
Serums go first on the skin as they are lightweight. (24) They should be applied to a freshly exfoliated and cleansed face.
How to apply:
Warm the serum a little by taking some in your palm to match your skin's temperature.
Gently distribute the serum evenly on your face and neck.
Apply it once or twice daily.
2. Moisturizers
Moisturizers are used daily and go after the serum.
How to apply:
Massage 2-3 drops of moisturizer on your face after applying serum to increase absorption.
3. Face oils
Face oils are applied next to a moisturizer.
How to apply:
Cleanse and moisturize in the morning and night.
Dispense 4-5 drops of face oil and apply it using your fingertips. A little oil goes a long way and will not make your skin appear greasy.
Spread the oil gently all over your face and neck in an upward motion.
Can Face Serums and Moisturizers Be Used Together?
Yes, you can use moisturizers and face serums together. According to researchers, you can treat photodamaged skin and reduce wrinkles and fine lines by combining face serums and moisturizers. (31)
According to a study, 2 weeks of using moisturizers and a hydrating serum together resulted in a significant reduction in skin dryness and increase in skin softness when compared to using moisturizers alone. (32)
Final Word
Sensitive, combination, oily, or dry skin requires proper care, including moisturization, nourishment, and hydration. Experts recommend including oils, serums, and moisturizers in your skin care routine to properly care for it.
Choose products based on your skin type, skin needs, and product composition or ingredients.