There has been a shift to natural medicines recently, and people are paying more attention to them due to the safety of the compounds they contain.
Moreover, the demand for plant-based traditional medicine is growing, which could be used in cosmetics, nutraceuticals, foods, or pharmaceuticals.
Licorice (Glycyrrhiza glabra), which belongs to the Fabaceae family (Leguminosae), is a well-known medicinal plant. It is the oldest and most sought-after herbal medicine globally.
Glycyrrhiza is derived from the Greek words glykos (sweet) and rhiza (roots). Licorice also goes by the names liquorice, sweet wood, and glycyrrhiza. Its roots are mainly used, whereas its leaves are agrochemical waste. (1)
Licorice roots have multiple biological properties, such as anti-inflammatory, antibacterial, antidiabetic, antioxidant, and antiviral. (1)
Continue reading to learn more about the benefits of licorice root.
What Are the Benefits of Licorice Root for Skin?
Licorice root promotes and repairs wound healing, prevents skin wrinkling, and reduces the symptoms of atopic dermatitis (AD). It also treats swollen and cracked skin, itchiness, rash, and under-eye skin darkening. (2)
1. Reduces wrinkles
Licorice's phenolic compounds have powerful antioxidant properties (1) that help reduce skin wrinkling. These phenolic compounds effectively protect biological systems against oxidative stress and stop the onset of skin damage.
How to use:
Mix 1 tsp of licorice powder, 1 tbsp of sandalwood, and 2 tbsp of water in a bowl to make a thick paste.
Apply the paste to your face. Let it sit for 15-20 minutes.
Rinse it off with cold water.
Use it twice a week for best results.
2. Reduces tyrosinase production to minimize discoloration
Melanin production is a complicated process. Melanin is produced by an enzyme called tyrosinase. Licorice extract inhibits tyrosinase production, reducing dark spot production.
Tyrosinase plays a role in melanin biosynthesis. It is essential for skin pigmentation.
Medicinal and cosmetic industries use tyrosinase inhibitors to prevent pigmentation disorders such as age spots, melasma, and actinic skin damage.
Medicines are being developed to target tyrosinase inhibitors for the treatment of hypopigmentation-related issues. (1) Glabrene is one such ingredient that acts as a tyrosinase inhibitor, preventing melanin formation in melanocytes. It also acts as a skin-lightening agent.
How to use:
Cook 2 tbsp of oats in water and let it cool.
Add 1 tsp licorice root powder and mix well.
Add rose water or plain water to make a thick paste.
Gently cleanse your face with warm water.
Apply the mask evenly to your face and gently massage for at least 5 minutes.
Let it sit for 15–20 minutes.
Rinse it off with like warm water and lastly with cold water.
Apply a moisturizer.
3. Calms inflammation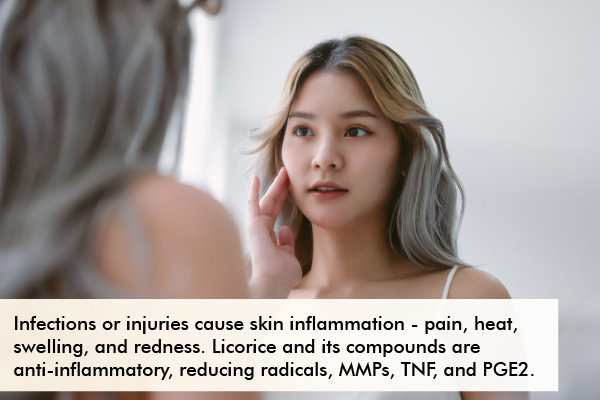 Any infection or injury can induce skin inflammation. It is characterized by pain, heat, swelling, redness, or disturbed skin psychological functions. The denaturation of tissue proteins is also the cause of inflammatory processes. When this denaturation is suppressed, it hinders skin-related inflammatory changes. It is a different aspect of anti-aging activity. (2)
Licorice and its natural compounds have anti-inflammatory properties. (2) They decrease free radicals, MMPs, TNF, and PGE2. (3) There are visible anti-inflammatory properties in 3 triterpenes, 13 flavonoids, and licorice extract.
How to use:
Use a licorice root extract-containing topical gel for inflamed, irritated, or itchy skin. It will soothe the redness, swelling, pain, and itchiness.
4. Facilitates wound healing
Licorice has traditionally been used for healing wounds. It accelerates wound healing by enhancing the production of collagen (a fibrous protein that does not dissolve) and new blood cell deposition through upregulation. Upregulation is the process where a cell increases its response to a signal or substance from the cell exterior to perform specific functions. (2)
In one study, a vacuum-dried ethanolic extract of licorice root was assessed for its wound healing properties on excision and incision wound models.
The time to heal oral wounds could be shortened with 60% licorice extract. (4) Consult your doctor before using licorice root for healing wounds.
Note: The results from licorice root powder and cream were shown in animals (rats and guinea pigs). No clinical trials have been performed on humans.
5. Provides sun defense
UV light harms humans and can lead to sunburn, DNA damage, inflammation, photoaging, immunosuppression, gene mutation, and skin cancer.
Licorice was observed to directly and indirectly control DNA damage and avoid the activation of apoptosis caused by UVB radiation. (2) It prevents UVB-induced pigmentation and has anti-inflammatory effects that hinder cyclooxygenase and superoxide anion activity. (1)
Licochalcone A and Luteolin are flavonoids present in licorice roots and exhibits photoprotective properties and protect skin cells by absorbing UVA radiation. (2)
How to use:
Mix 1 tbsp of licorice powder with 2 tbsp of aloe vera gel and 1 tsp of lemon juice.
Apply this face pack to your face and neck.
Let it sit for at least 25 minutes.
Rinse it off with cold water.
Apply this pack twice a week for the best results.
6. Treats acne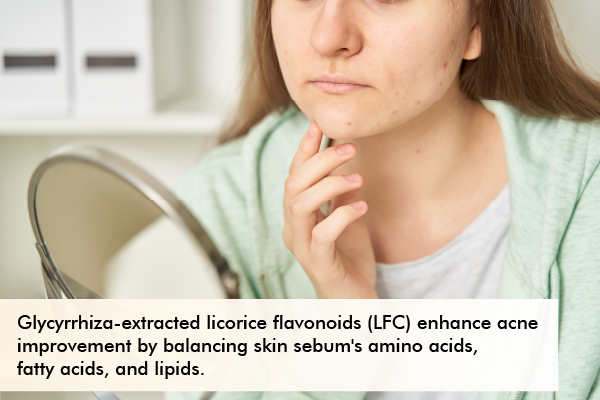 Glycyrrhiza-extracted licorice flavonoids (LFC) can help improve acne. LFC treats acne by regulating the metabolic balance of amino acids, fatty acids, and lipids in skin sebum.
Licorice is used to treat pimples and acne in Chinese medicine. Its antibacterial effects reduce acne.
How to use:
Grind the peel of one orange.
Mix 1 tbsp of ground orange peel with 1 tsp of licorice powder, 1 tsp of lemon juice, and 2-3 tsp of water.
Apply this mask to your face and let it sit for at least 5 minutes.
Massage it when it's half wet, and leave it for at least 10 minutes.
Wash it off with water.
Apply rose water.
You can use this mask twice or thrice weekly.
Can You Use Licorice Daily?
People with muscle weakness and unexplained hypokalemia should be suspected of licorice overconsumption.
DGL, which is a form of processed licorice, does not have adverse effects and treats peptic ulcer diseases combined with antacids (it is known as Caved-S).
However, licorice is rarely used now due to its side effects and the arrival of powerful medicines for treating peptic ulcers. (5)
Note: Daily consumption of licorice is not advisable, as overconsumption can cause abnormal heart rhythms, muscle weakness, and lower potassium levels leading to hypertension. (6)
What Is the Source of Licorice?
Licorice-containing snacks include toffee bars, torpedos, blackcurrant, Stimorol chewing gums, Pontefract cakes, and sticks. Licorice drinks are Belgian beers, anisette (Ouzo, Raki, and Pernod), Pastis brands, and the Egyptian drink erk soos.
Licorice is also used as a sweetening or flavoring agent by tobacco companies. Sailors and miners use sweet-flavored licorice twists for chewing while working in no-smoking environments. They are another source of licorice. (6)
Licorice-containing health products include licorice tea, throat pearls, herbal and licorice-flavored cough mixtures, laxatives (compound licorice powder and cascara), and licorice-flavored diet gum. (6)
How Much Licorice Is Suitable for Daily Intake?
The challenge of licorice dosing lies in its availability in multiple forms, such as beverages, candies, extracts, and supplements with different licorice active components.
In 1991, the European Union (EU) stated a provisional figure of 100/mg (approximately 60-70 g of licorice) as the upper limit for the ingestion of glycyrrhizin.
The Scientific Committee on Food established 100 mg/day as licorice's upper limit in 2003. This data was based on human volunteer studies.
New limited human toxicity studies cannot derive the average daily intake amount of ammonium glycyrrhizinate and glycyrrhizic acid.
According to the Dutch Nutrition Information Bureau, consuming more than 200 mg of glycyrrhizin is not advised, which is assumed to correspond to 150 g of licorice confectionery. (6)
Complications and Side Effects of Licorice
Two licorice-induced complications are hypokalemic myopathy and hypertension.
Adverse side effects of licorice in high doses are hypokalemia, hypertension, and fluid retention. (1) Skin-related side effects are itching.
General Queries
Final Word
Licorice root has been used in traditional medicine and the food industry as a flavoring or sweetening agent. Licorice root prevents and treats multiple conditions, particularly viral/microbial infections, skin inflammation, and cancer.
Licorice root contains several bioactive compounds; some are vital cosmeceutical ingredients. The extracts demonstrated excellent anti-aging properties due to their inhibitory activity against tyrosinase and elastase and their anti-inflammatory activity. Glycerolic licorice extract is a promising component with numerous skin-related benefits, making them ideal for specialized skin cosmetic formulations. (2)