All desire youthful, gorgeous, and flawless skin. But the question is, how do you achieve and maintain it?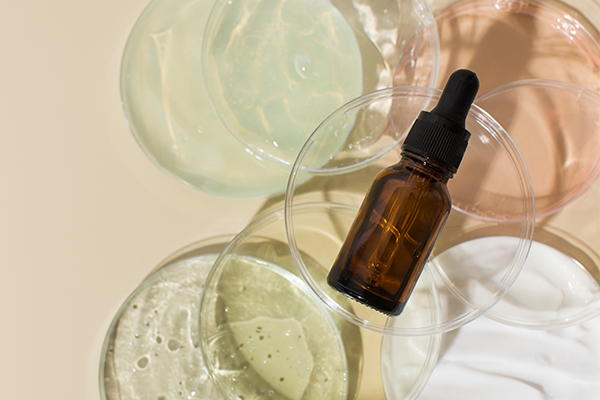 Niacinamide and mandelic acid are two ingredients that reduce skin aging, (1)(2) treat acne, (3)(4) lighten the skin (1)(5) and improve its overall appearance. (1)(6)
Mandelic acid is beneficial for sensitive or acne-prone skin and has exfoliating properties that enhance skin texture and tone. (7)
Niacinamide has hydrating properties and is suitable for acne-prone, oily skin. However, niacinamide is not as exfoliating as mandelic acid. (4)
Continue reading to learn about mandelic acid and niacinamide, which is better, and what to use based on your skin type and needs. 
Mandelic Acid Versus Niacinamide: What's Better?
Mandelic acid is an alpha hydroxy acid (AHA), and its ability to penetrate the skin evenly and gradually makes it an ideal choice for acne-prone, sensitive skin. (7) Thus, people may prefer mandelic acid over niacinamide.
However, if your skin is oily, you may prefer niacinamide over mandelic acid. (4) According to researchers, niacinamide is a powerful ingredient that inhibits sebocyte secretions, which decreases sebum production and reduces skin oiliness (4) and pores size. (8)
A study found that using 2% topical niacinamide for 2–4 weeks decreased sebum expulsion significantly. If you have only oily skin, you can use niacinamide. (9)
If your skin is dry, you can use both niacinamide (for its ability to prevent moisture loss) and mandelic acid (for its ability to exfoliate and moisturize the skin and increase its hydration levels.) (10) Thus, you can use both to treat dry skin. 
Mandelic acid is suitable for all skin types in high concentrations (7) as it is the safest agent of all the AHAs. Applying a mandelic acid chemical peel does not cause any discomfort to the skin, such as redness or burning, either during or after using it. It can also be used throughout the year as it does not have phototoxic properties. (11)
Niacinamide is also safe for skin application. However, a niacinamide cream may cause mild itching, burning, or redness. (12) Using niacinamide products with more than 4% concentration directly on the skin can also cause irritation and redness in people with sensitive skin. 
So, the suitability of mandelic acid and niacinamide depends on your skin type and needs. Generally, if your skin is acne-prone, use mandelic acid, whereas if your skin is oily, use niacinamide.
What is mandelic acid?
Mandelic acid is an alpha hydroxy acid obtained from bitter almonds. (13) Its gentle exfoliating property eliminates dead skin cells, boosts collagen production, reduces discoloration, and improves skin tone and texture.
The molecules of mandelic acid are large, which results in a slow penetration of the acid into the skin without any irritation. It can be used in high concentrations and is suitable for all skin types.
Mandelic acid can be used to treat melasma, acne, hyperpigmentation, and sun damage. (1)
What is niacinamide?
Niacinamide is also known as nicotinamide and has several skin benefits. It is a form of vitamin B3 and can be found in animal and plant products and dietary supplements.
Niacinamide is water-soluble and must be taken daily. (14)
According to a study, topically applying niacinamide-containing products provided facial skin benefits such as improving texture, appearance, red blotchiness, and hyperpigmentation. In addition, they improved skin firmness (elasticity), wrinkles, and yellowing (sallowness). (15)
Differences Between Mandelic Acid and Niacinamide
The differences between mandelic acid and niacinamide are as follows.
1. Anti-aging
A 2020 research concluded the antiaging effects of mandelic acid, (16) and its topical formulation enhanced the quality of aged skin. (17)
A 2016 researcher also concluded the similarity between mandelic acid and alpha hydroxy acids in terms of antiaging benefits, such as reducing and softening wrinkles and fine lines and improving skin texture. (1)
A 2021 research documented that niacinamide (or nicotinamide) has been used in the cosmetic industry for decades to curb skin aging at 4%–5% concentrations. 
In several clinical trials, the topical treatment of niacinamide alone or in combination with other active ingredients reduced skin aging. Additionally, a niacinamide-containing formulation reduced the effects of elasticity and wrinkles.
You can use niacinamide with sunscreen products to reduce skin aging signs due to sun exposure.
However, according to researchers, the mechanism of action of niacinamide in preventing skin aging is not well understood, and there's no evidence stating its specific molecular targets for stopping skin aging. (2)
2. Skin lightening
A 2016 research reported the skin-lightening ability of mandelic acid. It lightened the dark areas caused by sun exposure, skin damage, and melasma (a skin condition that causes darker patches than the natural skin tone, usually on the face). (18)(1)  
A 2021 research also reported the skin-lightening effects of topical niacinamide. (19) It was also found that a niacinamide-releasing compound, or topical niacinamide itself, acts as a skin-lightening agent. (20)
Niacinamide decreases the transfer of melanosomes from the pigment cells that produce them (melanocytes) to surface cells (keratinocytes), causing skin lightening. Thus, less pigment reaches the topmost skin layer, resulting in a lighter and even look.
However, niacinamide has no direct effects on the melanin content of melanocytes. It doesn't affect the pigment amount melanocytes make, only its transfer to keratinocytes. Therefore, niacinamide doesn't change the pigment color directly, only its visibility on the skin. (5)
3. Effect on acne-prone skin
According to researchers, mandelic acid has anti-inflammatory and antibacterial properties, and a 45% of mandelic acid peel showed its efficacy in treating mild to moderate acne vulgaris. (3) 
A 2015 research also reported that 5% or 10% mandelic acid-containing products are effective and safe in treating acne. (21) 
In another 2015 study, mandelic acid peel was reported as a simple, safe, promising, and inexpensive treatment for acne compared to other standard treatments. (22)
A 2021 study shared that niacinamide can be used as a topical medication to treat mild to moderate facial acne vulgaris and reduce non-inflammatory lesions with negligible side effects. (19)
Experts also reported that 4% niacinamide improved acne significantly. Its anti-inflammatory properties benefitted pustular (yellow pus-containing or red bump pimple) and papular acne (small, inflamed bumps due to medications, hormones, bacteria, and excessive skin oiliness). (4)
4. Skin appearance improvement
Bitter almonds produce mandelic acid, which can serve as a gentle skin exfoliator. (23) Researchers conclude that damaged skin can be effectively treated with mandelic acid peels.
Mandelic acid increases cell turnover and dissolves the tiny bonds holding skin cells. It quickly removes dead skin cells from the skin surface to reveal healthy cells. This quick removal makes the stratum corneum (outermost skin layer) thin, which results in smoother and youthful skin that reflects light better. Thus, mandelic acid enhances overall skin appearance. (1)
Niacinamide speeds up epidermal turnover and also acts as a mild exfoliant, improving skin texture. Topically applying niacinamide can smooth skin surfaces.
According to a study, using 2.5% niacinamide for an extended period can improve the damage on the skin surface caused by aging.
In a clinical trial, 3.5% niacinamide was compared with a placebo for about 4 weeks, which concluded that the former caused a 14.8% reduction in skin roughness. Thus, niacinamide also improves skin appearance. (6)
How to Use Mandelic Acid
Follow these steps to apply mandelic acid to your face:
Wash your face with a mild cleanser, and pat it dry.
Apply a skin toner. Let it sit for 2–3 minutes.
Apply 2–3 drops of mandelic acid. Massage it to your face using your fingertips for at least 5 minutes. Let it sit for at least 20 minutes.
How to Use Niacinamide
Follow these steps to apply niacinamide to your face:
Wash your face with a mild cleanser.
Apply 2–3 drops of niacinamide serum or moisturizer. You can also apply a product with niacinamide as the key ingredient or add 2–3 drops of niacinamide booster to your preferred moisturizer. 
Using your fingertips, massage the product in an upward motion for at least 20 minutes. Let it be absorbed completely.
Repeat this twice daily, morning and evening, for better results.
Precautions When Using Niacinamide and Mandelic Acid
Initially, use small amounts and low concentrations of niacinamide and mandelic acid. You can then use them daily when your skin builds tolerance after a few applications.
Incorporate mandelic acid-containing products into your nighttime routine after cleansing and before moisturizing.
Due to its stability, you can incorporate niacinamide into your morning routine as a serum or a moisturizer.
If you choose to apply mandelic acid during the day, remember that it can increase sun sensitivity; therefore, wearing a broad-spectrum sunscreen with SPF 30 or more is imperative. (1)
General Queries
Can I use niacinamide with mandelic acid?
Yes, you can use niacinamide with mandelic acid, as their combination has several skin benefits, such as reduced inflammation, wrinkles, and fine lines; improved tone, texture, hydration, and barrier function; exfoliation without irritation; and brightening the skin.
Remember to use mandelic acid in a low concentration when combined with niacinamide, and do a patch test before incorporating it into your skin care routine.
Which one should be applied first, mandelic acid or niacinamide?
Layer the two products based on consistency and water content. Start with water-based products with a thin consistency, such as serums, essences, and toners. Follow up with thicker-consistency products with high oil content, such as facial oils, moisturizers, and lotions. 
Mandelic acid has both water and oil solubility. It can be incorporated in any of the two ways mentioned above. Niacinamide is water-based and can be incorporated into water-based products. Mandelic acid is an alpha hydroxy acid. It can increase the skin's sensitivity to the sun. Therefore, use sunscreen daily.
Additionally, it is important to learn the correct order of taking mandelic acid and niacinamide on the same day. Start with the product with a thin consistency, such as a niacinamide serum, and then follow it with a thick-consistency product, such as a mandelic acid serum or cream.
Final Word
Both mandelic acid and niacinamide are beneficial antiaging ingredients and treat acne, but they have different benefits and strengths. They can improve the appearance of wrinkles, fine lines, skin texture, and hyperpigmentation.
Choose what's best for you based on your skin type and needs, and include it in your skin care routine.