In the world of cosmetics, there is a skin care product for you based on your needs and preferences. One such product is skin moisturizers.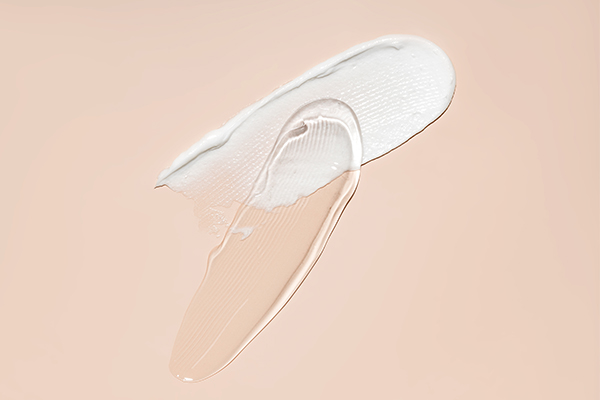 Different varieties of moisturizers are available, such as gels, creams, lotions, ointments, and gel-creams. (1)(2)
Did you know that the texture of your moisturizer plays a significant part in your skin care? However, choosing what's best can be challenging when textures are involved.
The two popular moisturizers are cream and gel moisturizers; their main difference is their texture. A gel moisturizer is watery and lighter, whereas a cream moisturizer is richer, thicker, and more emollient. (3)
Gel moisturizers are ideal for oily skin regions, such as the face and hairy areas of the body, (4) and combination skin. Cream moisturizers are suitable for dry skin. (3)
Continue reading to learn more about gel and cream moisturizers.
Which Is Better, Gel or Cream Moisturizer?
The texture of gel moisturizers is light and watery as it is oil-free, whereas the texture of cream moisturizers is more emollient, heavy, and thick due to their superior fat composition, which forms a long-lasting protective skin barrier.
These fats include vegetable oils, butter, phospholipids, vitamin F, and fatty acids. They provide softness, protection, and nourishment to the skin. Thus, cream moisturizers are best suited for dry skin than gel moisturizers.
For dry skin, use cream-based moisturizers; for oily skin, use lightweight gel moisturizers.
Nevertheless, gel moisturizers are compatible with many skin types, but their oil deficiency makes them suitable for combination and oily skin, as they don't add extra oil to the skin. Many gel moisturizers are made with hyaluronic acid for deep skin hydration.
Cream-based moisturizers have benefits for dry skin. They are oilier and thicker and dramatically alter the visual appearance of dry skin. For this reason, they are more moisturizing. (3)
Cream-based moisturizers benefit dehydrated, dry skin needing intense repair and hydration.
Note: Eventually, what you choose comes down to your individual needs, skin conditions, and personal preferences.
Some may prefer the refreshing feel and lightweight of gel moisturizers. Others may need the deeper hydration and richer consistency provided by cream-based moisturizers.
In many cases, cream moisturizers are best for dry skin, as they attract moisture and help preserve it. For dry and oily skin, gel moisturizers are good.
Gel moisturizers
Gel moisturizers contain gelling agents with semisolid formulations. Gels can be hydrogel (water-based) or alcohol. They have transparent lattices of organic macromolecules thickened with a gelling agent, such as carboxymethylcellulose.
Gels are thick and liquefy in contact with warm skin, giving a cooling sensation. They create a thin film on the skin that doesn't stain or leave a greasy texture behind. These aspects of gels make them a favorable choice in the cosmetic world.
However, the poor occlusive nature of gel moisturizers does not provide hydration. They can be applied and washed off easily.
Gel moisturizers are suitable for oily areas, such as the face and the hairy regions of the body. They are ideal for treating scalp and skin conditions such as acne, psoriasis, and seborrheic dermatitis.
One of the drawbacks of gels is that they can be removed easily by perspiration. Moreover, alcohol-based gels may cause tingling on broken or inflamed skin. (4)
Cream moisturizers
Cream-based moisturizers are semisolid preparations and are used for reducing skin issues and wrinkles. (2)
A water-in-oil emulsion consists of an aqueous or water solution in the disbanded phase and oleaginous or oil material in the continuous phase. In oil-in-water emulsion, these phases are reversed. Based on oil and water proportions, creams range from mildly greasy to nongreasy.
Creams are dense and opaque and evaporate or absorb when rubbed onto the skin. They are miscible with surface exudate and don't retard heat loss. They are less viscous, greasy, and more spreadable, making them appealing to some people.
However, the occlusive nature of creams makes them less hydrating than ointments. Their emollient and moistening properties make them effective for weepy/exudative and dry skin, particularly the ones with significant exudate. They are used for oozy or infected plaques, such as psoriasis and eczema.
Creams can be used in all areas, including the face. They are also effective in the genital and flexural areas. (4) According to the experts, people 50 years and older and premenopausal people should apply cream-based moisturizers. (5)
Key Differences Between Gel and Cream Moisturizers
| | |
| --- | --- |
| Gel Moisturizers | Cream Moisturizers |
| They are better for acne-prone, oily skin. (3) | They are better for dry skin. |
| They are lighter on the skin. | They are heavier on the skin. (3) |
| They offer less hydration. | They are water-based. (4) |
| They are water-based. (4) | They often contain oil-based ingredients. (4) |
| They work better before applying makeup. | They make foundation application a bit hard. |
Note: Try out different formulations to observe your skin's response. Also, consult a skin care professional or dermatologist for the best product you can use based on your skin concerns and priorities.
Differences Between Gel and Cream Moisturizers
The following are the differences between gel and cream moisturizers.
Skin type
For oily, acne-prone skin, gel moisturizers are recommended, as greasy products can clog pores. (6)
For dehydrated, dry skin, cream moisturizers are recommended, as they are oil and/or water-based (W/O emulsion). (7)
They have more fat than water, creating a protective layer on the skin and storing moisture. They are used when richer creams are needed, especially for dehydrated skin such as in eczema. (8)
Note: Look for noncomedogenic (anti-pore-clogging) products if you have blocked pores or acne.
Texture
The texture of gels is light and watery, as it is oil-free. So, if you don't like an oily, sticky feeling, use water-based moisturizers.
Gel moisturizers contain good hydrating ingredients without clogging pores. However, they require frequent application as they evaporate quickly due to their lightweight consistency.
The texture of cream moisturizers is heavy and thick, creating a long-lasting protective skin barrier. (3) The oil curbs quick moisture evaporation and allows the absorption of the healthy ingredients in the cream for better skin nourishment and softness. (9)
Cream moisturizers are convenient as you only need to apply them once. Therefore, they are perfect for a nighttime facial mask.
Hydration and moisturization
Gel moisturizers have humectant ingredients and light and watery structures. They can capture epidermal water molecules, such as polysaccharides, natural moisturizing factors, or hyaluronic acid.
Gel moisturizers provide hydration without a greasy finish. According to researchers, gels can increase the water content of the skin's deeper layer, significantly enhancing barrier function, hydration, and radiance. (10)
On the other hand, creams provide additional skin moisture and preserve more water. Thick creams spread easily on damp skin and provide effective moisturization by trapping the water in the skin and preventing evaporation. Thus, if you want to avoid water loss right after showering, use cream moisturizers. (5)
Additionally, cream moisturizers with oil-in-water emulsions contain more water. For example, light creams are absorbed easily, thus moisturizing the skin and keeping it cool. (8)
Ingredients
If a cream moisturizer has high oil content, it is an oil-based moisturizer.
Oil-based moisturizers contain paraffin, mineral oil, lanolin, and ceramides. They are heavier and thicker than humectants, and they soften the skin's surface by adding oil to the skin.
Excipients known as thickeners are significant in determining the viscosity of topical vehicles, drug penetration, and skin retention. The four thickener groups are:
Lipid thickeners
Naturally derived thickeners
Synthetic thickeners (for example, ammonium acryloyldimethyltaurate and cetyl palmitate)
Mineral thickeners
Synthetic thickeners are used in creams. The most common thickener is carbomer, a water-soluble acrylic acid polymer that forms clear gels. (4)
Makeup application
You can put gel-based moisturizers before applying makeup, and it will not make your foundation look smeared and smudged.
The thick consistency of creams can make it harder for foundation application and keep that flawless look.
Note: If you want to go barefaced, apply cream moisturizers for healthy and hydrated skin throughout the day.
How to Apply Gel and Cream Moisturizers
Follow these steps to apply gel and cream moisturizers.
Dispense the gel or cream moisturizer on your fingers and warm up the product by rubbing your hands together for easy application.
Apply it to your cheeks, sweeping from the nose outward.
Apply it to your forehead, working from the top of your brows toward the temples.
Rub along your jawline from the chin to the ears.
Apply it to the neck upward, from the décolletage to the chin.
Note: Apply the moisturizer in gentle, circular, and patting motions to facilitate absorption. Do not use a heavy-handed application that can tug your skin and cause premature aging and damage.
Drawbacks of Using Gel and Cream Moisturizers
The following are the drawbacks of using gel and cream-based moisturizers:
Not moisturizing enough: A few cream or gel moisturizers may not deliver hydration for dehydrated, dry skin types.
Might have pore-clogging ingredients: Cream and gel moisturizers are not created equal. Some may exacerbate skin oiliness and some may contain pore-clogging ingredients that lead to breakouts.
May not deliver sufficient sun protection: Not every cream or gel moisturizer may give you adequate sun protection, leading to premature aging and skin damage.
Note: Using a gel or cream moisturizer designed according to your skin type and needs is essential. It should have noncomedogenic ingredients to avoid breakouts or acne. Also, use a different sunscreen for proper sun protection.
General Queries
What should be applied first, gel or cream?
Apply products from lightest to heaviest in consistency. Lightweight and water-based products such as gels must be applied first as they are absorbed quickly, followed by oil-based or heavier products or creams. 
What are the benefits and drawbacks of oil and water moisturizers for oily skin types?
Both oil-based and water-based moisturizers have pros and cons for oily skin. 
Oil-based moisturizers are suitable for people with oily skin as they seal in moisture, as oily skin produces oil in excess to compensate for the dryness. However, people with breakout-prone skin may not benefit from oil-based moisturizers as they can be a bit greasy. 
Water-based moisturizers are less effective at trapping moisture and, therefore, are less likely to cause a breakout. You can use water-based moisturizers containing ingredients such as hyaluronic acid to attract and retain skin moisture. 
Is using moisturizer necessary? If yes, when should it be applied? And does oily skin need to be moisturized?
Yes, moisturizing your face is necessary and should be done after cleansing and toning the face every morning and night. It controls sebum production in oily skin, and its glycerine content keeps skin hydrated and glowing.
Final Word
Both cream and gel moisturizers nourish and hydrate the skin due to their emollient and occlusive properties, but they differ in ingredients and texture. The ability of gel-based moisturizers to avoid skin greasiness makes them suitable for combination and oily skin.
The ability of cream-based moisturizers to provide extra moisturization and protection makes them suitable for dehydrated, dry skin. Therefore, choose what suit you best based on your skin type and needs.