You have oily skin if you wake up and notice grease on your face when you touch it. (1)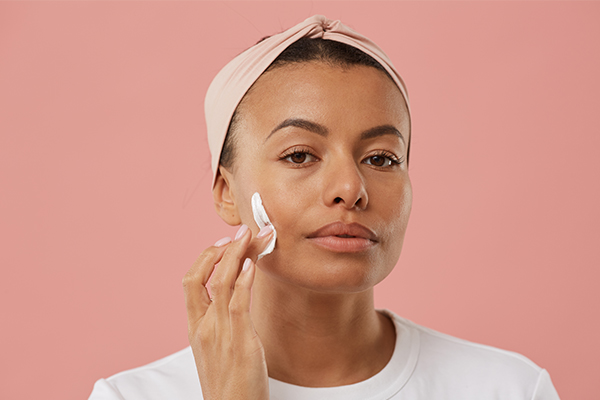 It's a common misconception that people with oily skin don't need to moisturize at the end of their routine because their skin already produces too much oil and adding more could clog the pores and cause acne. However, a moisturizer is still recommended, even if your skin tends to be oily.
Various studies have found that 66%–75% of people between the ages of 15 and 20 years have oily skin. Moisturizers benefit oily skin (1) because they serve a unique purpose in skin care. (2)
Moisturizers help in hydrating your skin by retaining the moisture level in the outer skin layers. The humectants in moisturizers are responsible for attracting moisture to the skin, and the emollients in moisturizers are responsible for forming a protective film over the skin and locking in moisture. (3)
If your face produces too much oil, you may wonder whether or not moisturizing creams are appropriate for you.
Don't worry! This article will present in detail what moisturizers can do for oily skin and the best practices for maintaining oil-free skin. So, whether you're brand new to skin care or an old pro, keep reading to learn more!
How Can a Moisturizer Help Oily Skin
Here are some ways in which moisturizers can help you deal with oily skin.
1. Moisturizers help prevent acne
Excess sebum production can lead to both acne and oily skin. (4) And no, oily skin is not necessarily adequately hydrated.
Even if your skin produces a lot of oil, that doesn't mean it has a lot of water. Removing this oil is unsuitable for your skin's health either because it promotes moisture loss.
Researchers at the American Academy of Dermatology stated that with an acne-friendly moisturizer for 4–8 weeks, most patients saw a reduction in acne. (5) Over 85% of the 91 participants reported that the SPF 30 moisturizer made it easier for them to bear their acne treatment. (6)
Among the anti-inflammatory ingredients in moisturizers, six were acne medications including salicylic acid, benzoyl peroxide, and retinol. (7)
Some doctors recommend moisturizers as an additional treatment for acne, especially in conjunction with topical benzoyl peroxide or retinoids. Additionally, there is evidence that moisturizers can help alleviate acne symptoms independently. (7)
2. Moisturizers eliminate the appearance of wrinkles
Wrinkles and fine lines are signs of premature skin aging, and dehydration significantly contributes to this problem. (8) Dehydrated skin differs from oily or sebum-filled skin such that the former lacks hydration or water. Oil cannot restore your skin's moisture level; only water can.
Several factors can cause oily skin to dry out. First, the skin can become dry from too much time in the sun. Use a moisturizer designed for oily skin to prevent your sebaceous glands from overproducing oil to compensate for the moisture your skin loses while sunbathing.
Olay conducted a study that demonstrated the efficacy of moisturizers in minimizing the appearance of wrinkles. The study's results were published in the British Journal of Dermatology. (9)
All the women in the experiment had their pictures taken with neutral expressions, and their skin moisture was recorded. Eight years later, more photographs and checks were made. The research found that using a moisturizer and sunscreen daily can help prevent premature skin aging. (9)
While moisturizing won't eliminate wrinkles, it will help keep them at bay. Moisturizers are widely used because they diminish the appearance of fine lines (10)(11) and soften the skin.
3. Moisturizers protect and soothe the skin
Harsh products can cause itching in anyone, even those with naturally oily skin, by damaging the skin's protective barrier and stripping away its natural oils. Fortunately, applying a good moisturizer can quickly relieve itchy skin. (10) Moisturizers help soothe irritated skin.
A water-based moisturizer's cooling effect comes from the water evaporating on the skin's surface. Some moisturizers may contain menthol as an additive, which provides a cooling sensation and reduces itch symptoms. The clinical signs of irritation and dryness (i.e., scaling and roughness) and the perceived tightness and itching can be mitigated by using moisturizers. (10)
Always apply a thick layer of moisturizer to protect your skin from pollution, dry air, and other environmental aggressors. (12) Moisturizers provide your skin with an extra layer of defense.
Moisturizers increase the water content of the stratum corneum (the outermost layer of the skin) by delivering water from their water phase and increasing occlusion to decrease transepidermal water loss. They also seal off tiny cracks in the skin, create a calming film, and shield the skin from rubbing. (10)
4. Moisturizers help to get rid of excess sebum
Moisturizers with oil-absorbing ingredients such as silicon derivatives, kaolin, and talc can help prevent shininess on the face.
5. Moisturizers with SPF protect the skin from UV rays
Nowadays, moisturizers contain sunscreens with a range of SPFs, offering double the protection from the sun. (2)
One moisturizer that has a sunscreen of SPF 30 was studied and was found to naturally provide photoprotection, which is what most people look for in a daily moisturizer. Patients with acne vulgaris may benefit from this effect because they frequently take medications for which photoprotection is explicitly recommended in the product monographs. (6)
The moisturizer with SPF 30 contains sebum-absorbing ingredients (silica microbeads and cornstarch) that do not directly cause dryness, making it suitable for use on oily skin.
The SPF 30 moisturizer contains sebum-absorbent ingredients, which are beneficial for "oily skin," which can affect the whole face or can be concentrated in specific areas such as the nose, chin, and forehead. (6)
How to Use Moisturizers on Oily Skin
Moisturizers should be applied after toning the skin with a toner, with particular attention paid to the T-zone (the nose, forehead, and chin, where oil buildup occurs most frequently). (13) Moisturizers should be massaged into the cheeks, eye area, and T-zone. (14)
Things to Consider When Buying a Moisturizer for Oily Skin
Use a moisturizer that is not comedogenic. (3) Choose a lotion that doesn't leave a greasy residue and absorbs quickly.
When looking for a moisturizer, stay away from products that are heavy on essential oils. Find a lotion with hydrating ingredients such as hyaluronic acid, glycerin, or aloe vera gel. (7)
You may also use a lotion with witch hazel in it. The astringent, antiseptic, and anti-inflammatory properties of witch hazel (dried aerial herb) have long been used for skin conditions such as acne. (15)
Moisturizers tailored to oily skin tend to be lightweight and noncomedogenic, to improve the skin's appearance and provide as many benefits as possible.
Products derived from silicone work well on oily skin. Oil-absorbent compounds such as kaolin and talc (2) are added to these products to reduce shine.
Tips for Keeping the Skin Oil-Free
Oily skin can worsen acne by trapping dead skin cells inside the pores. The trick is to keep your skin from becoming very oily while still retaining some of its natural moisture. Follow these tips:
Don't touch your face throughout the day: Touching your face can transfer oil, dirt, and bacteria from your hands to your face. Ensure your hands are clean before touching your face to wash, moisturize, or apply sunscreen or makeup.
Select "oil-free" and "noncomedogenic" skin care products: Skin care products, including cleansers, moisturizers, and cosmetics, bearing these labels will not clog pores or cause acne. (14)
Make constant use of blotting papers: To remove excess oil from your face, press a sheet of paper against your skin and leave it there for a few seconds. Don't wipe your face with paper because doing so will transfer the oil to other areas of your face. (14)
General Queries Related to Using Moisturizers on Oily Skin
To what extent and when should I use a moisturizer if I have oily skin?
The best times to use a moisturizer are first thing in the morning and right before bed. After washing your face and applying acne serum, moisturize your skin. (14)
What's up with my oily nose?
Researchers found that 83% of oily-skinned patients had oil on their nose. This is because numerous sebaceous glands are found in the skin around your nose. (1)
Even on a dry face, oil collects around the nose because that's where most oil is secreted by the sebaceous glands. Naturally, a person's nose will have the most prominent pores of their entire face.
What hormone controls sebum production?
Hormonal shifts may coincide with an increase in oil production.
Among the many hormones that control sebum production, androgens are the most crucial. At puberty, both sexes experience an increase in sebum production and the development of acne because of androgens. (16)
How old do you have to be to use a moisturizer?
A moisturizer is suitable for anyone over the age of 12. In addition, many moisturizers contain antiaging ingredients, so those with more advanced age can also use them.
Final Word
Even people with oily skin can use a moisturizer. Moisturizers protect the skin by acting as an emollient, humectant, and occlusive. Moisturizers are great for oily skin because they contain ingredients that help treat oily and acne-prone skin.
For these reasons, even if your skin leans towards oiliness, you should still use a moisturizer. Make sure to look for one that is oil-free, non-greasy, and noncomedogenic. Apply the moisturizer your dermatologist has suggested.