The cold winter winds can give rise to unwanted acne breakouts. The freezing wind outdoors and the warm temperature indoors can lead to skin peeling, itching, flaking, or dryness, developing an environment for acne breakouts.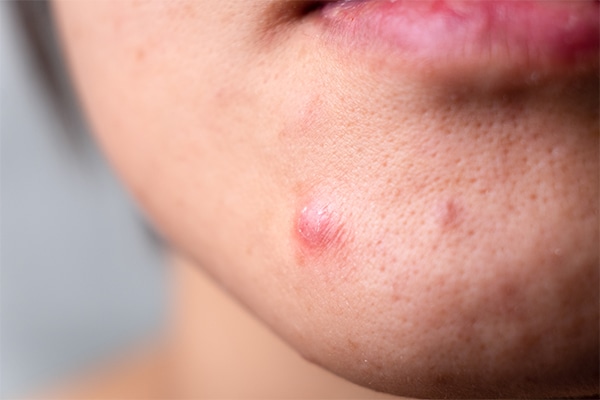 Although acne breakouts result from sebum overproduction, excessive dryness can also cause irritation and breakouts on the skin. Thus, protecting the skin from dryness is imperative in winter.
Continue reading to learn about the proper winter skin care routine for acne-prone skin.
Winter Routine for Acne-Prone Skin
Follow these steps for a proper winter skin care routine for acne-prone skin.
1. Wash Your Face
Cleansing is the first and crucial step in a skin care routine. For acne-prone skin, the goal is to remove sweat, excessive skin lipids, and dirt without causing skin dryness or irritation.
The properties of cleansers for acne-prone skin must be:
Noncomedogenic (products that won't clog pores)
Non-acnegenic (products that won't cause breakouts or clog pores)
Non-allergenic
Non-irritating
The myth that vigorous skin scrubbing several times a day reduces oiliness harms the skin as it only exacerbates acne and can lead to acne determinants (an inflammatory disease of the sebaceous glands and hair follicles, which results in the eruption of pimples or pustules, especially on the face).
Syndets, lipid-free cleansers, exfoliants, astringents, and abrasives are wide-spectrum skin-cleansing agents. Gentle cleansing is crucial since anti-acne treatments often lead to skin dryness and irritation. (1)
Soap-free cleansers with a pH level similar to that of the skin (5.5) are ideal for acne-prone skin. (2)
How to wash your face:
Give your face a splash of water.
Apply a coin-sized amount of face wash to your face.
Gently rub it for a few seconds on your face.
Wash it off with water and pat your skin dry.
2. Apply a Toner
Toners are good at removing the last traces of impurities or dirt trapped in your skin pores, even after washing your face. (3)
Oily skin can get acne quickly. (4) White tea (with antioxidant and antiseptic properties) and witch hazel (with astringent properties) can eliminate such acne issues. (5)
Most toners for oily skin contain witch hazel as a primary ingredient as it has anti-inflammatory and astringent properties that eliminate excess skin oil (6) and fight acne.
Guava toners reduce nose and forehead oiliness significantly more than any base toner. (7) They also remove excess sebum and cleanse the face effectively. (8)
Toners help restore skin texture and can be used daily. (3) Oily skin has large pores and is prone to acne. (9) Thus, removing oil helps manage acne.
How to apply toner:
Take a small amount of toner in your palm and apply it to your face. You can also use a cotton ball to apply toner by gently dabbing it in small circles across your face.
Focus more on the T-zones of your face (forehead, nose, and chin).
Leave it on and air-dry. Do not wipe it off.
3. Apply a Moisturizer
Due to their nongreasy formula, moisturizing gels (hydrogels) or O/W emulsions suit acne-prone skin (greasy skin care products clog pores). (2)
Moisturizing acne-prone skin is imperative to keep it hydrated, and a moisturizer is an antioxidant vehicle. (10)
Water-based moisturizers allow the evaporation of water from the skin's surface, giving a cooling sensation. Some moisturizers also contain menthol to reduce itchiness and fight oily skin, (11) thereby controlling acne.
The different types of moisturizers are:
Hydrocarbons, such as mineral oil, petrolatum, squalene, and paraffin
Sterols, such as ceramides and cholesterol (12)
Vegetable oils, such as soybean oil, grape seed oil, castor oil, coconut oil, and olive oil
Silicones, such as dimethicone (silicone-based derivatives to fight acne; suitable for oily skin) (3)
Wax esters, such as beeswax and lanolin
Animal fats, such as lanolin, emu oil, and mink oil
How to apply moisturizers:
Take a small amount of moisturizer in your palm.
Put dots of moisturizer on your face on the cheeks, forehead, chin, and nose. That's 5 dots in total.
Gently massage your skin using your fingertips.
4. Wear Sunscreen
Gel or spray sunscreen is suitable for oily and acne-prone skin. The good news is there are newer sunscreens containing microfine particles that are effective and safe for acne-prone skin. (13)
Sunscreens are irritants; however, light liquid or water-based sunscreens suit acne-prone, oily skin. (14) Gel-based sunscreens are less greasy than oil-based ones. (15)
Sunscreens that contain titanium dioxide and zinc oxide free from oils and fragrances are also highly recommended to prevent acne breakouts.
How to apply sunscreen:
Using your fingertips, apply sunscreen in the required amount to your face and neck in upward strokes.
Cover your neck with the sunscreen completely from the hairline to the back of your head.
Additional Tips for Acne-Prone Skin
Follow these tips to manage acne-prone skin:
Change your pillow covers frequently as they absorb and harbor bacteria and oil from your hair and transfer them to your face, causing acne. You can also use silk pillow covers to avoid unnecessary sweating.
Don't squeeze pimples as it causes infection. Many individuals manage acne by pressing on pimples or wear foundation to hide acne. (16) However, constantly rubbing or touching your skin and trying new skin care products can worsen acne. (16)
Some people with acne lesions may benefit from consuming antioxidant and zinc supplements, as low serum zinc levels can contribute to acne. (17)
A study found that antioxidant and zinc complex-bound methionine was suitable for controlling mild to moderate acne vulgaris. (18) Antioxidants prevent tissue damage induced by free radical by halting its formation, scavenging it, and encouraging its decomposition. (19)
Reduce alcohol consumption as it is associated with increased acne risk. A study revealed that household, parental, and paternal smoking was linked to lower chances of severe acne vulgaris, acne (20), and rosacea. However, alcohol consumption aggravated these conditions. (21)
Home Remedies for Acne-Prone Skin
Several home remedies can help manage acne-prone skin.
1. Green Tea
Green tea is a widespread herbal medicine and an ancient beverage. In present times, it is successfully used in treating acne. (25)
Green tea extract has anti-inflammatory and antioxidant properties that effectively treat acne. (26)(27) A 2% green tea lotion is a cost-effective and efficacious treatment for mild-to-moderate acne vulgaris. (28)
How to apply:
Uncover the green tea leaves from 1-2 tea bags. Wet them with warm water.
Add aloe vera gel and honey.
Put the mixture on acne-prone areas.
Leave it on for 10-20 minutes, and wash it off.
2. Echinacea
Echinacea is an herbal agent that is also known as purple coneflower. (29)
According to an in-vitro study, echinacea inactivates P. acne and stops the pro-inflammatory cascade. It exhibits antioxidant activity that reduces the production of free radicals in acne. (30)
How to apply:
Warm Bloom effects Royal Tulip Nectar in small amounts and echinacea between your fingertips.
Apply the mixture to your freshly cleansed skin.
You can also apply it as a sleeping mask with a thicker layer for deeper nourishment.
People with acne lesions can apply echinacea creams or take supplements.
3. Purified Bee Venom
Bee venom is a topical treatment for acne and atopic dermatitis due to its antibacterial, antiaging, and anti-inflammatory properties. It regenerates skin and treats specific epidermal conditions. (31)
Purified bee venom has anti-inflammatory properties and is excellent for acne therapy. According to research, bee venom is an alternative to antibiotic therapy for acne. (32)
Moreover, in a 2016 study, people treated with purified bee venom for 6 weeks noticed that their mild-to-moderate acne vulgaris was treated effectively without irritation or side effects. (33)
Medical Treatments for Acne
Medical treatments are also available for acne management.
1. Treating mild winter acne
Pharmacists recommend over-the-counter products (creams or gels) containing benzoyl peroxide for treating mild acne. Acnecide and Quinoderm are standard products.
Benzoyl peroxide removes blockage from the pores and provides antibacterial functions.
If you are a first-time user, start with low concentrations (4%-5%) on small skin areas (as a patch test), as it may cause skin irritation in some people. Higher concentrations (about 10%) are also available.
2. Treating severe winter acne
Azelaic acid (such as Skinoren cream) is used in some treatments. It has similar functions to benzoyl peroxide.
Another common prescription medication for acne is retinoids. They may cause skin peeling and redness, but these issues resolve with time. Retinoid products include Differin gels or creams.
Epiduo Gel is a prescription-only product containing adapalene and benzoyl peroxide. Adapalene functions similarly to retinoids, targeting acne-causing skin processes by decreasing the formation of blocked pores and acting as an anti-inflammatory agent.
Oral antibiotics (tetralysal capsules, oxytetracycline tablets, and Minocin MR capsules) and topical antibiotics (Zineryt topical solution, Duac Once Daily Gel, and Dalacin-T solution) are sometimes necessary.
You can directly apply topical antibiotics. However, it can also be taken orally if you experience skin irritation.
General Queries
Which season causes aggravation of acne?
Skin disorders have a seasonal pattern, including acne, alopecia areata, atopic dermatitis, and acne. (34) Humidity and temperature contribute to acne pathogenesis, leading to an acne flare-up. 
According to a study, acne aggravation is more common in the rainy season (average humidity of 68.5% and average temperature of 31.0 °C), summer season (35) (average humidity of 49.8% and average temperature of 32.2 °C), and winter season (average humidity of 79.7% and average temperature of 15.1 °C). (36)
Final Word
Don't worry about winter harming your skin; the winter skin care routine presented in this article for acne-prone skin will keep the acne away by eliminating excess sebum. Additionally, it will promote skin nourishment and health from within.