Grapefruit essential oil is really popular right now for hair care due to the various benefits it offers. It is a citrus fruit that contains various nutrients including a high amount of vitamin C. (1)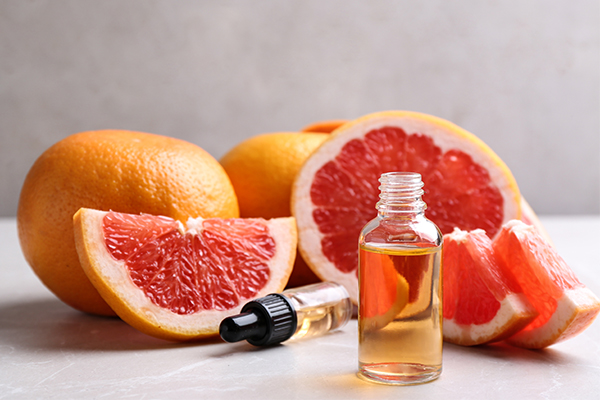 Grapefruit oil is extracted by cold pressing, and the oil comes out from the peel of the grapefruit. The strong citrus smell has made grapefruit oil a popular aroma in personal care products.
Grapefruit oil contains antibacterial, antifungal, and antioxidant properties. (2) Studies have shown that phenolic compound isolates from grapefruit exhibit good antioxidant activity. (2)
Benefits of Grapefruit Oil for Hair
Here are some benefits of using grapefruit oil on hair:
Grapefruit oil may assist in eliminating excess sebum, decreasing dandruff, and promoting a healthy scalp because of its antimicrobial activity. (3)
Grapefruit oil eliminates dandruff by cleansing your scalp. Its anti-inflammatory properties soothe scalp irritation and prevent the possibility of the formation of dandruff. It also moisturizes and maintains the health and smoothness of the scalp. (3)
Grapefruit seed oil may assist in stabilizing the scalp microbiome when yeast and bacteria are out of balance. (4) Studies show that it is highly effective to fight potentially dangerous bacteria. Of the essential oils, grapefruit is among the highly effective against MRSA, a group of bacteria resistant to antibiotics. (5)
Grapefruit oil aids in controlling sebum production and is astringent in nature, leading to less greasy hair days.
When the sebaceous glands on the scalp produce more oil than needed, it makes the scalp and hair look dirty and greasy even after washing. Natural grapefruit essential oil gets rid of the excess oil, eliminates buildup, and helps restore regular sebum production, thus preventing greasiness. (4)
How to Use Grapefruit Oil on Hair
Here are some effective ways to use grapefruit oil works to reap its hair benefits.
1. Hair tonic
Grapefruit oil can be used to make a tonic for the hair to keep the follicles and hair strong and healthy.
How to make:
Mix 2 tablespoons of aloe vera gel, 5 drops of grapefruit oil, 7 drops of tea tree oil, and ½ cup of distilled water.
Add 5 drops of lavender oil to this mixture and mix them well.
Store the mixture in a spray bottle.
Spray the mixture on the scalp and massage it lightly.
2. Hair detangler
Dry and messy hair might result in tangles. To get rid of tangled hair, try this spray made with grapefruit oil.
How to make:
Add 2–3 drops of glycerin and 2–3 drops of grapefruit essential oil to ½ liter of water.
To the mixture, add 1 teaspoon of aloe vera gel and mix well.
Spray the mixture on your strands before washing your hair with a gentle shampoo.
3. Antidandruff
Grapefruit essential oil may be used to avoid dandruff. Add 2–3 drops of grapefruit essential oil to your shampoo and use it as usual. This can lead to strong and healthy hair follicles and increased hair growth.
How Does Grapefruit Oil Help to Control Hair Loss?
Oxidative stress on the scalp is due to an imbalance between the accumulation and production of reactive oxygen species (ROS) in the tissues and cells. Oxidative stress causes several scalp conditions that often lead to hair loss, such as seborrheic dermatitis, atopic dermatitis, and psoriasis. (2)
Grapefruit contains high amounts of flavonoids (2) and vitamin B1, a phytochemical that aids in improving the circulation of blood. This fruit also has antioxidant properties. (6)
Thus, applying grapefruit oil to the scalp may stimulate blood flow to the follicles. When sufficient oxygen-rich blood flows to the follicles, they become nourished and hair growth is thick and voluminous.
General Queries Related to Grapefruit Oil for Hair
Should grapefruit oil be diluted before applying it to the hair?
Yes, as it is an essential oil. It must be diluted with a carrier oil before applying it to your hair and scalp.
What are the side effects of grapefruit oil?
Grapefruit essential oil must not be taken internally as it might lead to toxic effects and must not be applied undiluted to the skin. Also, some people might have allergies to grapefruit essential oil when applied to the skin, so it is best to carry out a patch test before application.
Moreover, applying topical grapefruit essential oil might increase the skin's sensitivity to ultraviolet light. Hence, it is vital to apply sunscreen to protect the skin against UV light exposure.
Final Word
Essential oils are extremely popular in the skin and hair care industry. They are nontoxic, natural, biodegradable, and nonpollutive compounds with a vast range of therapeutic advantages and a low risk of side effects after use. (7)
Grapefruit essential oil is used topically on the hair for many reasons such as for its antimicrobial and antioxidant effects. It can assist in resolving various hair and scalp problems, although still more research is needed to establish these claims.