Hair loss has become a common issue affecting millions globally, (1) so people are looking for effective and natural ways to boost hair growth. It is where peppermint oil and minoxidil come into play.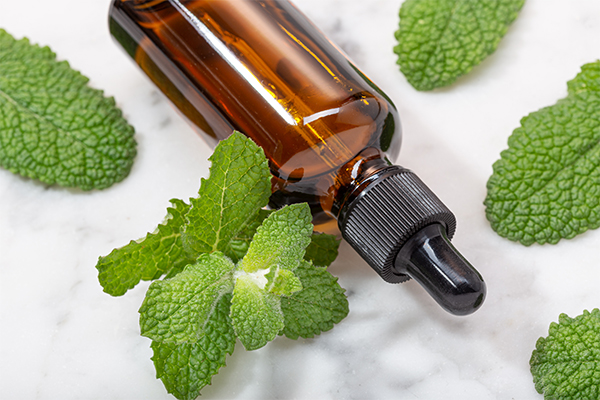 Both minoxidil and peppermint oil are known to stimulate hair follicle activity by increasing blood flow. But which is better for your skin?
A 2014 research reported the effectiveness of peppermint oil over minoxidil for hair growth with a few side effects, more usefulness, and higher efficacy than minoxidil. (2)
Read more about the effects of peppermint oil and minoxidil on hair growth and their differences.
Which Is More Suitable for Hair Growth: Peppermint Oil or Minoxidil Oil?
A study on mice reported more observable hair growth in the peppermint essential oil group than in the minoxidil group.
Based on the histological analysis, the peppermint oil group showed a significant increase in hair follicle depth, dermal thickness, and follicle number than any other group, even the minoxidil group. Therefore, peppermint oil is much more suited for hair growth than minoxidil. (2)
Peppermint Oil for Hair Growth
According to a few studies, peppermint oil is beneficial for hair growth.
One study reported that peppermint oil is more effective in boosting hair growth than minoxidil. There was an increase in the depth and number of hair follicles with the topical use of peppermint oil.
Applying peppermint oil for 4 weeks showed hair growth improvement by 92%, as compared to minoxidil, which showed a 55% improvement.
In addition, peppermint oil can treat scalp infections and inflammation, which cause hair loss. This action was attributed to the antifungal, antimicrobial, and anti-inflammatory properties of peppermint oil. (2)
What is peppermint oil?
Peppermint oil is a derivative of the leaves of peppermint, which is a hybrid of spearmint and water mint. It has been used for ages in treating various health-related issues, such as headaches, pain, colds, and digestive problems.
It is also used as a flavoring for foods, a fragrance in cosmetic products, and an ingredient in products that improve hair and skin health. (3)
How to Use Peppermint Oil on Hair
Peppermint oil with a 3% concentration is potent and shouldn't be used directly on the scalp or skin. So, you must dilute it with a carrier oil, such as olive oil, coconut oil, or jojoba oil.
Generally, 2–3 drops of peppermint oil can be mixed with 1 tbsp of carrier oil.
You can use peppermint oil in the following ways:
Massage: Dilute peppermint oil (3%) with any carrier oil and massage your scalp for 5–10 minutes before shampooing. This massage relaxes your scalp and boosts blood flow.
Shampoo: Add 2–3 drops of peppermint oil to your shampoo, and use it to wash your hair as usual. It cleanses your scalp and gives it a refreshing scent.
Conditioner: Add 2–3 drops of peppermint oil to your conditioner and apply it after shampooing. It gives your hair smoothness and shine while leaving it moisturized.
Spray: In a spray bottle, add water and 2–3 drops of peppermint oil. Spray this mixture on your hair and scalp throughout the day. It eliminates odor and refreshes your scalp and hair.
Minoxidil for Hair Growth
A study showed that minoxidil increased the anagen (growth) phase in the hair cycle and increased hair follicle size, resulting in longer and thicker hair with time. Minoxidil was also found to improve blood circulation in the scalp, which led to better hair growth. (2)
Minoxidil comes in different concentrations, including 2%, 3%, 5%, and 10%. It is effective for hair growth in high concentrations but is likely to cause side effects.
To achieve noticeable results, minoxidil must be applied to the affected areas of the scalp twice a day for at least 4 months. (4)
What is minoxidil?
Minoxidil is a synthetic drug initially used for treating high blood pressure. However, a recorded side effect of minoxidil was advanced hair growth. (5)
It was then FDA-approved as a topical resolution in 1988 for male-pattern baldness (6) and in 1992 for female-pattern baldness. (7)
How to Use Minoxidil on Hair
About 1 ml of minoxidil or as advised by your physician must be used on the scalp per application twice daily, (4)(8) such as in the morning and evening. You can use a dropper to apply minoxidil to the affected areas of the scalp.
You can apply minoxidil in the following steps:
Wash your hair: Use a mild shampoo to wash your scalp and hair before applying minoxidil. It eliminates any residue, oil, or dirt, which can hinder the absorption of minoxidil.
Dry your hair: Before applying minoxidil, dry your scalp and hair completely to stop the dilution or evaporation of minoxidil.
Apply minoxidil: Use a dropper with calibration and measure 1 ml of the product. Apply it to the affected areas of the scalp with hair loss. Also, part your hair for easy contact with minoxidil on your scalp.
Massage your scalp: Use your fingertips to massage your scalp gently. Doing so boosts blood circulation and distributes the minoxidil evenly.
Wash your hands: After massaging your scalp with minoxidil, wash your hands thoroughly to prevent accidental contact with your eyes or other sensitive areas.
Let it dry: Let minoxidil dry off entirely for 20–30 minutes, and then style your hair or go to bed. Avoid speeding up the drying process by blow-drying your hair or using any other heat source, as it decreases its effectiveness.
What Are the Side Effects of Using Peppermint Oil and Minoxidil on Hair?
The side effects of peppermint oil and minoxidil on hair are as follows.
Side effects of peppermint oil on hair
Applying peppermint oil in moderation is safe but may lead to sensitivity or mild to severe side effects on hair in some people.
Side effects due to topical application are headache, irritation, and scalp rash. Side effects due to oral consumption are nausea and heartburn.
Side effects of minoxidil on hair
Some common side effects of minoxidil are scalp irritation, burning, stinging, itching, and dryness. Some lesser-known side effects of minoxidil are inflamed hair follicles, increased hair fall, acne breakouts, and facial swelling. (8)
Hypertrichosis is another risk related to using minoxidil in a more robust 5% solution. In this condition, hair grows excessively in unfitting places, such as the forehead and cheeks. (9)(8)
Precautions When Applying Peppermint Oil and Minoxidil Topically
Applying peppermint oil and minoxidil topically can cause burning, rashes, and irritation on the skin. Here's how you can prevent these unpleasant effects:
When purchasing peppermint oil, check the label for an acceptable skin contact grade.
Dilute peppermint oil with a carrier oil (such as shea butter, jojoba oil, or coconut oil) before applying it to your scalp or skin. Avoid using warming oil, diffuser oil, or extracts that are not good for skin contact.
Avoid peppermint oil and minoxidil application near sensitive skin such as the area around the eyes, as it can lead to irritation, burning, and pain.
Don't blow-dry your scalp or hair right after minoxidil application. Instead, let it air-dry for at least 2–4 hours.
You may experience a light tingle after applying minoxidil and peppermint essential oil topically. If the tingling and burning increase, the oil might be too concentrated.
If you experience these effects, wash it off immediately, and apply minoxidil and peppermint oil in small amounts the next time. If the irritation and burning continue even after washing it off, consult your doctor.
General Queries
Who should or should not use minoxidil?
People who should use minoxidil must be 18 years old or older with hair loss problems, have alopecia-related hair loss, and have a family history of baldness. 
People who shouldn't use minoxidil are minors (below 18 years of age), lactating or pregnant mothers, (8) patients with hepatic and renal impairment, (8) people with hair loss due to medical conditions or with itchy red lesions on the scalp, and those who have hair loss after applying specific products.
People with migraine, headaches, or glaucoma should also avoid minoxidil, as it can worsen these conditions.
How to make peppermint oil at home?
Follow these steps to make peppermint oil at home:
1. Rinse an adequate amount of fresh peppermint leaves thoroughly with clean, cool water to remove any dirt, dust, or debris. 
2. Let the leaves dry thoroughly.
3. Muddle these leaves gently with a blunt, heavy object. Crush the leaves using the back of the spoon, mallet, or pestle. 
4. Put the crushed leaves into a jar. 
5. Pour a mild carrier oil over the leaves to cover them thoroughly. You can use a topical oil with a light scent or other oils such as coconut oil, grapeseed oil, or olive oil. 
6. Close the lid tightly and then shake the jar well. 
7. Let the leaves steep for at least 1–2 weeks.
8. Use a fine-mesh strainer or cheesecloth to strain the oil. Remove the leaves and transfer the oil into a clean container.
9. Store the container in a cool and dark place, away from sunlight.
How long does minoxidil take to work?
The progress timeline of minoxidil is about 4 months, and in most cases, hair growth can be seen within 4 months.
Some might experience hair loss after applying minoxidil for the first time, as your hair follicles switch from the resting to the active phase.
However, there are also some cases where several-month application of minoxidil didn't show any improvements. In such a case, stop its usage and consult a doctor.
Final Word
Both minoxidil and peppermint oil are used for treating hair loss and boosting hair growth, but their effectiveness, side effects, and mechanisms of action are distinct.
Peppermint oil is an essential oil that activates the hair follicles and stimulates blood circulation. On the other hand, minoxidil is a synthetic drug used for dilating blood vessels and increasing the hair growth phase of the hair cycle.
Some studies also show a better performance of peppermint oil than minoxidil for hair growth.