The skin care industry is vast, and new ingredients are discovered and developed every other day. One such skin care ingredient is candle wax.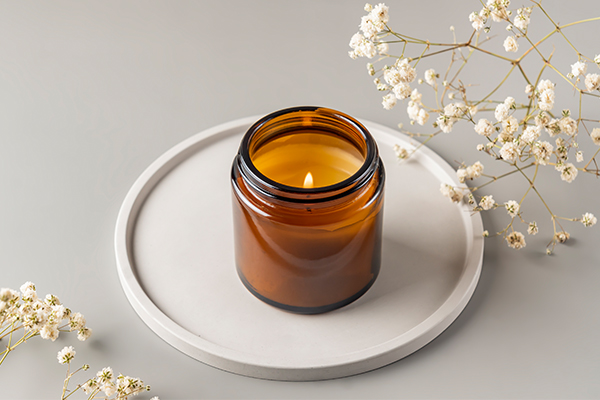 Candle wax is a natural emollient that moisturizes, (1) softens, (2) and nourishes the skin. It is also used as an ointment to heal bruises and wounds and provide damage protection to the skin. (3) Its skin usage depends on the manufacturing source of candle wax.
Any solidified wax used to make a candle is referred to as candle wax. Soy wax, paraffin wax, and beeswax are different varieties, and they are used to produce candles. (4)(5)
Paraffin wax is used in most commercial candles. It is used in skin care as a primary ingredient, especially for products applied to the feet and hands for softening. The production of paraffin wax is relatively inexpensive, and it has a low melting point, making it a desired ingredient for manufacturers.
However, paraffin wax may not always be compatible with the skin and its topical use may come with certain risks. So, the question arises, "Is candle wax bad for your skin?"
Candle wax generally doesn't affect your skin unless you are allergic to it, in which case, you are advised not to use it on your skin.
Lotion candles made with beeswax or soy wax are better choices.
Note: Avoid using wax on sensitive skin, as it can lead to redness, itching, and irritation.
There are different ways to produce candle wax, such as soy wax or beeswax. Read further to know more.
Is Candle Wax Safe for the Skin?
Not every wax is safe for the skin, as some contain harmful chemicals, allergens, or additives that can cause skin damage and irritation. Therefore, be cautious when choosing candle wax and check its manufacturing source.
Paraffin wax is a popular wax but it is associated with some skin health risks. So, it's better to go for all-natural ingredients.
Beeswax, which is made from wax produced by bees, is a healthier alternative. (3) It produces a cleaner flame, and its close association with honey gives a beautiful fragrance. However, it is costly. There are other waxes as well, such as soy wax and palm wax. (4)
Soy wax can be used as a lotion all over the body, especially on cracked heels and hands, cuticles, and scaly, dry areas such as the knees and elbows. It is also suitable as a massage oil. However, avoid applying it to sensitive areas or the face.
Benefits of Candle Wax for the Skin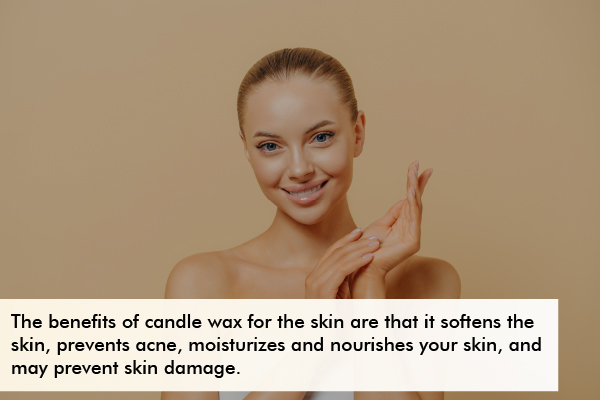 The following are the benefits of using candle wax for the skin.
1. It softens the skin
If your skin has dry areas and rough patches, candle wax (paraffin wax) can smooth out your skin, making it more elastic and supple. (2) It improves the appearance and texture of calluses, cracked heels, and cuticles.
According to research, beeswax and paraffin wax act through moist heat to lubricate and soften the skin. (1)(6)
2. It prevents acne
Candle wax has anti-inflammatory, regenerative, protective, and antibacterial properties that combat acne, curb infections, delay acne development, and calm the skin. (3)
3. It may moisturize and nourish your skin
According to the experts, candle wax from beeswax is a natural emollient that prevents skin water loss and seals in moisture.
It forms a protective layer from environmental damage (1) and covers water molecules on the outer skin surface to prevent dryness and keep the skin's moisture.
The antioxidants, minerals, vitamins, and fatty acids in the wax or other ingredients added to the wax, such as herbal extracts, nut butter, fragrance oils, or essential oil, can nourish the skin. These ingredients also have other benefits, such as aromatherapy, healing, moisturizing, soothing, or nurturing the skin.
For instance, soy wax is made from soybean oil and, with lecithin and vitamin E, provides skin nourishment. (7) Additionally, beeswax is made from honeycomb and, with propolis and vitamin A, provides skin nourishment. (1)
4. It may prevent skin damage
According to experts, candle wax (beeswax) protects the skin from exterior damage, such as UV radiation, cosmetic products, tobacco smoke, and air pollution. It creates and spreads a film on the skin's surface.
Beeswax is an excellent source of vitamin A, which keeps your skin healthy and has regenerative properties (to heal wounds faster). (1)
How to Use Candle Wax on the Skin
You can use candle wax on your skin in the following ways.
What you need:
Candle wax
Candle wax heater or a double boiler
Plastic bags or disposable gloves
Thermometer
Some sheets or towels
How to make:
Melt the candle wax in the candle wax heater or double boiler till it reaches about 51°C (125°F).
Optionally, add fragrance or essential oils.
Do a small wax test on your elbow or wrist to ensure it isn't too hot or cold.
How to apply:
Cleanse your foot or hand and thoroughly dry it before wax application.
Dip your foot or hand in the melted wax and pull out quickly. Repeat this until a thick wax layer covers your skin.
Cover the area with a plastic bag or a disposable glove, and then wrap this with a sheet or towel to keep in the heat.
Leave it on for 10–15 minutes or until it becomes hard.
Peel the wax off and dump it. Do not reuse this wax.
Apply an oil or lotion and gently massage it to boost its moisturizing effects.
Note: You can use candle wax on your other body parts as well, such as the neck, face, arms, back, and legs, but be gentle and careful when applying it on these areas due to their sensitivity and delicate nature. Do not apply wax on open wounds, rashes, cuts, infections, burns, or allergies.
DIY Recipes for Candle Wax for the Skin
You can make candle wax for skin use in the following steps.
What you need:
Candle mold or container
Measuring cup
Scale
Stirring spoon and a knife
Microwave or stove
8 ounces of soy wax flakes or beeswax pellets
Optional ingredients, such as 1 ounce of fragrance oils, essential oils, herbal extracts, and nut butter
How to make and apply: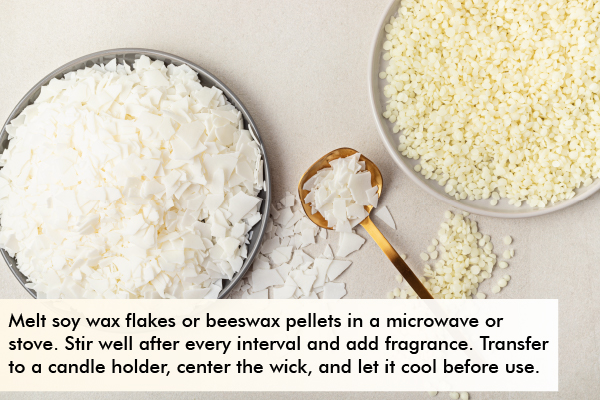 Melt soy wax flakes or beeswax pellets in a microwave or stove in 30-second intervals until completely melted. Stir well after every interval.
Optionally, add fragrance or essential oils and stir well, you can also add olive oil for extra moisturization.
Let it completely cool and harden before using it.
How to Identify Between Beeswax, Soy Wax, and Paraffin Wax?
You can identify between beeswax, soy wax, and paraffin wax in the following ways.
Read the label. If the tag doesn't mention the wax type, it is likely a paraffin wax candle, as it is durable and inexpensive and takes color and scent well. If an expensive wax is used, it is usually mentioned on the label.
Paraffin wax is soft, whereas soy wax is hard. To test this, gently press the candle to determine the softness or hardness of the wax.
Check the taper candle color to determine whether it's paraffin or bayberry. If the outside of the wax is a medium olive green with gray areas, it is more likely bayberry. Bayberry wax was used in colonial times for Christmas candles. It is hard to produce an accurate color with grayish deposition simply by coloring paraffin wax. A different colored tapered candle that is hard to touch when pressed is a paraffin candle. A tapered candle without gray and olive green color is a beeswax candle.
General Queries
What are cosmetic candles?
Cosmetic candles are made from grains to scrub the skin to peel dead skin cells and make the skin soft and smooth. (8)
What happens when you eat scented candle wax?
A scented candle wax is not meant to be eaten, as its consumption is unsafe and can lead to serious health issues, such as gastrointestinal problems and choking. Therefore, keep it away from kids and pets. Seek immediate medical attention if consumed accidentally.
Final Word
Along with being a source of light and incense, candle wax is also a natural emollient that softens, moisturizes, and rejuvenates the skin.
There are different varieties of candle wax, such as beeswax, soy wax, and paraffin wax, with different pros and cons. Go for a candle wax designed for your skin type for skin care and massage purposes.
Candle wax is a great addition to your regular skin care routine, and you can make candles with simple tools and ingredients. Try it to see the results yourself!