Dry skin needs moisture, and a quick moisture boost can come from the right moisturizer, face oil, or serum ingredient.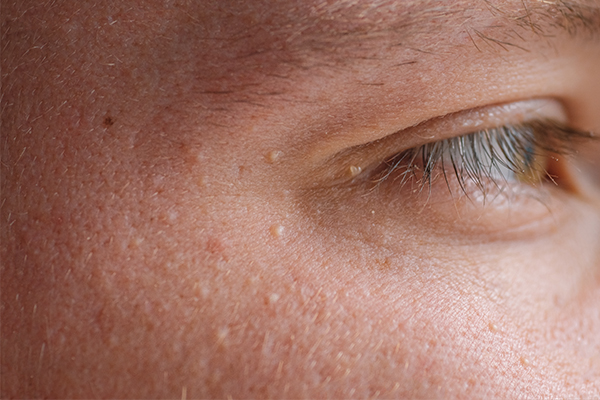 Squalane is an effective ingredient that hydrates and nourishes the skin without leaving any residue that can clog pores, unlike other ingredients that may plump your skin but leave it patchy and dehydrated or cause milia or breakouts.
But does squalane cause milia? There is no conclusive answer, as different people react differently to different products or ingredients. However, the available evidence shows the improbability of squalane causing milia in most people.
Squalane is an oil, yet it doesn't have an oily feel. It is noncomedonal, odorless, safe for sensitive skin, and antibacterial.
Its emollient action can treat skin disorders such as acne, atopic dermatitis, seborrheic dermatitis, and psoriasis. Thus, squalane is unlikely to cause milia. (1)
However, experts also reported that, rarely, squalane may cause milia in some people.
Continue reading to learn more about whether squalane causes milia.
Can Squalane Application Lead to Milia?
There is no conclusive answer to this question, as some experts claim that squalane is unlikely to cause milia due to its noncomedogenic, lightweight, and quick-absorbing nature.
However, others also suggest that squalane, an occlusive agent, (2) can lead to milia.
Occlusive agents create another layer on the skin, obstructing the skin's natural exfoliating function. They cause a buildup of dead skin cells or keratin, giving rise to the infamous bumps called milia.
According to experts, multiple factors lead to the spontaneous formation of milia. For instance, smothering the skin with heavy unguents (greasy or thick substances) and sun damage lead to milia formation and suppressed natural exfoliation, respectively.
Squalane is lightweight; even though it's an oil, there's no oily feel that imitates the skin's natural sebum. (1) It is quickly absorbed in the skin and doesn't leave a film or residue.
Squalane improves skin respiration, balances skin moisture, has a high skin penetration rate, and reduces skin moisture loss that causes flakiness and dryness. (3) It prevents milia by keeping the skin smooth and hydrated.
Squalane is noncomedogenic, which means it doesn't cause acne or clog pores. Milia's leading cause is trapped keratin, (1) not bacteria or clogged pores. Therefore, using squalane must not increase the risk of getting milia.
Yet, squalane is unsuitable for everyone and may cause adverse reactions in people with sensitivities or allergies to particular products or ingredients. Additionally, some people prefer different varieties of moisturizers or oils for the skin.
Always do a patch test to see if squalane or any other ingredient suits you.
What Is Milia?
Milia are tiny yellowish or whitish bumps on the skin made of keratin. (4) Keratin is a protein found in the outermost skin layer (stratum corneum). (5) When residue accumulates under the skin's surface, milia (keratin-filled cysts) form.
Like any tiny cyst, milia develop from remains such as sebum (a natural oil secreted to lubricate the skin) and dead cells trapped in the pores.
Generally, they form near the nose, cheeks, or eyes in small sets. You can also find them on the lips, especially on the lipstick edge (vermillion border).
What Is Squalane?
Squalane is an emollient oil that imitates the skin's oil (sebum) and controls moisture loss. It is a noncomedogenic lipid and is used to address several skin concerns.
Squalene is suitable for all skin types, as skin sebum is naturally made up of about 12% squalane. (1) It is good for sensitive skin; it soothes inflamed or red skin and is an appropriate moisturizer.
Squalane is a part of squalene (which is not stable in its natural state). Squalene goes through a saturation process (known as hydrogenation) to become squalane. Chemically, it is a hydrocarbon, which is a compound made only of carbon and hydrogen.
Squalane is a valued ingredient due to its antioxidant, moisturizing, and emollient properties. (6)
Why Squalane Does Not Cause Milia
The following are the reasons squalane does not cause milia.
1. Squalane is a noncomedogenic oil
Squalane is a natural ingredient produced by human skin cells. It repairs and protects the skin barrier and helps moisturize the skin. (3)
Unlike other oils, squalane is noncomedogenic, which means it doesn't cause acne or clog pores. (1)
Therefore, it is improbable for squalane to cause milia.
2. Squalane has antioxidant and anti-inflammatory properties
Squalane's antioxidant (7) and anti-inflammatory properties (1) benefit the skin by reducing redness, fighting free radical damage, and easing irritation.
They reduce or prevent milia formation triggered by skin irritation, sun damage, or inflammation.
3. Squalane is lightweight and is absorbed quickly
Squalane has a nongreasy and lightweight texture that allows for easy application and absorption into the skin. (3) It doesn't leave sticky or heavy residues that can trap dead skin cells, bacteria, or dirt on the skin's surface.
It prevents the buildup of milia-forming debris.
Why Squalane Causes Milia in Some People
The following are the reasons squalane causes milia in some people.
1. Skin type
Some people have more reactive or sensitive skin than others, making it milia-prone.
For instance, people with dermatitis, eczema, or rosacea have a compromised skin barrier, allowing the accumulation of dead skin cells on the surface.
Therefore, squalane may not repair and moisturize such type of skin adequately, and the skin needs other treatments or products to manage the issue.
2. Skin care routine
Some people use many or heavy products on their skin, which trap dead skin cells and clog pores.
For instance, using occlusive ointments, thick creams, or mineral oil-based products creates a residue layer on the skin, preventing natural exfoliation.
Squalane is a noncomedogenic and lightweight oil (1) and may not be compatible with irritating or comedogenic products. Therefore, it is imperative to choose products suitable for your skin needs and types and apply them in the correct quantity and order.
How to Treat Milia
Milia can be treated in the following ways.
In babies
Treatment for milia is not necessary for babies. But cleanse their face by:
Washing with warm water regularly
Patting the baby's delicate dry skin (don't rub)
Avoid using adult lotions or exfoliators on baby's skin. You can use a mild baby soap. Consult your pediatrician if the milia don't go away in a few months.
In adults
Similar to babies, adult milia disappear on their own. You can also treat stubborn milia at home using retinol, face peels, or exfoliators.
Remember to consult your doctor before using any at-home treatment, as they may not recommend it for your skin or milia.
Note: Never pop or squeeze milia (be it on your skin or your baby's), as it may damage and leave a scar on the skin.
Consult your physician if your milia don't go away. It is treated with:
Extreme heat
Extreme cold (cryotherapy)
Dermabrasion
Laser surgery
Chemical peels
Oral or topical medication (8)
General Queries
What are the causes of milia?
Skin exfoliates itself naturally – old skin cells are shed, and new healthy ones are made.
However, when these old cells don't fall off, they collect under the skin, harden, and turn into small cysts known as milia. 
Other causes of milia are:
Skin damage from the sun, injury, or rash
Long-term usage of corticosteroids (steroids)
Autoimmune or genetic conditions (8)
Can milia come back?
If you don't want your milia to come back, follow a healthy skin care routine including:
Face cleansing twice daily.
Face exfoliation at least thrice weekly. Consult your dermatologist for effective and safe skin products.
Wearing at least an SPF 30 sunscreen daily, even in cloudy weather. (8)
Final Word
Squalane is a natural oil with antioxidant, anti-inflammatory, and antiaging properties and multiple skin benefits. It is noncomedogenic and doesn't cause acne or clog pores.
Squalane keeps the skin smooth and hydrated. There is no definitive proof that using squalane leads to milia. However, some people may be sensitive or allergic to squalane or other skin care ingredients.
Therefore, conducting a patch test before using any new skin care product is always advised. Also, it is recommended to consult your dermatologist for professional recommendations and procedures if you have milia and want to eliminate them.