Beard oil is a popular product that contains a blend of natural nourishing oils to condition, soften, and moisturize beard hair and the skin underneath.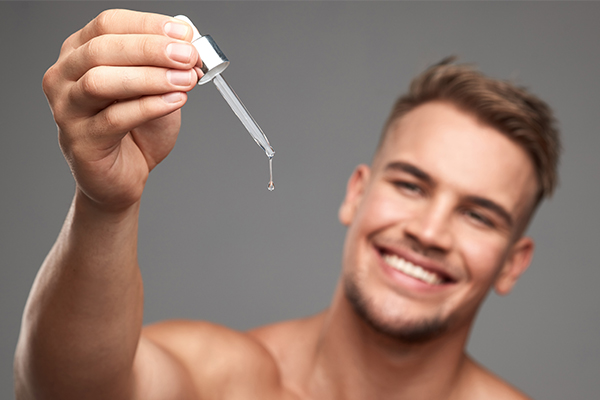 But the question is, "Is beard oil good for head hair?"
Yes, you can use beard oil on the head hair but with caution. There is no scientific research for this use, but because of its moisturizing property from its ingredients, it can be used.
It is popular among men to keep their beard hair well groomed and healthy and to prevent irritation, flakiness, or itchiness from shaving or dryness.
Although multiple hair care options are available to enhance your hair's appearance, such as conditioners, shampoos, styling products, and oils, (1) beard oil can benefit your head hair due to its thicker consistency and conditioning power than your usual hair oil.
So, use it in small amounts, just 1–2 drops, to avoid greasiness. You can use it with a carrier oil, such as jojoba oil, (2)(3) to stop your hair from being weighed down.
Read further to learn more about beard oil for head hair.
Does Beard Oil Work on Head Hair?
Beard oil has the potential to soften and moisturize your beard hair to make it look neat and full and smell nice. It can also moisturize the skin underneath the beard.
Beard oil is made for thicker and coarser beard hair and can be greasier and heavier than hair oil. Therefore, apply beard oil only to your damaged or dry hair in moderation. Too much of it can make your hair clumpy and oily, leading to clogging of pores, acne, or irritation.
So, yes, you can apply beard oil to your head hair as it offers several benefits, such as softness, luster, and fragrance.
Moreover, if natural ingredients are present in beard oil, such as coconut oil, jojoba oil, and essential oils, they can condition and nourish your hair. (4) Essential oils such as ylang-ylang oil, (5) bay leaf oil, (6) and tea tree oil (7) have antibacterial, antioxidant, or anti-inflammatory properties to promote hair growth and health.
However, you should not consider beard oil an alternative to conditioner or shampoo, and continue with your regular hair care routine of shampooing and conditioning to keep it hydrated and clean.
Use beard oil only as needed and in moderation to avoid any scalp-related issues. Nevertheless, hair oil is more suited for head hair, and beard oil for facial hair.
How to Use Beard Oil on Head Hair
Follow these steps to apply beard oil on head hair:
Wash your hair and let it dry as usual. (Beard oil is best applied to clean and damp hair for better absorption into the scalp and hair).
Rub 1–2 drops of beard oil in your hands and spread it.
Use your fingertips to apply the hair oil to your hair, starting from the ends to the roots. Don't overapply to the scalp, which can lead to greasiness and buildup.
Comb your hair to distribute the oil evenly. Style your hair according to your preference, and fall in love with your shiny and soft hair.
Differences Between Beard Oil and Hair Oil
Beard oil and hair oil have different purposes, formulations, and ingredients and thus are not the same. Their main differences are as follows.
| | | |
| --- | --- | --- |
| Basis | Beard Oil | Hair Oil |
| Ingredients | It contains natural oils and hydrates the hair and skin. | It contains mineral or synthetic oils that provide temporary shine but don't nourish the hair or skin. |
| Absorption | It is lighter and less greasy, is absorbed quickly, and doesn't weigh down the hair. | It is denser and thicker and weighs down the hair. |
| Purpose | It softens, conditions, and tames unmanageable, frizzy hair. | It smoothens and adds shine to the hair. |
Based on ingredients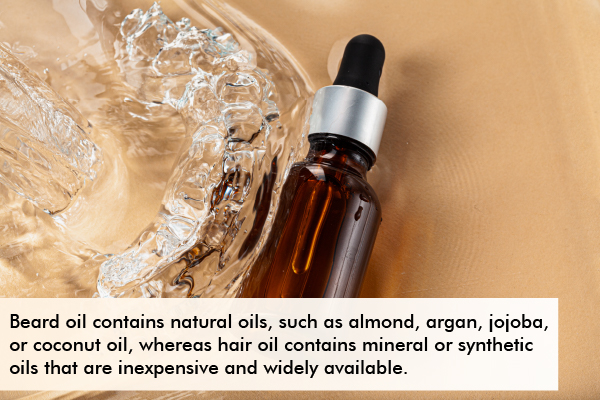 Beard oil contains natural oils, such as almond oil, argan oil, jojoba oil, or coconut oil, and is rich in vitamins, antioxidants, and fatty acids that hydrate and nourish the skin and hair. (4) Thus, it is suitable for the skin and hair.
Hair oil contains mineral or synthetic oils that are inexpensive and widely available. They give the hair a temporary shine by covering the strands, but they don't hydrate or nourish the skin or hair.
Based on absorption
Beard oil is less greasy and lighter than hair oil. It is absorbed quickly by the skin and beard without leaving a heavy, oily residue.
Hair oil is more viscous and thicker than beard oil. It makes the hair limp and greasy and thus weighs it down.
Based on purpose
The primary function of beard oil is to soften and condition the beard and skin underneath. It tames unruly, frizzy beard hair to give it a shiny and groomed appearance.
The primary function of hair oil is to add smoothness and shine to hair, shielding it from UV rays, heat damage, pollution, and other environmental factors. (4)
Pros and Cons of Using Beard Oil on Head Hair
Using beard oil on head hair has both advantages and disadvantages.
Pros:
Beard oil nourishes and moisturizes dry and damaged head hair.
Beard oil adds softness and natural shine to dull or frizzy head hair.
Beard oil prevents breakage and split ends by sealing head hairs' cuticles.
Beard oil can improve the health of itchy, inflamed, or dry scalp.
Beard oil gives a pleasant scent to head hair, as it contains fragrance or essential oils.
Cons:
Too much beard oil can cause greasiness and oiliness to head hair.
Beard oil can cause acne (or folliculitis) and clog pores if the skin is acne-prone or sensitive.
Beard oil can induce irritation or allergic reactions if you are sensitive or allergic to ingredients.
Beard oil is costly as compared to hair oil if used regularly.
General Queries
Will hair regrow on a bald forehead by using beard oil?
Hair growth is a complex process influenced by several factors, such as hormonal changes, genetics, and overall health. So, beard oil is unlikely to cause hair to regrow on a bald forehead.
While some oils may maintain existing hair health, it is improbable for the hair to regrow in permanently damaged areas. It is best to consult a medical professional or a dermatologist for concerns regarding hair loss.
Is beard hair different from head hair?
Yes, beard hair is different from scalp hair in many ways:
• Beard hair is coarser and darker, while head hair is lighter and smoother.
• Head hair can grow longer than beard hair if left untrimmed.
• The growth of beard hair is slightly quicker than head hair.
• Head hair grows straight, while beard hair grows in multiple directions.
• The shape of head hair is uniform and circular, while beard hair has an uneven shape.
Final Word
Beard oil is flexible and can be applied to beard and head hair to nourish, moisturize, soften, and add a pleasant odor to your skin and hair.
However, some drawbacks include irritation, greasiness, and high prices. Therefore, sparingly use beard oil only on damaged and dry head hair. Do a patch test before applying any new product, and use products suitable for your hair and skin type.
Lastly, stick to the tips and steps mentioned above to enjoy the use of beard oil on your head hair without any disadvantages.