When your scalp produces excessive sebum (natural oil), the hair becomes oily. Sebaceous glands produce sebum, and sometimes they work overtime, causing excessive amounts of oil (1) on the scalp and hair.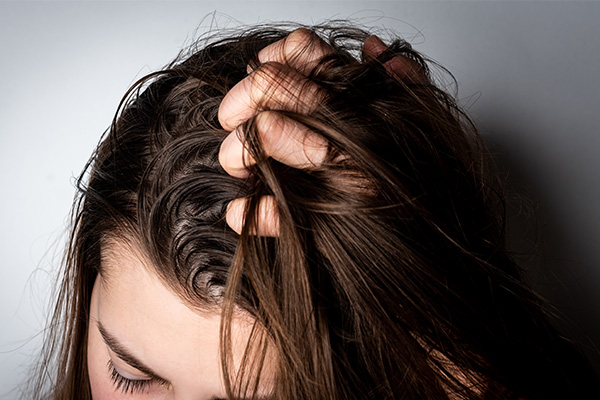 Your scalp produces excessive sebum in summer, also known as the highest sebum-secreting season, (2) making it hard for people with oily hair and skin. Also during this season, the humidity, pollution, heat, and sweat can make your hair frizzy, dull, and greasy. (3) Furthermore, exposure to salt and chlorinated water causes hair breakage and dryness. (4)
Thus, it is important to follow a proper routine to keep your hair healthy and bouncy in the summer.
Read further to learn more about the proper hair care routine for an oily scalp.
Summer Hair Care Routine for an Oily Scalp
Here is the summer hair care routine you can follow for dealing with an oily scalp.
1. Use a gentle shampoo
Choosing the right shampoo according to your hair type (dyed, oily, dry, or average hair) is essential for optimum cleansing. Modern shampoos usually contain a variety of surfactants (usually between two and four) to address different hair types. Thus, you can get a shampoo for your oily scalp. (5)
If you produce too much sebum, use a shampoo specially designed for an oily scalp to remove the excess oil from your hair and scalp. (6) Choose one that does not contain conditioners, sulfosuccinates, or lauryl sulfates as detergents. (5)
To soothe and refresh your scalp, use a shampoo with ingredients such as shikakai, (7) clay, (8) aloe vera, and charcoal. (9)
Also, avoid washing your hair with hot water as it opens up the hair cuticles, causing damage and frizz. (10) Instead, use cold or lukewarm water to add shine to your hair and seal the cuticles.
2. Apply conditioner
Sebum is a natural hair conditioner. Conditioners aren't necessarily used on oily hair due to the high sebum production. (11)
According to experts, if a conditioner for oily hair did exist, it would need to match the natural properties and components of sebum. (12)
Conditioners are not just for damaged and dry hair, but they can benefit oily hair by creating a protective film to prevent damage from external factors such as exposure to the sun, heat, and chlorine. (4)
However, be careful of the quantity of conditioner you use and area of application, as too much can weigh your hair down, making them flat and lumpy. Apply a little conditioner to the ends and mid-lengths of your hair; avoid the scalp and roots. Leave it on for 3–5 minutes, and then wash it off with cool water.
Additionally, for better results, apply a conditioner from the same brand as your shampoo.
3. Apply a hair mask
If you want to improve your hair's appearance and texture and nourish it, go for a deep-conditioning treatment with a hair mask. (13) Hair masks restore lost elasticity and moisture due to swimming in chlorinated water or sun exposure.
To give your hair deep conditioning, choose a hair mask that best suits your hair. (13) If you have oily hair, apply a mask containing cornstarch, (14) amla, neem, bhringraj, hibiscus, tulsi, (15) and shikakai. (16) These ingredients absorb impurities and excess oil from your hair and scalp.
Apply a hair mask after shampooing and before conditioning. Use it once or twice a week according to your hair condition. (13)
4. Use a leave-in conditioner
Use a leave-in conditioner for oily hair to eliminate flyaways and frizz due to static electricity and humidity. (12) It also provides a shield from UV rays that can damage your hair and fade its color.
Moreover, it is advised to use hair products with sunscreen to protect the hair from UV radiation and weathering. Compounding sunscreen as a leave-in conditioner provides moisture to your hair fibers, enhances hair manageability, and balances sebum production. (17)
Go for a lightweight leave-in conditioner that doesn't make your hair heavy and greasy, and apply it to your hair ends in a small amount before stepping out in the sun.
5. Tie your hair
Keeping your hair tied in the summer season can make your hair appear bouncy and fresh, eliminates problems such as frizz and tangles (due to wind or friction), and prevents the sweaty mess on your face and neck.
There are different easy hairstyles that you can try, such as buns, ponytails, top knots, and braids, to look chic. (18) These hairstyles can hide greasy hair roots and an oily scalp.
6. Avoid excessive brushing
Brushing your hair frequently and vigorously causes oily scalp issues such as breakage, split ends, and damaged hair cuticles.
Also, while brushing distributes natural oils from your scalp to the length of your hair, (3) which is beneficial for dry and normal hair, it can also make the hair greasy and oily. Thus, brush only once or twice a day with a soft-bristled or wide-toothed comb to detangle your hair gently. (3)(19)
Home Remedies to Try for an Oily Scalp in the Summer
You don't need expensive products to manage an oily scalp at home, as locally available ingredients can be used for a gentle and natural oily scalp treatment.
1. Cornstarch
According to some studies, cornstarch removes excess oil and creates a thin layer to dry and smooth your hair. (14)
How to make:
Mix 1 tbsp of cornstarch and ½ cup of water. If your hair is long, double these amounts.
Stir until no clumps are left.
Transfer the mixture to a small pan and boil it while constantly stirring.
When the consistency of the mixture turns gel-like or creamy, turn off the heat and let it cool.
Apply the cooled-down mask to your hair.
How to apply:
Wash your hair and dry it using a towel.
Apply the mask from the roots until the ends of your hair.
Put a plastic bag or a shower cap over your hair after the mask application and let it sit for approximately 30 minutes.
Wash off the mask and apply conditioner.
2. Coconut oil and aloe vera gel
Coconut oil boosts hair growth, eliminates dandruff, and keeps the scalp and hair silky, healthy, and soft. The essential fatty acids and vitamins in coconut oil nourish and strengthen the scalp by removing the built-up sebum from hair follicles. (20) It also has antibacterial and antifungal properties.
Aloe vera, due to its antioxidant and anti-inflammatory properties, can be very soothing for itchy and greasy scalp. (21)
How to apply:
Mix coconut oil with aloe vera gel.
Take some in your palms and rub it.
Apply it from the roots to the ends of your hair.
Comb your hair.
Leave the mask on for 30 minutes. Keeping oil on your hair for longer durations can cause flaking, scalp infection, itching, and more.
Wash it off with a mild shampoo.
You can massage your head with lukewarm coconut oil once a week and stimulate different pressure points on the head.
Move your fingers from the front of your scalp and take them behind the ears to the nape of your neck to remove toxins and mobilize stagnant lymphatic fluid from the scalp.
Additional Tips for an Oily Scalp
Here are additional tips for managing an oily scalp during summer:
Avoid touching your scalp frequently.
Immediately wash your hair after a workout.
Opt for dry shampoo.
Avoid frequent oiling.
Clean your hair brush.
Use warm water for washing your oily scalp as it can be beneficial for those who have greasy or oily hair. Warm water opens up the cuticles on your scalp, which allows proper cleaning, as per experts.
General Queries
What are the causes of an oily scalp in the summer? 
Sebaceous glands are responsible for scalp oiliness in the summer; these glands are present in different concentrations all over the body, and their hyperactivity causes oiliness.
Hormonal disbalance is the most common cause of scalp oiliness and occurs due to:
• Consuming junk food
• Excessive sugar intake
• Using hot water to wash the hair
• Stress
• Unhealthy lifestyle
Shampoo your scalp thrice a week and avoid these things. If you have dandruff or acne, seek the help of a dermatologist.
How many times should I shampoo my oily hair?
Shampoo your hair twice or thrice a week only.
Why does my hair get oily periodically?
Your scalp needs nourishment, and when there is no regular oiling, it produces excessive sebum (the scalp's oil) to keep it nourished and hydrated. Thus, regular oiling is advised.
Final Word
Summer can be challenging if you have an oily scalp and skin. The dust, sweat, humidity, and heat can make your hair frizzy, greasy, and dull, affecting the overall appearance of your hair.
To keep your hair bouncy, happy, lively, and free from oiliness, follow a proper hair care routine and go for products and treatments that best suit your hair type and needs.