No, avocados don't cause skin problems such as acne because it is rich in omega-3 fatty acids, linoleic acid, and vitamin E, which help repair the skin and prevent pimples.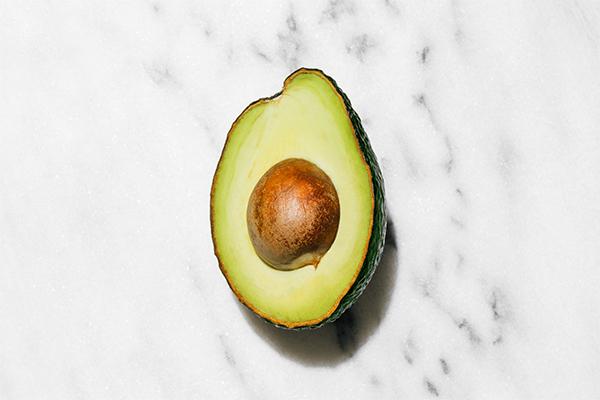 A study showed that people consuming foods high in omega-3 fatty acids don't develop acne, (1) but if a person is allergic to avocado, consuming it might cause acne. (2)
Avocado is so popular nowadays in skin and hair care because it is abundant in monosaturated fatty acids, carotenoids, and phenolic compounds that are good for your body and can prevent cardiovascular diseases too. (3)
Apart from containing essential nutrients, avocado is also a great source of fiber, protein, and phytochemicals. (4) The bioactive compounds in it have antioxidant and anti-inflammatory properties that scavenge the body's free radicals, which are responsible for oxidative stress. (5)
When Does Avocado Cause Acne?
Avocado can harm your skin only if you are allergic to it. The symptoms include acne, itching, skin redness, and eczema. (2)
There are two kinds of avocado allergy that people suffer from.
The first kind is an oral allergy or oral allergy syndrome, which can happen if you are allergic to birch pollen. Fruits and vegetables that grow close to pollen can cause an allergic reaction. The symptoms include allergy in the mouth and throat.
The second allergy occurs due to cross-sensitivity with latex. Some people with latex allergy become allergic to avocado, too, and this condition is known as latex fruit syndrome. (6) The latex in avocado can cause allergy, leading to acne and other skin infections.
Does Avocado Oil Improve Skin?
Avocado oil contains nutrients that soothe and protect the skin from the harsh UV rays, including β–carotene, vitamin D, protein, lecithin, and fatty acids. (7) It contains 62% lipids, including monounsaturated and polyunsaturated fatty acids.
Studies suggest that avocado oil is absorbed in the skin better than other oils.
When you apply avocado oil to your face, please keep it for a short time and wash it off with warm water. Doing so hydrates the skin (8) without leaving a sticky residue, thus preventing acne and other skin troubles.
Skin Benefits of Avocado
Here are some skin benefits of consuming avocado and using it on your skin.
1. Improves skin elasticity
Oral avocado consumption improves collagen formation in the skin and thus maintains the skin's elasticity and firmness in healthy women. (3)
2. Improves skin glow
Avocado contains essential nutrients, antioxidants, and vitamins that nourish the skin and give it a sheen.
3. Smoothens the skin
Regularly consuming avocado or applying it as a topical face mask will keep the skin supple and smooth.
4. Prevents fine lines and wrinkles
Avocado is rich in vitamins C and E, which are vital for the skin's overall health and decrease symptoms of premature aging.
5. Prevents acne
The lauric acid in avocado acts as an anti-inflammatory and antimicrobial agent that prevents acne. (9)
How to Use Avocado on Skin
Face moisturizer
Fill 2/3 of a 30 ml bottle with avocado oil.
Fill the remaining bottle with another healthy oil.
Add 2–3 drops of essential oil, maybe a rose or lavender essential oil.
Shake the bottle.
Use the mixture as a face moisturizer to achieve healthy and glowing skin.
DIY face mask
Cut a ripe avocado into cubes, mash it, and store it in a small bowl.
Add 4–5 drops of avocado oil to create a DIY facemask.
Apply the paste to your face and keep it on for 15 minutes.
Cleanse your face with warm water or a face wash.
Side Effects of Avocado on the Skin
Avocado is safe to consume and can be eaten raw. When consumed as a medicine, it is safe for two years, and when applied topically, it is safe for three months.
It normally has few side effects, and those people who used a specific avocado, vitamin B12, cream for psoriasis reported mild eager (itching).
Do remember that avocado contains a lot of calories because of its fat content and people who are sensitive to latex can have an allergic reaction to avocado. (10)
General Queries Related to Avocado for Skin
How much avocado is suitable for consumption?
One-third of a medium-sized avocado is good to consume. Each serving has 55 calories and 5 grams of fat, so keep this into account when calculating your daily calorie count.
What is better, avocado pulp, seed, or peel?
The whole avocado offers many benefits, but its peel is loaded with phenolics and in vitro antioxidants, making it more potent than pulp. The pulp and seeds are rich in catechins, procyanidins, hydroxycinnamic acids, hydroxybenzoic, and procyanidins, making them effective too.
What skin type is avocado beneficial for?
Avocado is beneficial for people with dry skin and should be used sparingly by those with oily and combination skin.
Can consuming avocado lead to acne formation?
The study published by Lipids and Health and Disease suggested that avocado is rich in omega-3 fatty acids that help reduce acne and do not trigger it. (1)
Does avocado clog pores?
Avocado oil can cure eczema, psoriasis, seborrheic dermatitis, and acne because of its anti-inflammatory properties. It does not clog glands and cause acne; instead, it has anti-inflammatory properties that prevent acne breakouts. (11)
Can I use avocado on my face regularly?
Yes, you can use it, especially if you have dry and damaged skin. The antioxidants and nutrients in avocado nourish, hydrate, and replenish the skin, making it appear youthful.
But instead of applying avocado daily, you can invest in pure cold-pressed avocado oil, which gives similar results.
Final Word
Avocados are high in nutrients and bioactive compounds with anti-inflammatory properties that are good for acne. When used regularly for 3–4 months, the fruit can benefit your skin in many ways.