Jojoba oil is derived from the jojoba plant's seed and is a natural oil. Several skin benefits are attached to jojoba oil including healing, hydration, and protection.
But the question here is, does jojoba oil clog pores? No, jojoba oil does not clog pores. (1)(2)(3)(4) Jojoba oil is noncomedogenic, meaning it does not cause acne or clog pores.
Moreover, jojoba oil is abundant in minerals, vitamins, and antioxidants that have nourishing and repairing properties. Jojoba oil is suitable for all skin types, including acne-prone and oily skin. (2)
Read on to know more about jojoba oil.
Why Doesn't Jojoba Clog Pores?
Researchers have reported that jojoba oil does not clog pores (1)(2)(3)(4) because:
1. It is noncomedogenic
Noncomedogenic means jojoba oil does not cause comedones (whiteheads or blackheads) or acne. It does not cause skin buildup and can be used in a water-in-oil emulsion without clogging pores. (4)
Jojoba oil is best for oily or acne-prone skin. With antibacterial and anti-inflammatory properties, it reduces infection and inflammation in pores. (5)
2. It is similar to sebum
Jojoba oil is miscible with sebum (natural oil produced by the skin) and is similar to it. (2)(3)
Sebum acts as a lubricant as it hydrates and protects the skin, but its overproduction or amalgamation with bacteria or dead skin cells can cause pore clogging and can lead to acne. (6)
Jojoba oils' molecular size and chemical structure is similar to that of sebum. Thus, it can balance out its production and mimic its function. (4) Jojoba oil also prevents pores clogging by dissolving the impurities and excess sebum. (2)
As mentioned, as jojoba oil can imitate sebum, it can also be used to replicate sebum oil when sebum production is reduced due to environmental stressors, pollutants, or age. (3)
Jojoba oil also inhibits excessive sebum (greasy skin) production (2) and also helps balance it.
With the above-mentioned scientific researches, it can be concluded that jojoba oil does not clog pores. Rather, it keeps them clear and clean and enhances overall skin appearance and health.
How to Use Jojoba Oil for Clogged Pores?
You can use jojoba oil to reduce clogged pores in the following ways.
As a makeup cleansing agent
Mix ½ teaspoon of jojoba oil and ½ teaspoon of castor oil.
Apply the oil mixture to oily or acne-prone skin before wetting your face.
With your fingertips, massage the oil on your skin for a minute to get rid of impurities such as dead skin cells and makeup. This allows oil penetration.
Leave it on for at least 5 minutes.
Rinse it off with any organic face wash.
Do this twice a week to get flawless skin.
As a moisturizer
While your face is still damp, apply 3–4 drops of jojoba oil.
Massage the oil for at least 4–5 minutes.
Leave it on overnight.
Rinse it off with lukewarm water in the morning.
Do this twice a week.
Should You Use Jojoba Oil on Your Skin?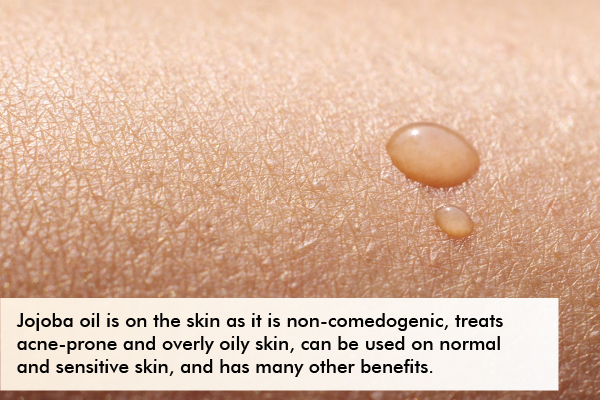 Yes, you can use jojoba oil on your skin as it is noncomedogenic and has several properties that support skin health. It treats acne-prone and oily skin and can be used on normal and sensitive skin as well.
The benefits of jojoba oil for the skin include:
Does Jojoba Oil Expire?
Jojoba oil has a long shelf life. It is stable and does not spoil or go rancid. Pure jojoba oil, if stored properly, can go for years without losing effectiveness.
However, when exposed to air, heat, and light, it can degrade and oxidize. With time, the oil may lose some natural ingredients and its effectiveness.
To ensure the oil's effectiveness and best quality, store it in a cool and dark place away from direct sunlight. It is also recommended to use it within 2 years of opening the bottle. Seal the bottle tightly when not in use.
You can do a sensory evaluation by smelling and looking at the oil to know whether the oil is good or not. If it looks discolored or cloudy or has a strange odor, do not buy or use it. Choose a fresh bottle of oil instead.
General Queries
Can I use jojoba oil on my skin every day?
If your skin is dry, you can use jojoba oil twice a day daily. If your skin is oily, you can use jojoba oil every other day or mix it with a moisturizer to avoid overapplying it.         
What are some of the cosmetic products that use jojoba oil?
Jojoba oil is widely utilized in the cosmetic industry. It is used in hair conditioners, shampoos, body and bath oils, winter care lotions, hair restorers, moisturizers, shaving creams, hand and body lotions, face creams, makeup foundation creams, mascara, lipsticks, suntan lotions, lip gloss, specialty soaps, and more. (1)
What are the side effects of jojoba oil? 
According to experts, using jojoba oil and wax topically is safe. But if you experience skin redness, itching, or a rash, stop using the oil immediately, as you might be allergic to it.
Anaphylaxis is a rare allergic reaction to jojoba oil. This reaction may take seconds or minutes to occur after being exposed to an allergen. (9)
You should not consume jojoba oil, as it is to be used externally only. Ingesting the oil may lead to severe symptoms such as body aches, diarrhea, extreme thirst, stomach pain, and dry eyes.
Final Word
Incorporate jojoba oil into your routine either by direct application on your face or by mixing it with a lotion or cream for extra nourishment. It does not clog pores and offers several benefits.