Did you know two to three cloves of garlic a day can keep vampires away? Not just vampires, but it also keeps skin dullness at bay!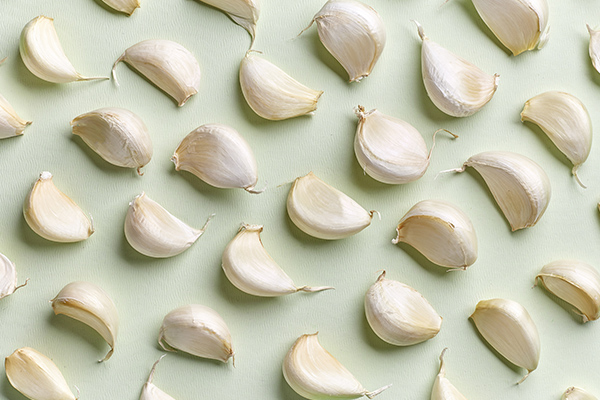 In the talk about cosmetic and beauty products, garlic will hardly cross your mind. After all, who wants to spread this smelly ingredient onto the skin?
However, although garlic is smelly, its effectiveness in skin lightening is expert verified. Garlic is known for its physiological activities, such as antimicrobial, antioxidant, and anti-inflammatory activities, and it improves blood circulation and reduces blood lipid levels. (1)
Experts have also reported that garlic toners prevent and treat acne, skin cancer, and several facial color spots, weaken wrinkles, whiten the skin, delay skin aging, and is beneficial for your skin care regimen. Garlic toners can be used for any skin type, including oily skin. (2)
Thus, experts conclude that garlic extract possesses high skin-lightening/whitening activity (1) and can keep your complexion flawless and clear.
Caution: One of garlic's most common side effects is burns. The application of raw garlic can lead to serious burns from its chemical components, including allicin, diallyl disulfide, and allyl propyl disulfide. It may cause local or systemic adverse reactions, even with short-term contact. (3)
Give garlic a chance and explore its benefits at a wider level. Continue reading to know more.
Why Use Garlic for Skin Lightening?
You should try garlic for skin lightening as it prevents the deposition of melanin pigment.
Your skin color is determined by melanin (a natural dark-brown skin pigment that provides the skin its color). (1)
According to a study, the antioxidant property of garlic is invincible. It protects your skin cells from harmful and damaging molecules known as oxidants.
Oxidants encourage more melanin production, which may provide sun damage protection, but an excess of melanin can lead to uneven skin tone or dark spots.
Garlic can stop excess melanin production by blocking oxidants' action in your skin. (1)
DIY Garlic Mask for Skin Lightening
This garlic mask is excellent for evening your complexion or brightening and refreshing your skin. It improves microcirculation by nourishing, hydrating, and cleansing your skin, giving it a youthful, fresh, bright, and dewy glow.
Moreover, garlic whitens and lightens the skin, and the addition of aloe vera heals skin, cures acne, and gives skin a youthful glow. (4) Coconut soothes and moisturizes the skin. (5)
What you need:
One clove of garlic, mashed
2 tsp of aloe vera gel
1 tsp of coconut oil
How to use:
Mix everything well in a bowl.
Cleanse your face gently, and apply the mask.
Let it sit for at least 10 minutes.
Rinse off the mask.
Precautions When Using Garlic on the Skin
Take the following precautions when using garlic on the skin:
Due to its strong nature, direct application of garlic can lead to slight stinging or burning. Therefore, it is advised to dilute garlic with water or other ingredients before applying it. Seek a doctor's attention if you notice any unpleasant symptoms.
Avoid using garlic on your skin if you take blood-thinning medication, such as aspirin, or if you have a bleeding disorder, as it elevates bleeding risk by interfering with blood clotting.
Do not use garlic with health or herbal supplements that may affect blood clotting. Some examples include capsicum, danshen, angelica (dong quai), clove, horse chestnut, ginkgo, poplar, Panax ginseng, willow, turmeric, and red clover.
If you are allergic to garlic or other members of the onion family, avoid its usage. Allergic reactions include rashes, anaphylaxis, breathing difficulty, and hives.
Other Benefits of Garlic for Skin
Here are some other skin benefits of garlic.
1. Prevents acne and reduces acne spots
Acne is inevitable, but you don't have to live. (6) With garlic, you can achieve clear skin.
Its antimicrobial properties (7) protect from acne-causing bacteria, such as Salmonella, Mycobacteria, Staphylococcus, Vibrio, and Proteus, thereby preventing acne. (7) According to a study, 7.5% of garlic juice fought against Propionibacterium acne (acne-causing bacteria). (8)
Moreover, garlic's anti-inflammatory properties prevent inflammation. (9) Garlic also clears facial acne spots.
2. Rejuvenates the skin and fights signs of aging
The calcium, sulfur, vitamin E, and zinc (10) in garlic remove dead skin cells and smooth the formation of skin tissues. Thus, garlic plays a crucial role as a rejuvenating and antiaging agent. (11)
Experts also reported the effectiveness of garlic in controlling skin photoaging caused by UV radiation through antioxidative systems. (12)
You can get flawless, youthful, and clear skin by using garlic.
3. Treats skin diseases
Garlic has been used in complementary and traditional medicine.
Numerous clinical trials have demonstrated the efficacy of applying or administering garlic in treating signs related to denture stomatitis, skin wounds, venous ulcers, and warts. (10)
How many garlic cloves should you eat daily?
According to a study, eating three cloves of garlic daily is beneficial. However, it is recommended to take your doctor's advice as some people are allergic to it. (13)
Final Word
Garlic has multiple health benefits, and scientific evidence claims it can lighten the skin. Garlic effectively reduces inflammation, acne, and excessive melanin production and rejuvenates the skin.
However, be careful when using garlic on your skin, as it can cause skin burns and irritation. It is highly advised to consult your dermatologist before trying garlic on your skin.
References

KR101458758B1 – garlic extract with the effect of skin whithening and anti-oxient, manufacturing method htereof and cosmetic composition comprising the same. Google Patents. https://patents.google.com/patent/KR101458758B1/en.
CN101756855A – garlic toner. Google Patents. https://patents.google.com/patent/CN101756855A/en.
Keles MK, Bayram Y, Durmus M. How fast can a naturopathic medicine cause skin burn? A case report of Garlic Burn. Annals of burns and fire disasters. https://www.ncbi.nlm.nih.gov/pmc/articles/PMC4883610/. Published September 30, 2015.
Therapeutic and medicinal uses of Aloe Vera: A review – researchgate. https://www.researchgate.net/publication/262698658/.
Pham TL-B, Thi TT, Nguyen HT-T, Lao TD, Binh NT, Nguyen QD. Anti-aging effects of a serum based on coconut oil combined with deer antler stem cell extract on a mouse model of Skin aging. Cells. https://www.ncbi.nlm.nih.gov/pmc/articles/PMC8870445/. Published February 9, 2022.
Acne: Overview. American Academy of Dermatology. https://www.aad.org/public/diseases/acne/really-acne/overview.
A review: Anti-microbial, anti-inflammatory effect and … – researchgate. https://www.researchgate.net/publication/322909963/.
Development and evaluation of ANTI-ACNE gel containing … – researchgate. https://www.researchgate.net/publication/318855135/.
Author links open overlay panelJung-Hye Shin b 1, b, 1, et al. Short-term heating reduces the anti-inflammatory effects of fresh raw garlic extracts on the LPS-induced production of NO and pro-inflammatory cytokines by downregulating allicin activity in RAW 264.7 macrophages. Food and Chemical Toxicology. https://www.sciencedirect.com/science/article/abs/pii/S0278691513002287. Published April 11, 2013.
Ansary J, Forbes-Hernández TY, Gil E, et al. Potential health benefit of garlic based on Human Intervention Studies: A brief overview. Antioxidants (Basel, Switzerland). https://www.ncbi.nlm.nih.gov/pmc/articles/PMC7402177/. Published July 15, 2020.
Pazyar N, Feily A. Garlic in dermatology. Dermatology reports. https://www.ncbi.nlm.nih.gov/pmc/articles/PMC4211483/. Published April 28, 2011.
Kim HK. Garlic supplementation ameliorates UV-induced photoaging in hairless mice by regulating antioxidative activity and mmps expression. Molecules (Basel, Switzerland). January 8, 2016. https://www.ncbi.nlm.nih.gov/pmc/articles/PMC6273408/.
Analysis of garlic effects on human health in the world. https://www.researchgate.net/publication/328675985/.