Oily skin is a problem faced by many. The skin secretes a natural oil (sebum) that keeps it healthy, hydrated, nourished, and supple if secreted in moderation. (1) When sebum is secreted excessively, the skin becomes oily. (2)(3)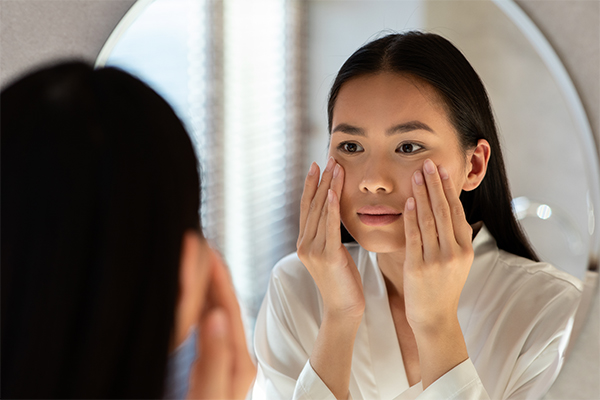 Oily skin attracts pollution, dust, and dirt, which, when mixed with sweat, can make your skin acne-prone. (4)
Looking after oily skin can be complicated, but a good summer skin care routine can greatly benefit it.
Read further to learn the proper summer skin care routine for oily skin.
Summer Skin Care Routine for Oily Skin
Implement the following practices to get rid of the excess oil from your skin this summer.
Morning routine
Here is a summer skin care routine that you can follow in the morning when suffering from oily skin.
1. Cleanse with an exfoliating cleanser
Your morning skin care routine should start with a gentle face exfoliating cleanser to get rid of the dead skin cells and dirt from your pores.
If you have oily skin, you can use a specially designed oily skin face wash that contains minimal oil and forms only a thin oily layer on the skin. (5)
According to research, products for cleansing the skin (especially oily skin) that contain tea tree oil eliminate many microorganisms. (4) Moreover, sulfur-based cleansers help maintain the natural skin pH and treat acne. (6)
A 2022 research also reported that a mild exfoliating cleanser with low alpha-hydroxy percentage (AHA) (e.g., lactic acid 5% or a combination of mandelic acid 2%–5%, salicylic acid 1%–2%, and glycolic acid 1%–2%) might be advisable for people with oily skin.
People with excessive facial oil (sebum) may need a face wash with much higher AHA percentage and a high amount of surfactants as compared to people with less oily skin. (7)
2. Use a toner containing salicylic acid, glycolic acid, or lactic acid
A skin toner is the second cleansing agent that eliminates residue after using a regular facial cleanser or gets rid of excessive sebum. It preps the skin before a nourishing treatment. (8)
Witch hazel, a natural astringent and a botanical anti-inflammatory agent, is a common ingredient in toners that eliminates excessive oil from the surface of the skin. (6)(9) An emblica toner is also for its anti-sebum efficacy and safety for facial skin. (10)
For oily skin, you can apply a guava toner, (11) which has been shown to clear excessive sebum on the face. (12)
3. Use a serum to control skin oiliness
Serum's ability to be absorbed quickly and penetrate the skin gives a non-oily finish to the skin. (13)
A 2021 research concluded that the application of serum comprising glycolic acid, citric acid, and salicylic acid regularly controlled skin oiliness within 7 days and acne flare-ups within 56 days when observed in Brazilian patients. (14)
4. Moisturize with a lightweight moisturizer
Even oily skin needs moisturization to keep it healthy and hydrated; not moisturizing can cause more sebum production, leading to dryness.
Facial moisturizers for oily skin are designed to be noncomedogenic and nongreasy and, thus, can be used in a day-to-day skin care routine. In addition, oil-absorbent compounds such as talc and kaolin are beneficial ingredients that reduce excessive shine. (15)
Moreover, moisturizers containing benzoyl, retinoids, salicylic acid, peroxide, and glycerine help fight acne and decrease sebum production. (16)
5. Protect your skin with sunscreen
Applying sunscreen is a crucial step in your skin care routine as not only does it save your skin from the harmful UV rays and sunburn but it also fights hyperpigmentation, premature aging, and skin cancer.
If your skin is oily or acne-prone, use spray or gel-based sunscreen. New sunscreen formulations containing microfine particles are considered effective and safe for acne-prone skin. (17)
One study recommended sunscreen with a lighter base, such as gel or lotion, for skin that is oily or easily develops acne. (18) Greasiness is lower in gel-based sunscreen than in oil-based sunscreen. (19)
According to research, an SPF 30 moisturizer suits acne-prone skin. (20) This kind of moisturizer usually contains cornstarch and silica microbeads, which are sebum absorbent and good for oily skin. (21)
Evening routine
Without an evening skin care routine, your summer routine is only half-finished. In a similar way to the morning routine given above, start with cleansing and toning and conclude with a good night's lotion/moisturizer for oily skin.
Night cream application is essential for your skin care as it repairs any damage that happened during the daytime. (22) The night is the best time for your skin as it is free from external exposure and makeup; the skin can breathe and feel easy and light.
Therefore, apply a quality night cream that is easily absorbed and lightweight. Go for a cream containing retinol (a vitamin A derivative) as it reduces the signs of aging, treats acne scars and acne in the pores, and stops new ones from forming. (23) You can also apply an under-eye cream for nourishment, hydration, and elevating the skin tone.
Dos and Don'ts for Oily Skin in the Summer
The dos and don'ts of oily skin care during the sunny season are as follows.
Dos
Do wash your face every morning, every evening, and after exercise. When you wash your skin, avoid scrubbing even to remove makeup, as it causes irritation and worsens any skin condition.
Do pick skin care products labeled "oil-free" and "noncomedogenic." You should pick oil-free and noncomedogenic products when purchasing moisturizers, makeup, and cleaners as they don't cause acne or clog pores.
Do use a mild foaming face wash. Most people believe a strong face wash will help dry their oily skin. But a harsh face wash will only cause skin irritation and trigger excessive oil production. Therefore, use a face wash that's mild and gentle on your face.
Do apply moisturizer daily. Keeping your skin hydrated and moisturized is crucial, even if it's oily. So, use a moisturizer containing broad-spectrum sunscreen with SPF 30 or higher to get sun protection and save time.
Do wear sunscreen outdoors. Sunscreen protects against sun damage, preventing age spots, wrinkles, fine lines, and skin cancer. Use sunscreen containing titanium dioxide and zinc oxide to eliminate acne breakouts. Avoid using sunscreen that contains oils or fragrances.
Do choose oil-free, water-based makeup.
Do use blotting papers throughout the day. Blotting paper helps by absorbing oil from your face. Gently pat it on your face and let it sit for a few seconds. Avoid rubbing the blotting paper on your face as it spreads the oil to other regions of the face. (24)
Don'ts
Don't use cleansers that are oil or alcohol-based. Using cleansers containing oil or alcohol can cause skin irritation.
Don't sleep with your makeup on. Always remove your makeup and wash your face before going to bed.
Don't touch your face throughout the day. It might seem tempting, but touching your face all day transfers bacteria, oil, and dirt from your hand to your face. So, touch your face only while cleansing or applying sunscreen, moisturizer, or makeup. Remember to clean your hands first. (24)
Don't use heavy makeup or products that are not oil-free or noncomedogenic. Your skin becomes greasy and your pores get clogged when you apply heavy makeup or use products that aren't noncomedogenic or oil-free.
Don't neglect serums or moisturizers even if your skin is already oily. Skipping serum or moisturizer application induces more oil production and can cause skin dehydration.
General Queries
Is rose water good for oily skin?
Yes, rose water is good for oily skin as it balances and maintains oil production. It also removes impurities and dead skin cells, inhibiting pores from clogging. In addition, it reduces breakouts and nourishes the skin. 
What are the four characteristics of oily skin?
The four characteristics of oily skin are:
1. Visibly enlarged pores
2. Frequent breakouts and shininess
3. Less observable wrinkles
4. Makeup fading quickly
Final Word
Skin care in the summer season can be challenging due to the increased heat and humidity.
A good skin care regime can significantly make your oily skin healthy. Remember, it does not apply to all cases, so choose products best suited for your skin, take your time and research the ingredient list, experiment with various products on your skin, and pick products that suit your oily skin best.