If your skin is oily and you haven't been using serums for fear of making your skin oilier, then you've been under the wrong influence.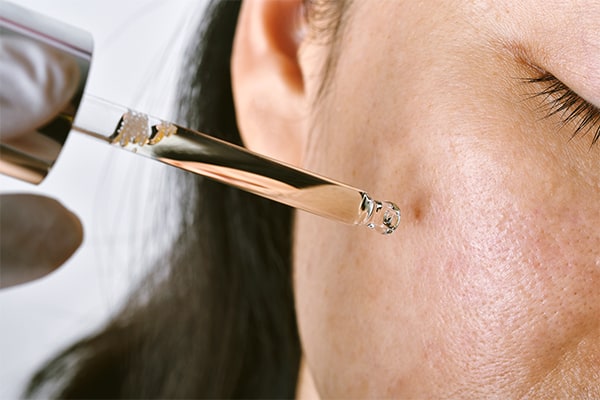 Serum is a magical product for oily skin. It eliminates the oiliness, greasiness, shine, large pores, and acne induced by oily skin. (1)
Cosmetic serums are oil-based or water-based highly concentrated products. Skin care serums are lightweight gel lotions or moisturizers that penetrate the deeper skin levels to transfer active ingredients. (2)
A good serum makes your skin firm, making pores smaller, increasing moisture levels, and improving texture, as they contain ingredients that regulate sebum and oil production, enhance deep hydration, and more.
According to researchers, liquid and gel serums are good for oily skin. (3) Consistent serum application hydrates and soothes the skin, reducing excess oil and breakouts.
Continue reading to learn why serums are good for oily skin.
Are Serums Suitable for People with Oily Skin?
Serums are suitable for oily skin as they are intended to give a high concentration of active ingredients to the deeper layers of the skin where moisturizers can't go.
Their small molecules provide effective and swift results, (3) making them powerful in targeting numerous skin concerns, including sebum overproduction, lack of hydration, large pore size, and acne.
Excess sebum makes the skin greasy, (1) and applying serums provides a nongreasy finish. (2) Therefore, serums are effective skin care products in treating oily skin.
Serums for Oily Skin: How to Choose According to Your Skin Condition
Although a good diet and proper lifestyle are imperative in keeping the skin flawless, adding a good serum to your daily skin care routine could do wonders to treat oily skin effectively.
However, the type of serum and its ingredients also matter. Go for serums containing hyaluronic acid, vitamin C, lactic acid, salicylic acid, glycerin, purified bee venom, and niacinamide to balance and improve oily skin.
Remember, choosing a suitable serum ingredient is imperative to support oily skin. Serums fight acne, reduce pore size, remove excess sebum, and hydrate oily skin, making them an excellent skin care product for oily skin.
Acne-Fighting Serums for Oily Skin
The following are the acne-fighting serums for oily skin:
Pore-Refining/Sebum-Reducing Serums for Oily Skin
The following are the pore-refining/sebum-reducing serums for oily skin:
Hydrating Serums for Oily Skin
The following are the hydrating serums for oily skin:
Hyaluronic acid serum: Hyaluronic acid is a hydrating ingredient that moisturizes the skin. It is a humectant that transfers water from the environment to the skin's upper layer. Hyaluronic acid molecules attract water 1,000 times their weight, making them an effective skin-hydrating and moisturizing agent that results in dewy skin throughout the day. (20)
Vitamin C serum: According to research, vitamin C's topical formulation (such as magnesium ascorbyl phosphate) hydrates skin and reduces transepidermal water loss. (21)
How to Apply Serums
Follow these steps to apply serums properly:
Wash your face.
Dispense 1 drop to each facial section if you use a thin serum. If you're using a thick serum, warm 3–5 drops of the serum in your hand before applying it.
Gently dab it on your skin for 30–60 seconds to facilitate absorption.
Let it rest for a minute, and apply moisturizer.
What Causes Oily Skin?
Excessive natural oil production makes the skin greasy, which could be due to various reasons such as:
Genetics
Hormonal imbalance
Exposure to certain chemicals or harsh ingredients
The weather (scorching sun and humidity) (24)
How Can You Check If You Have Oily Skin?
Oily skin is generally self-diagnosable due to numerous signs indicating that the skin produces excessive oil.
Enlarged pores: Excessive oil on your forehead, nose, and chin clogs pores, making them noticeably enlarged.
Breakouts: Clogged pores due to oil overproduction result in breakouts. Regular breakouts could be due to oily skin.
Change in appearance: Any buildup or change in appearance on your face in the form of a sheen is a clear sign of oily skin.
Greasy feeling: Excessive oil causes skin congestion, resulting in greasy skin that's never dry or tight.
Blackheads: When excess oil clogs pores, the oil particles oxidize due to high air contact, turning the particles black and creating spots called blackheads.
What Should People with Oily Skin Avoid?
People with oily skin should avoid:
Petrolatum (petroleum jelly): It is a greasy ointment that clogs the pores of oily skin. Instead, use light lotions and creams. Always look for "noncomedogenic" on the label, as it indicates that the product is unlikely to block pores.
Alcohol: Alcohol-containing serums, toners, and other skin care products eliminate excess skin oil but also cause irritation.
Is It Advisable to Exfoliate Oily Skin?
Yes, you can gently exfoliate oily skin once weekly. It quickly removes dead skin cells, giving the skin a brighter appearance.
Long-term usage of exfoliation reduces blackhead development. However, avoid overdoing it as it may irritate the skin, making skin oiliness worse.
Final Word
Oily skin makes the face appear greasy and is prone to acne breakouts, which could cause embarrassment. However, a proper skin care routine involving serums can treat this condition efficiently.
Serums for oily skin contain active ingredients that penetrate the skin deeply, treating skin oiliness and acne.