Many people who love DIY haircare have used homemade rice water for hair growth, a game-changer for tresses damaged by coloring, heating tools, chemical treatment, etc.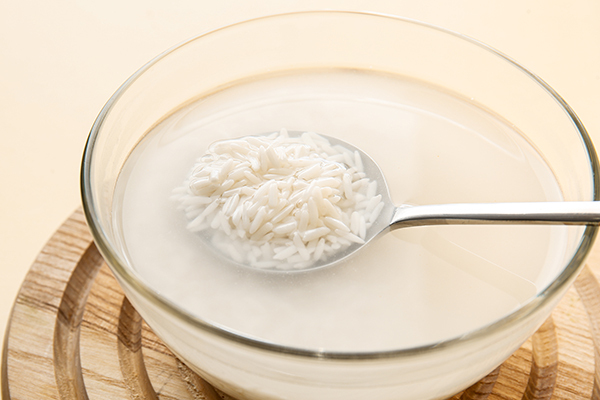 Legend has it that Japanese court ladies were the first to use it as part of their hair care routine, washing their floor-length hair with water from rinsing rice, which might have contributed to their impressive hair length. Therefore, rice water could be a solution for those who are looking to enhance the beauty and strength of their tresses.
More than 100 countries across the globe consider rice as a staple food. (1) The scalp quickly absorbs rice water. (2) Recent research in 2021 indicates that rice water is rich in vitamins, amino acids, and trace minerals like Zn, Mg, and Vit. B and C, which play a huge role in ensuring strong and bouncy hair. (2)(3)
However, rice water should only be applied to entirely wet hair as it contains high amounts of starch (4) that can cause dryness if not followed up with a hydrating agent. Therefore, it is advisable to saturate the hair and scalp with rice water and massage it into the roots for the best results. Let's read on below to know more.
Benefits of Using Rice Water on Wet Hair
Rice water is known to provide multiple benefits for hair.
1. Strengthens hair
It contains amino acids that strengthen hair roots and inositol, a type of Vitamin B found in plants, that helps strengthen hair. Additionally, rice water makes detangling hair easier, reducing hair breakage. (2)(3)
2. Makes hair shiny and smooth
Rice water protects the hair against pollutants, heat-inducing electronic hair appliances, and chemicals in hair care products, which often lead to loss of shine and luster. Rice water conditions the hair naturally for softness and smoothness. (2)(3)
3. Hair growth
Lastly, rice water is believed to promote hair growth, with visible results in a short period, by protecting and nourishing hair. The rice water's protein boost is an impetus for it to grow well. (2)(3)
4. Eliminates dandruff and dry flakes
Rice water, particularly fermented red rice water, is useful in eliminating dandruff and flakes. It contains properties that can stop the spread of the fungus, Malassezia, which is responsible for dandruff.
Using rice water at regular intervals helps stop the spread of dandruff and keeps the scalp soft and free from dryness. (2)(3)
5. Natural cleanser
Using rice water as a hair cleanser is a chemical-free alternative, devoid of preservatives and other chemicals, and you don't need to use a conditioner as well. (2)(3)
6. Balances pH levels
Additionally, it helps balance the pH levels of the scalp, keeping the natural oils intact. Adding a few drops of essential oils to rice water enhances its benefits, and is much more effective than your previous conventional shampoo. (2)(3)
7. Good for hair frizz
According to researchers, rice water can be used as a hair treatment to prevent frizzy hair and provide various advantages like better texture, elasticity, and reduced friction. The presence of a carbohydrate called inositol is primarily responsible for these benefits. (2)(3)
How to Use Rice Water for Wet Hair?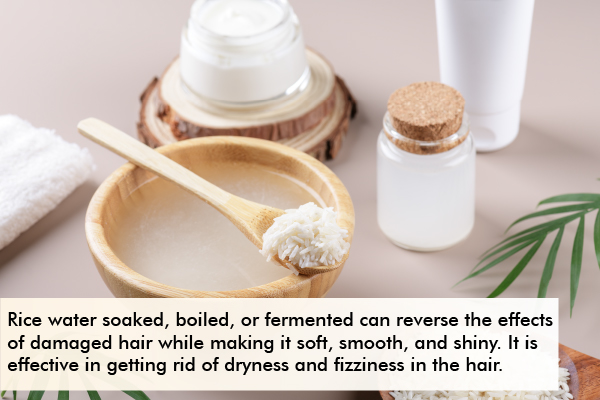 Rice water, whether soaked, boiled, or fermented, is able to reverse the effects of damaged hair while making it soft, smooth, and shiny. It is effective in getting rid of dryness and frizziness in the hair.
There are various ways of using rice water on wet hair. (3) You can use rice water as a mild cleanser by adding a natural clarifier like lime, amla, or shikakai to prevent hard water build-up.
Another beneficial addition to rice water is green tea, which is rich in antioxidants and can help promote hair growth, prevent hair loss, and add strength and shine to your hair. (5)
1. As a final rinse
One of the ways is to use it as a last rinse after you wash and condition your hair.
How to use:
To one cup of fermented rice, add one cup of regular water, and five drops of lavender or rosemary oil.
Apply this rice water on to your hair and massage it well on the scalp, until the tips.
2. As a hair mask
To create a homemade hair mask, you need to do the following:
Mix one tablespoon of fermented rice water with one tablespoon of mustard powder and olive oil to create a paste.
3. Homemade shampoo
Try using rice water as a shampoo in this manner:
To one cup of rice water, add a teaspoon of Shikakai powder, and a quarter cup of aloe vera juice.
Add one to two tablespoons of baby shampoo to the mixture.
After mixing thoroughly, transfer the mixture to a secure container and keep it in the refrigerator, which can last up to a week.
Side Effects of Rice Water on Dry Hair
Although rice water is a nutrient-rich substance, it can harm your hair by absorbing too much protein.
Some potential adverse effects of using rice water on your hair include the following:
Hair may appear frizzy and brittle.
It prevents moisture and other nutrients from penetrating your hair due to the protein coating.
Additionally, if you are adding too many essential oils to your rice water mixture may prevent other ingredients from being absorbed by your hair follicles.
Interesting Facts
Rice has over 40,000 different types all over the world, (1) and its grains contain 75% to 80% starch. (2)
General Queries
Which type of rice water can be used for hair care?
For hair care, any rice water can be used, including white rice, brown rice, wild rice, Basmati, organic Jasmine rice, etc.
Does rice water aid in hair growth?
According to research shown in the International Journal of Cosmetic Science, using rice water for healthy and long hair dates back to the Heian period in Japan. It is said that court ladies used to comb their hair daily with Yu-Su-Ru (the water obtained from rinsing rice), resulting in beautiful long hair that reached the floor. (2) Therefore, rice water works for hair growth.
What happens if you keep rice water in your hair overnight?
You shouldn't leave rice water in the hair for long periods, especially for low porosity hair or hair that is protein-sensitive. Leaving rice water in your hair for too long can cause protein overload, resulting in stiff hair.
 
For optimal results, leaving the rice water on your hair for 15–20 minutes is recommended, as this duration allows the hair to fully absorb all the essential nutrients in the rice water.
Final Word
Based on the analysis and research studies presented above, it is highly recommended to consider using rice water for both dry and wet hair. The studies demonstrate that rice water effectively strengthens hair, provides smoothness, enhances luster and shine, promotes hair growth, and eliminates dandruff and flakes.
Rice water can be used as a last rinse, pro conditioner, hair mask, and shampoo due to its high content of vitamins and minerals, and it can be trusted to provide numerous benefits for hair health.