Summer can be challenging for people with dry hair, as it is common for the hair to lose its luster and moisture in the summer heat. The humidity and heat can result in the loss of the scalp's natural oils, causing damage and dryness. (1)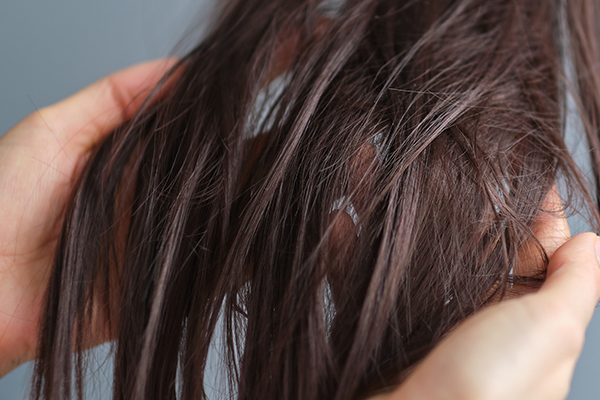 Scroll down to learn how to prevent hair dryness and treat your hair during summer to keep it shiny and healthy.
Tips for Treating Dry Hair in the Summer
Follow these tips to keep dryness away from your hair this sunny season.
1. Avoid washing your hair every day
Daily shampooing can strip away the scalp's natural oils, making it susceptible to dryness (2) and breakage. (1)(3) So, wash your hair only every other day or less based on how dirty and oily your hair gets.
You can use baby shampoo, a specially designed shampoo for dry hair, a dry shampoo, (3) or a shampoo containing hibiscus.
The astringent properties of hibiscus help lessen excessive oil secretion of the oil glands in the hair and scalp. Hibiscus also provides refreshment to your hair in between washes. (4)
2. Use a moisturizing shampoo and conditioner
Go for a specially designed conditioner and shampoo for dry hair (3) or products containing natural ingredients such as aloe vera, (5) amla, shikakai, (6) hibiscus, lemon juice, bhringraj, and coconut oil. (7) These products reload the lost moisture due to sun exposure and heat.
Avoid shampoos that contain sulfates, (8) alcohol, (9) or any harsh chemicals that can remove natural oils from your scalp and hair. (2)
3. Trim regularly
Regular trimming can eliminate split ends and dry hair, making your hair look lighter and healthier and stopping further damage.
You can also consult your hairstylist on tips and tricks for caring for your hair length and type in the summer.
4. Take vitamins
The appearance and health of your hair depends on your diet. Vitamins A and C, iron, and biotin (10) are essential minerals and vitamins for hair growth.
These nutrients can be acquired from sweet potato, milk, almond, walnuts, eggs, black beans, and seafood or by taking supplements after consulting your doctor. (11)
5. Add omega-3 and antioxidants to your diet
Consuming foods rich in antioxidants and omega-3 fatty acids can provide hair nourishment from within, as they fight free radical damage (which affects the scalp and hair follicles), oxidative stress, and inflammation. (10)
Great sources of nutrients include nuts (preferably walnuts), flaxseed oil, vegetable oil, flaxseeds, and leafy veggies. (10)
6. Shield your hair from sun damage
To prevent your hair from drying out, color fading, and turning brittle due to harmful sun rays, use an umbrella, hat, or scarf to protect your head when outside. (12)
You can also apply a leave-in conditioner (13) or a spray containing SPF to get UV radiation protection. (14)
7. Use a leave-in conditioner or hair oil
Give your hair a good wash and put on a leave-in conditioner (12) or a few drops of hair oil such as mustard oil, fenugreek oil, coconut oil, and sesame oil on your damp hair. These products add shine, smooth out frizz, and lock in the moisture in your hair. (15)
To prevent your hair from drying out and to keep it refreshed, use these products throughout the day.
8. Protect your hair from chlorine
If you love swimming and go into the pool often without any hair protection, remember the chlorine in the water is damaging and discoloring your hair. (16)
To avoid this damage, soak your hair in fresh water, squeeze out the excess water, and apply oil or conditioner to create a block between your hair and the chlorine.
You can also put on a swimming cap or wash your hair with vinegar and water after swimming to prevent chlorine buildup. (14)(17)
9. Drink plenty of water
Water is essential not just for your skin but also for your hair to keep it hydrated and prevent dryness and brittleness. So, drink eight glasses or more of water every day.
Avoid dryness-causing alcoholic or caffeinated beverages.
10. Use natural DIY hair masks
Natural ingredients are readily available in your kitchen that are excellent for conditioning and moisturizing dry hair. These ingredients are vegan and exclude animal-derived products or by-products.
Here are some DIY masks you can try.
a. Avocado hair mask
The nourishing and hydrating properties of avocado come from its richness in antioxidants, vitamins, and healthy fats. (18) Coconut oil conditions and moisturizes the hair while protecting it from sun damage. (19)
Steps:
Mash one ripe avocado.
Add 2 tbsp of coconut oil to it.
Apply this mask to your hair and scalp.
Let it sit for at least 20 minutes.
Wash it off with warm water.
b. Banana hair mask
Bananas are rich in vitamins C and B6 and potassium, which strengthen and repair damaged hair. (20)
Almond oil is lightweight and doesn't weigh down your hair. It adds softness and luster to your hair and shields it from UV damage. (15)
Steps:
Blend one ripe banana.
Add 2 tbsp of almond oil to it.
Apply this mask to your damp hair.
Let it sit for 15 minutes.
Wash it off with cool water.
c. Oatmeal hair mask
Oatmeal is a cleansing and soothing agent that eliminates impurities and dirt from your scalp. (21)
Olive oil, a nourishing oil, helps soothe, moisturize, and protect your hair from sun damage. (15)
Steps:
Mix ½ cup of oatmeal with half a cup of water.
Add 2 tbsp of olive oil and mix well.
Apply this mask to your wet hair, and massage it onto your scalp.
Let it sit for 20 minutes.
Wash it off with warm water.
When to See a Doctor
Contact a medical professional if:
Your hair is falling and breaking.
Gentle treatments do not improve your hair.
You experience any unexplained symptoms.
General Queries
What are the causes of dry hair? 
The causes of dry hair are as follows:
• Using harsh chemical soaps or alcohol-based products
• Washing hair excessively
• Malnutrition
• Excessive blow-drying
• Dry air due to climate change
• Hormonal abnormalities
• Anorexia (eating disorder)
How do dryness and damage make hair frizzy, and how does moisture affect it?
Your damaged and dry hair allows air moisture to penetrate and swell up the hair shaft, causing frizzy hair. Some common reasons for frizzy hair are dryness and dehydration.
How many times should dry hair be oiled?
Limit oiling your hair to once or twice a week, and do not leave the oil on your hair for more than 2 hours. There are no perks to leaving hair oil on your scalp longer; it may run down onto your skin and increase your chances of getting zits. 
What are the signs of dry hair?
Usually, dry hair has no shine, appears dull and flat, and is challenging to manage when touched. It has tangles, knots, and a brittle texture. If your hair can't handle blow-drying, it means your hair lacks hydration. 
Final Word
During summer, the sun shining above your head, the heat, and the humidity can be problems for dry hair. In addition, they can damage your hair cuticle and cause moisture loss.
Therefore, using the right shampoo and conditioner that are gentle on your hair and hydrate it is imperative. Use hair oils and products that moisturize the hair and provide protection from heat styling tools, direct sunlight, and heat. Also, remember to drink plenty of water.
Follow these tips to keep your hair shiny and healthy this summer.