Face creams are an essential part of skin care. Their hydrating and moisturizing agents can deliver nutrients to your skin, keeping it healthy and looking great.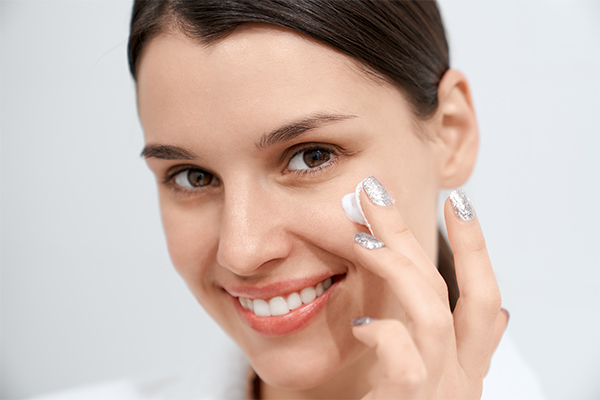 Face creams are semisolid emulsions of oil and water. Their texture varies between oil and liquid.
Face cream is crucial for every age and skin type. It keeps skin healthy looking and deeply nourished. The additives in it, such as emulsifying agents, make new techniques in cream preparation easy. (1)
Continue reading to learn how to properly use face creams.
Correct Application of Face Creams
Follow these steps to apply face cream correctly.
1. Cleanse your face
Use a mild cleanser that suits your skin type and wash it off with lukewarm water. Follow it up with a splash of cold water and pat dry.
Note: Moisturizers hydrate and moisten skin by providing water and stopping it from escaping. They fill tiny gaps, form a soft layer, and prevent the skin from rubbing. (2) So, the effectiveness of the cream will increase after cleansing your face.
2. Apply toner
Toner rehydrates skin, tightens skin pores, balances skin pH, relieves irritation, and inhibits germs. (3) This step is especially crucial when you want to wear makeup.
Note: Go for alcohol-free toners for dry or sensitive skin.
3. Apply an eye cream (if you use any)
Take a small amount of eye cream on your ring finger and dab it under your eyes without pulling the skin.
Note: The ring finger is the weakest and ideal for eye cream application.
4. Take a pea-sized amount of face cream
Squeeze a pea-sized amount of face cream onto your hand. If you have squeezed out more, don't worry; you can apply more if necessary.
Note: If the face cream comes in a jar, scoop out a small amount of cream using a scoop. It prevents the fingers from contaminating the product.
5. Apply the cream to your face
Dab the cream into your face and focus more on irritated areas. Avoid oily regions of your face, such as the creases of the nostrils' side.
Note: For combination skin type, focus more on dry regions and less on oily regions.
6. Blend the cream using your fingers
Use your fingers to gently massage the cream on your face in upward circular motions. Avoid downward drags on your skin, and leave at least a 1.27-centimeter margin around your eyes, as most creams are unsuitable for sensitive, delicate under-eye skin.
7. Apply more cream if needed
Use more cream if you see any bare patches on your face. Avoid slathering the cream. Remember, more cream does not mean an increase in its efficacy.
8. Remove excess cream using tissue
If you notice any lump of cream, dab it off using tissue.
9. Let your skin absorb the cream
Before putting on the makeup, let your skin absorb the cream. In the meantime, you can do your hair and wear your outfit, ensuring you don't rub off the cream.
Why Is Applying Face Cream Important?
There are multiple reasons face cream application is essential, and some of them are:
It keeps the skin nourished and hydrated, enhancing its overall texture and appearance. (1) People with sensitive or dry skin must use hydrating face creams to eliminate flakiness and irritation. (2)
Face creams contain ingredients that reduce wrinkles and fine lines and improve skin firmness and elasticity.
Ingredients such as antioxidants, hyaluronic acid, (4) retinoids, (5) and peptides boost collagen production and shield the skin from harsh environmental stressors such as cold wind, pollution, (6) and UV radiation.
Some face creams contain an SPF formula that protects the skin against harmful UV radiation (7) that may lead to skin cancer or premature aging.
Natural ingredients in face creams such as cucumber peel, aloe vera, and amla calm and soothe sensitive or irritated skin. (8) They also reduce inflammation and redness, providing skin comfort.
Face creams are essential to skin care as they keep the skin nourished, hydrated, and protected for a youthful and healthy complexion.
What Are the Properties of Face Creams?
The properties of a good face cream are:
Easy to apply and spread on the skin
Pleasant in appearance
Non-irritating on the skin
Should liquefy or melt
Must have a flushing action on the skin and pore openings
Must produce an emollient film on skin post application
Must not cause skin dryness when washed with soap and water
Must be able to lubricate, soften, and protect the skin in addition to cleansing it (1)
What Does a Good-Quality Face Cream Have?
The following are the characteristics of a good-quality face cream.
Smooth and sticky consistency
Non-irritant and has a uniform mixture
Not greasy, easy to apply and wash
Free from gritty particles
Better skin contact
Must have a long shelf-life
Must create a thin film with little pressure
If colored, should not stain
Should not meddle with the gas/temperature exchange between the body and the environment.
Disadvantages of Face Creams
The disadvantages of using a face cream include:
Contact dermatitis and skin irritation may occur due to excipients.
It may cause an allergic reaction.
Cream ingredients may have poor permeability into the skin.
In a lot of cases, the product may spoil and encourage microbial growth.
Its coloring and flavoring agents may shorten its shelf-life. (1)
General Queries
Why is a summer face cream essential?
The hot and humid summer makes your skin dehydrated. A summer face cream hydrates your skin and protects you from environmental factors such as pollution and the sun. 
What should you look for in a summer face cream?
A summer face cream must have a high water content and contain a lightweight moisturizer. It should have no or very low oil content.
Also, look for an SPF formula to shield your skin from the harmful UV rays. 
Final Word
Face creams are essential for skin care. It nourishes, hydrates, and protects the skin, leading to a youthful and healthy complexion.
Use face creams properly for best results.