Are you looking for ways to stop hair loss? Do you know there are some natural and protective hairstyles that can increase hair growth?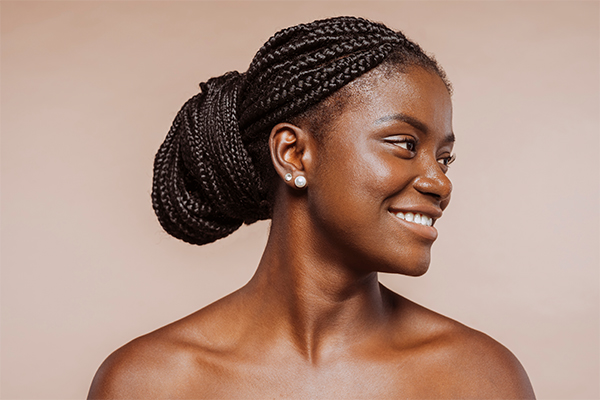 Cornrows, also called cane rows, are one such hairstyle that helps promote hair growth. They originated in the Caribbean and Africa. (1) These are tightly knotted closed braids along the scalp. (2) In this hairstyle, the hair is parted in intricate or straight rows. (3)
Cornrows are a protective hairstyle that decreases (2) tangles and the number of times hair must be handled for upkeep and styling.
You can wear this hairstyle for weeks or months with proper maintenance including oiling and washing. (1) It provides protection, allows healthy hair growth, and can be good for your hair if it is braided correctly.
Cornrows are a chemical-free hairstyling method that is casual and easy and requires low maintenance. (2) It also helps promote hair growth.
Did you know? Cornrows reappeared in the USA in the 1960s and 1970s and again in the 1990s and 2000s. In the 2000s, NBA basketball players wore cornrows. (1)
Continue reading to learn whether cornrows help your hair grow.
Do Cornrows Help Hair Grow?
Yes, cornrows help natural hair grow. This hairstyle keeps your locks neat and tidy and prevents overgrooming.
Daily grooming can strain your hair, causing split ends and breakage. But with minimal manipulation, these issues will be rare, giving your hair a chance to get stronger and longer.
Moreover, cornrows provide protection from unwanted damage and stress.
Cornrows act as a shield against daily styling, physical manipulation, detangling, touching, or combing. Other factors include hair coloring or the use of chemicals, the use of heat styling tools, exposure to UV rays, excessive brushing, and rough weather.
This hairstyle protects the hair from breakage and moisture loss as it is wrapped and tucked away, and this results in healthy hair growth.
Note: You should not leave your braids too long, as it can cause hair damage and loss. Also, keep your braids and scalp clean to help your hair grow. You can also consult a dermatologist or your professional hairstylist for personalized guidance.
Benefits of Cornrows for Hair
The following are the benefits of cornrows.
1. Versatile
Cornrows are versatile as they can be made with or without hair extensions. Additionally, there are multiple hair accessories you can put on to make your braids appear more beautiful.
You can also go for different cornrow hairstyles, which don't always have to be straight.
2. Easy to style
Unlike other braided hairstyles, cornrows are easy to achieve. It can be finished within an hour or less, depending on the technique and number of rows.
3. Suitable for all
Hairstyle doesn't discriminate, as it transcends age and gender. Anyone, young or old, female or male or other members of the gender spectrum, can rock cornrows.
4. Low maintenance
There's no need to wash, detangle, or style cornrows frequently. They last for weeks and require less maintenance.
How to Braid Cornrows for Hair Growth
Follow these detailed steps to braid cornrows for hair growth.
Prepare your hair: Use natural and organic hair products to add moisture to your hair. Apply it to damp hair and let it air-dry before braiding.
Use the tail of the comb to divide hair: Separate your hair into three sections, the skinner section makes smaller cornrows, and the larger section makes bigger cornrows. There is no one way of doing cornrows; you can part from the side, straight back, backward, or forward. There is an endless pattern for cornrows due to their versatility.
Part hair in three sections: Divide each hair section into three equal parts before braiding.
Start braiding: Start with a small hairline section braiding first. For first-timers, straight backward braiding is easy. You can upgrade with time and add patterns and extensions for length.
Tips to Take Care of Your Cornrows
Follow these tips to maintain your cornrows:
Apply braid spray to moisturize your cornrows.
Tightly wrap your hair using a scarf to cover your braids before bed.
Avoid brushing, wetting, combing, or washing your braids, as frequent manipulation can make braids frizzy.
Remove cornrows within 6 weeks to prevent tangling.
To cleanse your hair, put a stocking cap over your head, and wash your cornrows using shampoo once a week. Massage your scalp with this, push the moisture through the braid using your fingers, and then wash your hair with water. Wrap your braids in a towel and squeeze out the excess moisture. Take off the stocking cap and apply a conditioner and moisturizer. Then, blow-dry your hair.
General Queries
Do cornrows cause traction alopecia?
Yes, cornrows can lead to traction alopecia when the hair is tightly tied. 
According to a 2015 study, a cornrow hairstyle is associated with marginal scalp hair loss or traction alopecia (hair loss due to repetitive hair tension). (4)
Another study found that the risk of traction alopecia is tripled in African-American girls, among whom cornrows are common. (3)
For how long should you leave cornrows for hair growth?
Cornrows should not be kept for months. There is no perfect amount of time for keeping your cornrows in as it varies from person to person, but the following signs reveal it's time for cornrows to come off:
·         There is maximum regrowth. 
·         Hair partings become invisible as cornrows become loose.
·         The hair appears dull.
·         Hair feels dry when touched.
The average time to keep cornrows is 1 month at a time. 
Final Word
Cornrows are a conventional African hairstyle that creates intricate hair patterns. They involve hair braiding into neat and tight sections. They start from the scalp and come down to the hair ends.
Cornrows last long and don't involve detangling, combing, or manipulations. They prevent hair loss. However, they may damage the hair and cause hair fall when the braids are too tight.