Yes, using a hair conditioner is necessary to improve the quality and appearance of your hair.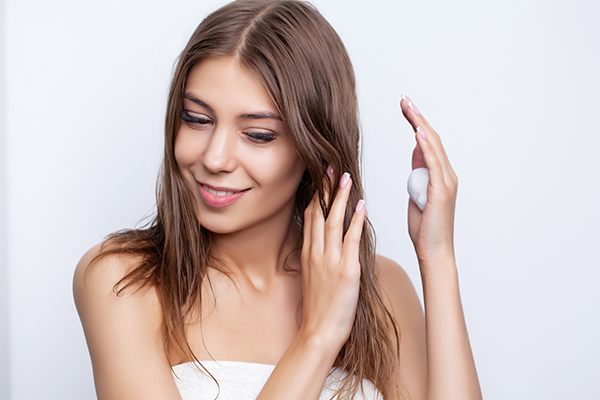 Have you ever felt your hair to be brittle, dry, or tangled after shampooing? Did you wish your hair was shiny, smooth, and manageable without getting expensive salon treatments? If yes, conditioner is the way to go!
Researchers reported that hair conditioner adds shine, luster, and softness to your hair. It reduces frizz and improves manageability for easy combing. (1)
Hair conditioners improve hair combability, detangle hair, and reduce friction by neutralizing free negative charges on the hair fibers and accumulate positive charges for interacting with negative ones. They reduce the hair's static electricity and improve cuticle lubrication, thereby reducing fiber hydrophilicity. (2)
Continue reading to learn how conditioners work and why they are necessary for achieving beautiful, healthy hair.
Scientific Evidence Showing the Necessity of Using Hair Conditioners
A 2023 research reported that cleansing is a crucial step in hair care, which is achieved by shampooing. Shampoo solubilizes cosmetic styling residue, dust, and excessive sebum accumulated in the hair fibers and scalp through the action of the surfactants. These solubilized particles can be easily removed through water.
Although shampooing cleanses the hair, it can also make it rough and dry. The anionic surfactants in shampoos and scalp scrubbing can degrade and remove the keratin and lipids.
For this reason, people apply hair conditioners after hair washing. They reduce frizz and enhance the shine, softness, and manageability of the hair for easy combing. (1)
The same research also reported that constant exposure of hair to external factors, such as thermal and mechanical factors, may be harmful and can lead to a loss of smoothness and shine. These unwanted outcomes can be minimized using conditioners, as they repair and restore hair quality. (1)
Therefore, applying conditioner is necessary for healthy and happy hair.
What Are the Benefits of Using Hair Conditioners?
The following are the benefits of applying conditioners.
1. Moisturizes and conditions hair
The combination of ingredients in hair conditioners, such as oils, silicones, emollients, and cationic surfactants, replenishes hair moisture (3) and acts as a moisturizing and conditioning agent. Thus, conditioners moisturize the hair.
2. Preserves hair color, enhances softness and shine, and reduces frizz
Conditioners reduce frizz. (1) They strengthen each strand's inner layers and enhance shine by adding surfactants. (4)
Moreover, the conditioner's thin film flattens the cuticles, making the hair smooth, shiny, and soft. (1) It also helps to lower the raised cuticles against the hair surface to preserve color, shine, and smoothness. (5)
3. Makes hair manageable and easy to style
According to researchers, hair conditioners improve hair manageability, add shine, and reduce static electricity. (6) Additionally, they detangle the hair, improve combability, and minimize frizz and friction.
Additionally, conditioners neutralize the hair's negative electrical charge by adding a positive charge. They further lubricate the cuticle and decrease fiber hydrophilicity.
Conditioners contain lubricating and antistatic substances that make combing easier (7) and prevent tangles and knots. These substances are categorized into five main groups: waxes, polymers, hydrolyzed amino acids, oils, cationic molecules, and silicones (the most active conditioning agent).
Conditioner application can save you time and effort as it makes your hair manageable and easy to style. (8)
4. Prevents hair damage (split ends)
The hair surface can be damaged by chemical, thermal, and environmental weathering, which give it an unpleasant look and feel.
When the 18-MEA layer (hydrophobic protection) from the cuticle surface is completely or partially removed, it loses texture or luster. The lack of hydrophobic protection makes the hair more hydrophilic and susceptible to swelling.
This leads to increased fragility and friction between the fibers. Hair fibers are made up of dead skin cells that cannot replicate and, thus, can't be repaired biologically.
Use conditioner to cover and partially revive the hair fiber surface to avoid hair cortex damage and exposure and to fill the cuticle's damaged areas. (9)
Conditioners flatten the hair cuticles (hair's outer layer) and seal the gap that could expose the essential cortex (it is surrounded by hair cuticle, a layer of overlapping dead cells that form a defensive layer around the hair) (10) to environmental stressors. (11)
Another research reported that hair exposure to the external environment damages the cuticles until they eventually break. Conditioners help fill those damages and cover the hair to support the cuticle. (3) They also seal the cuticle gap lifted after shampooing, preventing exposure to environmental damage to the cortex.
Conditioners with protein derivatives are well-known for repairing damaged hair, as they temporarily fix split ends (trichoptilosis). (12)
How to Use a Conditioner?
Follow these steps to use a conditioner:
Wash your hair and rinse out all the shampoo.
Gently wring out the excess water using your hands.
Take the amount of conditioner as mentioned in the bottle. Apply the conditioner to your hair shaft. Avoid the scalp.
Evenly distribute the conditioner on your hair lengths using your palms. For an effective application, run your fingers through your hair tips.
Let it sit on your hair for 1–2 minutes. Depending on the product, deep conditioners may require more time, varying from 10 to 30 minutes.
Thoroughly wash off the conditioner from your hair.
If you use a leave-in conditioner, apply it to dry hair after shampooing, and do not rinse it.
How Do Conditioners Act?
Here's how conditioners work:
Cationic surfactants are present in conditioner molecules and give them a positive electric charge.
The hair's negative electric charge attracts the conditioner's positive charge, which is deposited on the hair, especially in areas with some degree of weathering. This is especially beneficial for damaged hair that has a high negative charge, reducing static electricity.
The conditioner also reduces the friction between the hair fibers by flattening the cuticle scales over the hair shaft. It enhances light reflection, improving hair color and shine.
The conditioner's smooth feel detangles dry and wet hair, making it easy to comb.
What Are the Different Types of Hair Conditioners?
Conditioners come as serums, rinses, leave-on, instant, and professional conditioners. (11)
Note: It is generally safe to use conditioners regularly. Only a few adverse effects, such as contact dermatitis cases, have been reported after using shampoo and conditioner. (11)
Conditioners for Different Hair Types
Different conditioners are made for different hair types (wavy, curly, and straight) and issues. Most conditioners contain some basic ingredients, but there may be some best-suited elements for your hair type and problem.
For wavy or long hair, use your regular conditioner, as it doesn't make your hair look flat or oily.
For fine hair, leave-in conditioners are recommended. (11)
For dry and severely damaged hair, use deep conditioners. (15)
General Queries
What are the different formulations of hair conditioners?
Different forms of conditioners include gels, creams, viscous liquids, sprays, and thinner lotions. (14)
What are the side effects of using conditioner on hair regularly?
Hair conditioners are beneficial if they contain only a few chemicals that harm the hair. Conditioners are great moisturizers as they eliminate frizz and make your hair shinier. Apply conditioner after every hair wash and not daily. 
Overapplication of conditioner can damage the hair's structure. It is recommended to use organic conditioners instead of chemical ones. 
Final Word
Hair conditioner benefits the hair by nourishing, protecting, moisturizing, detangling, smoothening, and maintaining it. It improves the manageability, texture, and appearance of the hair. However, conditioner is only necessary if your hair needs it.
Choose a conditioner based on your hair condition, type, and preference. You can also experiment with different hair conditioner brands and types to find your best fit.