You must have heard of protein and cholesterol hair treatments. Both are excellent hair-strengthening treatments, albeit in dissimilar ways due to their different chemical makeups.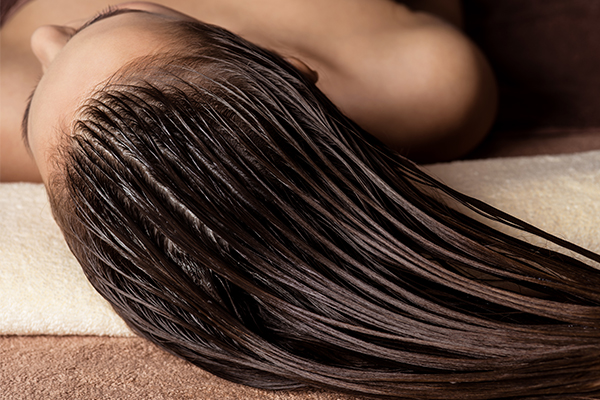 Protein is found in the hair and body, (1) whereas cholesterol is a soft fat-like waxy substance in the bloodstream and body cells. (2) Cholesterol is also an essential aspect of hair biology. (3)
When combined, protein and cholesterol can form a lipoprotein complex, which is now used as a treatment to make the hair soft and shiny.
Protein and cholesterol hair treatments are now widely available. The choice of treatment depends on your hair condition and type.
According to experts, protein is essential in improving and mending the mechanical strength of damaged hair fibers, (4) whereas cholesterol treatments make the hair soft.
If your hair is color-treated, dry, porous or textured, damaged, and fine, go for a protein hair treatment. If your hair is coarse, dry, and thick, go for a cholesterol hair treatment.
However, cholesterol hair treatment is less popular than salon protein. Therefore, if you want to do a cholesterol hair treatment, it will be a home treatment instead of getting done by a professional.
Differences Between Protein and Cholesterol Hair Treatments
The following are the differences between protein and cholesterol hair treatments.
Hair growth and strength
Protein improves and restores the mechanical strength of damaged hair fibers. (4) Protein treatments, such as marine proteins, replace protein lost at the follicle and root rows, keeping the hair strong and less prone to fall out.
Several trial studies have shown that marine proteins reduce hair loss, promote vellus and terminal hair growth, and increase hair shaft diameter. Thus, protein treatments reduce hair loss, boost hair growth, and make the hair strong and healthy. (5)
Meanwhile, cholesterol hair treatments repair, restore, and moisturize damaged hair, giving it strength and enhancing its structure. It is also suggested to promote hair growth. (6)
Thus, cholesterol hair treatments strengthen the hair and promote hair growth.
Hair type
Protein hair treatments are usually safe for all hair types, but it's specifically beneficial for people with textured or highly porous, color-treated, damaged, or dry hair.
This treatment can also be done on fine hair to make it healthy and strong. Those with healthy and strong hair may not require protein hair treatment.
On the other hand, cholesterol hair treatments have been in use for several years for textured hair. People with coarse, thick, and dry hair benefit most from this treatment.
However, cholesterol hair treatments can weigh down fine hair; therefore, they should only be used on the ends of fine hair. People with heat or chemically damaged hair can opt for cholesterol treatments.
Side effects
Cholesterol hair treatments may not have any side effects. Salon-grade protein treatments, however, contain harsh and potent chemicals, such as formaldehyde, and when combined with heat, such treatments can make your hair dry out.
Cholesterol is a fatty oil-based treatment. It can be done quickly at home with unlikely side effects. However, its frequent use can weigh your hair down and make it greasy.
If you notice any itchiness, redness, or swelling, stop its usage immediately.
Frequency
The frequency of getting protein treatments depends on the product and your hair type. A general recommendation would be once or twice monthly. Use this treatment sparingly, as it can make your hair brittle.
In cholesterol hair treatment, your hair condition determines the frequency. Usually, you should get one to two cholesterol treatments monthly if your hair has frequent exposure to chemical treatments and heat styling tools.
Effect on damaged hair
People with heat or chemically damaged hair can benefit from protein treatments as they can restore healthy and natural hair.
According to experts, protein hydrolysates protect environmentally or chemically damaged hair, especially those with low molecular weight dispersal.
Experts also report that protein ingredients, such as silk amino acids and hydrolyzed wheat protein, attach to the hair follicle directly and harden the cuticle layer. They wrap a strand with a barrier and protect it from damage. (7)
Cholesterol treatments are excellent for repairing damaged, brittle, and dry hair from coloring and chemical treatment overuse. They also improve, restore, and moisturize damaged hair.
Duration
Protein treatments last a few weeks or months, based on how they're done. Salon professional or clinical treatments last up to 6 months. Home-based over-the-counter protein treatments last 4–8 weeks and deliver visible effects.
On the other hand, cholesterol hair treatments last for about 2 weeks, based on your hair wash frequency and type.
Protein Versus Cholesterol Hair Treatments: What You Should Choose?
Both protein and cholesterol hair treatments improve hair health and appearance but offer different advantages and effects.
Protein hair treatments (generally including keratin and cysteine) are chemical or over-the-counter treatments done by salon professionals to add protein to the hair.
In this treatment, hydrolyzed protein is put on the hair shaft to fill hair cuticle gaps, holes, and cracks to strengthen and enhance its elasticity and overall health. (4) It improves hair texture and makes it soft, healthy, and resilient with time.
Protein treatment is best for people with highly porous, dry, color-treated, and damaged hair. According to researchers, a single one-hour protein treatment can straighten curly strands effectively. (4) However, some side effects of protein treatments are headaches, nausea, allergic reactions, hair breakage, dryness, and split ends.
Thin and fine hair can benefit from added protein treatment as it prevents hair fall, loss, and baldness, making hair thick and strong. Thus, protein treatment is suitable for fine hair.
Cholesterol treatment has cholesterol-containing ingredients and nourishing oils that soften and moisturize the hair. People with heat-damaged and chemically damaged hair are great candidates for this treatment.
You can find cholesterol treatment products in the textured hair section of beauty stores, as they are designed for people with dry, coarse, and thick hair.
According to experts, people with highly coarse hair will benefit most from cholesterol hair treatments. Those with fine hair should use it in moderation as it can weigh down such a hair type.
Cholesterol hair treatments define, soften, and volumize hair. If used correctly and in moderation, this treatment has hardly any side effects.
How to Do a Protein Treatment
Protein treatment can either be done in the salon (chemically) or at home (naturally and botanically). Several options for at-home protein treatments include protein-containing hair products and hair masks.
Get expert consultation for protein deficiency in your hair, which could be mistaken as a lack of moisture.
Protein heat treatment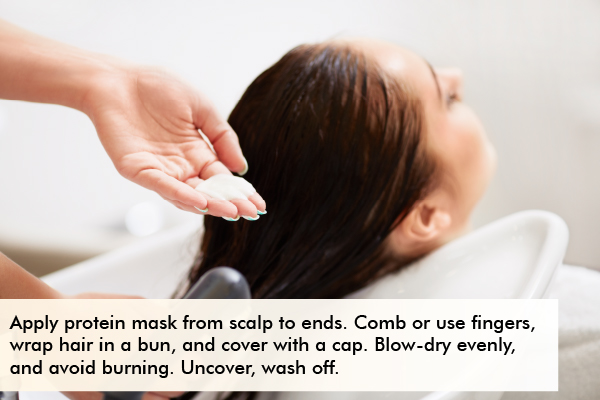 Here's how you can do a simple protein hair treatment.
Apply a protein mask treatment from the scalp to the ends.
Use a wide-toothed comb or your fingers to evenly distribute the product.
Wrap your hair into a bun and cover it using a shower cap. (Some treatments don't need covering your hair, so read the instructions carefully.)
Blow-dry (on low heat) around your head consistently to distribute heat evenly and prevent burning.
Remove the cap and wash it off. Follow the directions on the product, and shampoo and condition your hair accordingly.
DIY avocado and banana protein hair mask
Avocado contains fats (saturated, polyunsaturated, and monounsaturated), proteins, carbohydrates, sodium, and fibers, and it has low sodium levels. (8)
Banana is rich in potassium, natural oils, vitamins, and carbohydrates that can help maintain your hair's health and smoothness.
These ingredients add nourishment to the hair and prevent split ends and breakage. (9)
Follow these steps to do an avocado-banana hair treatment:
Take one avocado, a ripe banana, and 3 tbsp of your preferred oil (olive, almond, or coconut oil).
Cut both avocado and banana into pieces.
Transfer them into a blender and add the oil.
Blend at short intervals at low settings until the consistency of the paste turns smooth.
Apply this paste from your hair roots to the tips.
Let the mask sit for 30 minutes, and rinse it off with water.
How to Do a Cholesterol Hair Treatment
From creamy masks to hot oils to homemade DIY treatments, cholesterol treatments can be done in many ways.
Hot oil treatment
Follow these steps to do a hot oil treatment:
Directly apply cholesterol oil to your hair after shampooing.
Put on a shower cap for at least 1 minute.
Wash it off and follow up with a regular conditioner.
This treatment restores the hair's natural moisture.
Cholesterol deep-conditioning treatment
Follow these steps to do a cholesterol deep-conditioning treatment:
Shampoo your hair.
While your hair is still damp, apply the product.
Cover your hair with a shower cap. Use heat if needed.
Wash it off after 15–20 minutes.
You can leave the conditioner on your severely damaged hair for almost an hour. Although deep conditioning treatments contain olive oil, you can add more for better results.
This treatment makes your hair shiny, silky, and smooth.
Mayonnaise cholesterol hair treatment
Follow these steps to do a mayonnaise hair treatment at home:
Damp your hair.
Apply 1 cup of mayonnaise to your hair, starting from the scalp and toward the hair ends.
Massage your hair gently and outward from the roots.
Leave it on for at least 20 minutes.
Use a gentle, sulfate-free shampoo to wash it off thoroughly.
General Queries
Can I sleep with a cholesterol treatment in my hair?
You can leave hot oil treatments overnight. However, cholesterol masks and creams have a proper way of usage and they must be washed after 20–30 minutes.
Homemade cholesterol hair treatments using eggs and mayonnaise must not be left overnight as they could cause hair breakage.
What are some signs that my hair needs more protein?
If you have limp or stringy hair, your hair might need more protein. People with baby-fine hair need protein daily, whereas those with fine-medium hair texture may use a protein-based conditioner once or twice weekly or every other day. It is more than enough for hair strength, control, and structure.
Final Word
Both cholesterol and protein treatments have benefits for the hair. If your hair is textured, fine, porous, or damaged, go for a protein hair treatment. If your hair is coarse, dry, and thick, go for a cholesterol hair treatment.
However, both protein and cholesterol treatments have drawbacks. You may experience buildup from protein treatments, whereas you may experience greasy and weighed-down hair from cholesterol treatments.
The choice of treatment depends on your hair condition and type.