Has dandruff embarrassed you in front of others? If yes, you must know that dandruff is one of the most typical scalp conditions affecting many people globally.
It consists of white or yellow flakes of dead skin cells that cause scalp irritation and itching. It falls from the scalp on hair, clothes, and shoulders. (1)
Many people wonder if conditioner causes dandruff. According to the experts, the answer is no.
Conditioner is not directly involved in causing dandruff. However, how you use it may contribute to its development. Applying conditioner on the roots makes them oily and causes itching and flaking.
There are two types of dandruff: common (dry) and oily dandruff.
Dry dandruff is called pityriasis simplex capitis or pityriasis sicca, and it is the excessive formation of white-grayish thick scales on the scalp.
Oily dandruff, called pityriasis steatoides, is a form of dandruff arising on the skin of the scalp with different intensities of sebum production. It can be seen in young men (aged between 18 and 24 years) following puberty. (2)
Continue reading to learn if conditioner causes dandruff.
What Is a Conditioner and What Are Its Effects on Dandruff?
Conditioners are hair care products designed to protect, soften, moisturize, and detangle hair strands. (3) They contain silicones, oils, fatty alcohols, humectants, and proteins for locking moisture and coating the hair shafts. (4)
Conditioners have multiple effects on dandruff based on their type and usage:
Conditioners sometimes reduce dandruff by restoring the hair and scalp's natural pH balance.
Conditioners can clog pores, create buildup, and wash away antidandruff shampoo's active ingredient, causing and aggravating dandruff.
It is recommended to avoid conditioner application to the scalp, as it can lead to dandruff due to its heavy texture and can make your roots greasy and flat. It can further clog your hair follicles.
Applying conditioner to your hair length is the right way of using conditioner (5) to avoid such issues.
However, you can use some antidandruff leave-in conditioners and other products containing glycosaminoglycan, (6) ginger, (7) and neem to soothe your itchy scalp and eliminate dandruff. (7)
Remember to apply conditioner only to your hair lengths if your hair is frizzy and dry. Avoid scalp application.
When Do Conditioners Lead to Dandruff Issues?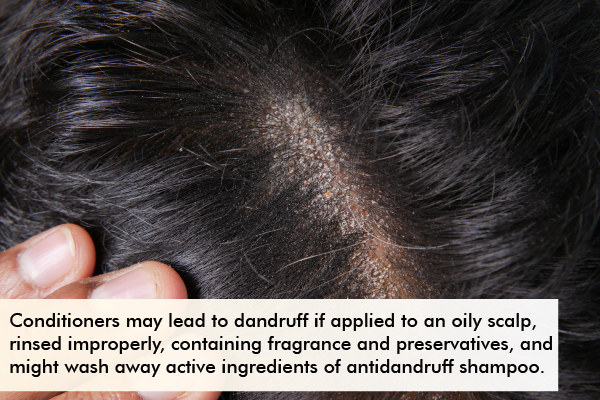 Conditioners may lead to dandruff in the following situations.
1. Conditioner can induce dandruff on oily scalp
The scalp is already oily, and the added oil from the conditioner can be a cause of dandruff. Experts reported that Malassezia (the yeast that causes dandruff) feeds on the oil secreted by the hair follicles and grows out of control. (2) Malassezia is the primary reason for dandruff. (8)
The texture of conditioners is slightly greasy, and when used in large quantities frequently, your scalp's oiliness will increase. The excess oil is trapped on the scalp and causes dandruff, giving your hair a greasy look.
2. Rinsing conditioner improperly can cause dandruff
Leaving the conditioner for longer or not rinsing it properly can clog scalp pores and prevent it from breathing and getting rid of dead skin cells. Such a scalp environment allows fungal growth and inflammation.
3. Conditioners wash away the active ingredients of antidandruff shampoo
Using conditioners that contain elements that wash away antidandruff shampoo's active ingredients is ineffective in treating dandruff.
Even your regular conditioners may have these washing-away elements, irritating your scalp and making it dry and flaky. Therefore, get a conditioner with a unique formulation that works with antidandruff shampoo.
4. The fragrance and preservatives in conditioners can lead to dandruff
Conditioners moisturize the hair, but if you experience itchy rashes on the scalp, you may be sensitive or allergic to an ingredient in the conditioner, (9) such as preservatives, dyes, or fragrances.
These irritation-causing ingredients induce contact dermatitis (an allergic reaction causing scalp scaling, itchiness, and redness), (10) leading to dandruff. Some allergic reactions are caused by fragrances that worsen dandruff.
Therefore, look for preservative-free and fragrance-free hair care products with natural scents of essential oils. Avoiding fragrance-containing conditioners reduces the risk of developing or worsening dandruff.
How Do Conditioners Help Reduce Dandruff?
Conditioners treat dandruff in the following ways.
1. Conditioners can treat dandruff in dry and frizzy hair
When the scalp oil is trapped and its flow to the hair tips is blocked, the hair can become curly and dry hair. Moreover, this leads to a heap trap that mixes dirt and sweat with the oil, allowing the exponential growth of dandruff-causing fungus, resulting in breakouts.
You can notice this situation when your scalp is extremely oily but your hair is dry.
Applying conditioners in such cases opens your strands and allows an easy flow of scalp oil to the hair tips. This brings your scalp back to its normal condition by restarting its natural ecosystem.
2. Conditioners can reduce sebum production
Conditioners prevent hair loss and scaling by reducing sebum production.
3. Conditioners can reduce scalp sensitivity
The anti-inflammatory properties of conditioners reduce scalp sensitivity by moisturizing the scalp and reducing flaking.
4. Conditioners reduce damage from styling tools
The anti-inflammatory properties of conditioners minimize damage caused by styling tools by moisturizing the scalp and reducing flaking.
Types of Conditioners That Reduce Dandruff
The following are the types of conditioners that help improve dandruff.
1. Leave-in conditioners
Leave-in conditioners that contain dandruff-fighting agents can help treat dandruff. Some conditioners also contain pyrithione zinc or salicylic acid and scalp-soothing ingredients.
Leave-in conditioner formulations that treat dandruff are widely available. They contain climbazole, ketoconazole, zinc pyrithione, or a combination of these. They have been shown to be effective in in vitro and controlled clinical trials.
However, there are multiple challenges faced by these formulations in reducing dandruff, and many people are left dissatisfied with the quality and extent of relief these formulations provide. (11)
2. Glycosaminoglycan-based conditioners
Glycosaminoglycans (GAGs) are proteins that occur naturally in the hair follicles and skin of mammals, including humans. (12)
GAGs are found in the hair shaft inside the hair follicle (13) and play a crucial role in the adhesion of Malassezia and C. albicans species to keratinocytes (the outermost skin layer and significant epidermis cell type). (6)
Thus, GAGs can treat dandruff.
3. Silicone-based conditioners
Silicone-based conditioners are excellent at eliminating itching and flaking, but they may cause buildup and make your hair stiff.
4. Ceramide-based conditioners
Ceramide-based conditioners contain ceramides (lipids found naturally in the skin) that hydrate the skin and decrease scalp scaling.
5. Ginger-based conditioners
Ginger is rich in essential oils and minerals that make the hair shiny, soft, and manageable. It relieves dry, itchy, and dandruff-prone scalp, and its antiseptic and anti-inflammatory properties keep the scalp clean and healthy. (7)
Thus, ginger is an excellent hair conditioner.
6. Neem-based conditioners
The regenerative properties of neem can cleanse the scalp and essentially treat dandruff. Neem rinses made from neem leaves can remove dandruff. (7)
Tips to Avoid Dandruff
Here's how you can avoid dandruff.
Choose a conditioner specially formulated for sensitive scalp or dandruff, such as those that contain antidandruff agents such as zinc pyrithione (14) and tea tree oil. (15) These agents disinfect and exfoliate the scalp and thereby hinder fungus growth.
Avoid conditioners that contain fragrances and harsh chemicals that may irritate or dry out your scalp. Look for hypoallergenic or natural conditioners without irritants or potential allergens. Moreover, do a patch test before using a new conditioner to look out for adverse reactions.
Apply conditioner to your hair lengths and avoid scalp application. This prevents follicle or pore clogging and adds oil to the scalp.
Thoroughly wash your hair with lukewarm water to remove the traces of conditioner after application. Doing so prevents hair and scalp buildup and dandruff.
Use conditioner in moderation when needed. There's no need to use conditioner after every hair wash. How often you use it depends on your hair condition and type. Apply it once or twice weekly or less.
Can Dandruff Go Away Permanently?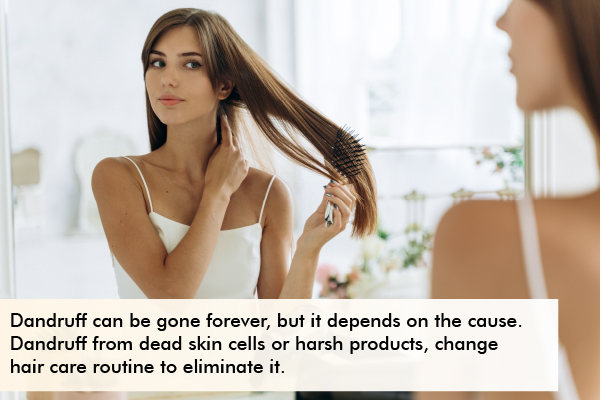 Yes, dandruff can vanish permanently. However, it also depends on the underlying cause of dandruff, such as fungal infections or other conditions that may require medical supervision for complete elimination.
If your dandruff is due to dead skin cell buildup or harsh product usage, you must change your hair care routine to eliminate dandruff forever.
Keep the following tips in mind to get rid of dandruff:
Use a gentle, anti-dandruff shampoo.
Avoid washing your hair with hot water.
Keep your scalp clean.
Stay away from hair styling products.
Final Word
Conditioners can be a best friend or an enemy for dandruff based on the kinds you use and how you use them. Conditioners can restore your hair's and scalp's natural balance or enhance the effects of antidandruff shampoo.
However, conditioners can also cause oil buildup on the scalp and wash away the active ingredients of anti-dandruff shampoo, causing dandruff.
Therefore, choose a conditioner best suited for your hair type and a conditioner that pairs well with your antidandruff shampoo. Apply it to the ends of your hair only and not to your scalp, and thoroughly rinse it off.
Remember to use conditioner in moderation to prevent overconditioning your scalp and hair. Following these tips will help you reap all the benefits of conditioners without worsening dandruff.
References

Borda LJ, Wikramanayake TC. Seborrheic dermatitis and Dandruff: A comprehensive review. Journal of clinical and investigative dermatology. December 2015. https://www.ncbi.nlm.nih.gov/pmc/articles/PMC4852869/.
Research Journal of Topical and Cosmetic Sciences. https://rjtcsonline.com/HTMLPaper.aspx?Journal=Research%20Journal%20of%20Topical%20and%20Cosmetic%20Sciences;PID=2019-10-1-4.
Review on hair problem and its solution – researchgate. https://www.researchgate.net/publication/342174156/.
Sheth P. Hair cosmetics. Indian Journal of Dermatology, Venereology and Leprology. August 31, 2013. https://ijdvl.com/hair-cosmetics/.
Tips for healthy hair. American Academy of Dermatology. https://www.aad.org/public/everyday-care/hair-scalp-care/hair/healthy-hair-tips.
Ordiales H; Vázquez-López F; Pevida M; Vázquez-Losada B; Vázquez F; Quirós LM; Martín C; Glycosaminoglycans are involved in the adhesion of candida albicans and Malassezia species to keratinocytes but not to dermal fibroblasts. Actas dermo-sifiliograficas. https://pubmed.ncbi.nlm.nih.gov/33609451/.
Pal RS, Saraswat N, Wal P, Wal A, Pal Y. Preparation & assessment of Poly-Herbal Anti-Dandruff formulation. The Open Dermatology Journal. https://opendermatologyjournal.com/VOLUME/14/PAGE/22/FULLTEXT/.
An overview of Dandruff and novel formulations as a treatment strategy. https://www.researchgate.net/publication/322931819/.
10 reasons your scalp itches and how to get relief. American Academy of Dermatology. https://www.aad.org/public/everyday-care/itchy-skin/itch-relief/relieve-scalp-itch.
Contact dermatitis – statpearls – NCBI bookshelf. https://www.ncbi.nlm.nih.gov/books/NBK459230/.
Sadhasivam S, Garkhal K, Singh H, et al. Newly developed Anti-Dandruff Regimen, VB-3222, delivers enhanced sensorial and effective therapeutic benefits against moderate adherent dandruff. Clinical, cosmetic and investigational dermatology. February 21, 2020. https://www.ncbi.nlm.nih.gov/pmc/articles/PMC7041436/.
Biochemistry, glycosaminoglycans – statpearls – NCBI bookshelf. https://www.ncbi.nlm.nih.gov/books/NBK544295/.
Maniatopoulou E, Bonovas S, Sitaras N. Isolation and quantification of glycosaminoglycans from human hair shaft. Annals of dermatology. October 2016. https://www.ncbi.nlm.nih.gov/pmc/articles/PMC5064180/.
Park M, Cho Y-J, Lee YW, Jung WH. Understanding the mechanism of action of the Anti-Dandruff Agent Zinc Pyrithione against Malassezia restricta. Nature News. August 14, 2018. https://www.nature.com/articles/s41598-018-30588-2.
Repositório da Produção USP. https://repositorio.usp.br/directbitstream/46e0b9d4-8bcc-43f6-81cb-8a7957b061e9/jocd.14286.pdf.