No, conditioners do not make your hair fall out, according to experts.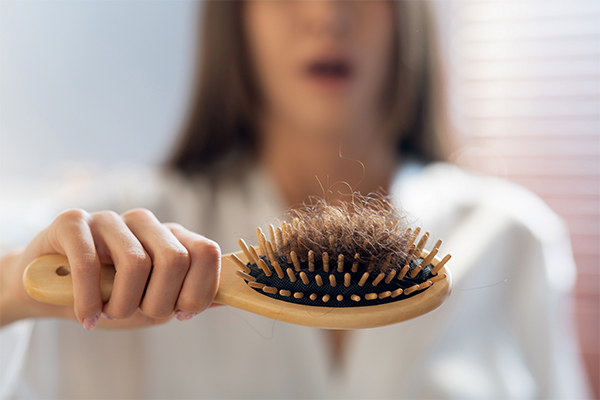 However, many people blame conditioners for hair fall and believe the conditioning process contributes to more hair fall when they notice hair shedding on their hands when washing off the conditioner. So, they try to avoid conditioning to protect their hair.
Conditioners are designed to reduce frizz and friction and detangle hair. They improve its combability by neutralizing free negative charges on the hair fibers. They deposit positive charges for interaction with negative ones and reduce the hair's static electricity.
Moreover, conditioners improve cuticle lubrication to lessen fiber hydrophilicity. (1) They protect the hair from breakage and damage. (2)
Experts advise not to apply conditioner to the scalp, only to the hair lengths and ends. (3) Additionally, conditioner must not be used in excessive amounts to avoid scalp buildup.
The buildup further mixes with scalp dirt and sebum, clogging the pores, which can damage the hair severely and cause hair loss.
Read further to explore the facts and myths about conditioners and some tips for correctly using them.
Reasons You Notice Hair Fall When Hair Conditioning
When you shampoo your hair, the warm water swells up the cuticle. Shampooing also cleanses your scalp and hair of products and natural oils, leaving hair squeaky clean and creating friction between individual strands.
Massaging your scalp while shampooing sheds your hair naturally (releases hair from the follicle), and this hair shedding occurs daily.
Your clean hair shaft allows friction between the strands, and they don't slide out naturally, with rinsing or on their own.
But when you apply conditioner, it closes your hair shaft's cuticle (as conditioners are slightly acidic) and forms layers of moisturizers and emollients. Conditioning smoothens the hair-to-hair surface, allowing previously loosened hair to slide out and go down the drain.
Benefits of Using Hair Conditioner
Hair conditioning is the backbone of a hair care routine. Conditioners form a protective coating on your cuticle and refortify it, preventing hair breakage and promoting hair growth.
Experts claim that using conditioners doesn't lead to hair loss. By contrast, conditioners nourish, moisturize, and protect your hair, promoting healthy growth.
Additionally, conditioners can help your hair in the following ways.
Note: According to the experts, it is normal for 50–100 hair strands to shed daily. (4)
1. Improving combability
Conditioners detangle the hair, reduce friction, (1) and enhance hair combability by neutralizing charges, (1) making the hair easy to comb (5) and style without pulling or breaking it. (3)
2. Sealing the cuticle
The environmental factors damage the cuticle (outer lining) until it eventually breaks. Conditioners protect the cuticle by filling in those damages and shielding the strands. (2)
Moreover, conditioners prevent moisture loss and damage from environmental stressors, such as the sun, heat, and pollution.
3. Decreasing split ends
Split ends mean fraying or splitting of distal hair shaft due to mechanical and heat stresses. (6)
Conditioners can temporarily repair split ends (trichoptilosis) due to their protein-derived substances. (7) Thus, conditioners can reduce split ends.
Anti-hair loss conditioners are available, which, according to the experts, contain deep-conditioning agents that seal the frayed or split ends and reduce brittleness and damage, thereby controlling hair fall. (8)
4. Minimizing frizz and static
Conditioners minimize frizz (9) and friction, lubricate and detangle the hair, reduce static electricity in the hair, (1) and improve compatibility. (3)
5. Enhancing smoothness and shine
Conditioners smoothen the hair surface and reflect light, making the hair appear soft and glossy. (9)(10)
How to Use a Conditioner?
Follow these steps to apply conditioner:
Wash your hair with shampoo and gently towel-dry it.
Apply conditioner to your hair lengths. Avoid the scalp and roots. (3)
Leave it on for at least 5 minutes.
Thoroughly wash off the conditioner from your hair. (3)
You can leave deep conditioners on your hair for longer durations, such as 20–30 minutes. (7) There's no need to rinse off leave-in conditioners; you can leave them on your hair. (3)
Tips and Tricks to Use a Hair Conditioner Properly
Follow these tips to reap the benefits of conditioners and keep your hair out of harm's way:
1. Pick a conditioner suitable for your hair type and needs
Different conditioners are formulated for different hair types (straight, curly, oily, dry, damaged, or colored). Choose the one that suits your hair needs and type and addresses your concerns.
For instance, use a leave-in conditioner for fine hair. (8) Use deep conditioner for dry and damaged hair. (11) Use a regular conditioner for wavy or dry hair.
2. Apply conditioner only to the lower two-thirds of your hair
Avoid conditioner application to your roots and scalp, (3) as it can clog your pores and make your scalp oily. Instead, apply conditioner to your hair's mid-lengths and ends, where it is needed most.
3. Use conditioner in small, coin-sized amounts
Too much conditioner can make your hair heavy, weigh it down, and result in scalp buildup. Therefore, use conditioner in small amounts for medium-length hair.
You can adjust the quantity based on your hair thickness and length.
4. Emulsify the conditioner before application
Rub the conditioner between your palms before applying it to your hair for equal distribution to each strand. This prevents patches and clumps.
5. Leave it on for a few minutes
Let the conditioner sit on your hair for a few minutes, and then wash it off. Doing so allows product penetration into the hair shaft to deliver its benefits.
6. Wash off the conditioner thoroughly
Use lukewarm water to remove all traces of conditioner to prevent scalp or hair buildup and steer clear of issues such as dandruff, itchiness, and dullness.
General Queries
Can I use a conditioner without shampoo?
Yes, you can use a conditioner without shampoo to wash your hair. This process is known as cowashing or conditioner washing, where you cleanse your hair with a conditioner.
This method was intended for people with naturally textured or curly hair. However, it has broadened to include many sensitive hair types. (12)
What happens if I don't wash off the conditioner from my hair?
Not washing the conditioner off your hair weighs it down. Therefore, it is important to wash off the conditioner properly. Additionally, there are specially formulated leave-in conditioners that you don't have to rinse off.
What are the side effects of using conditioners on my hair?
Although regular conditioner usage is mainly safe, a few adverse effects may occur in some people. Conditioners with high pH levels (above 5.5) may damage the hair and irritate the scalp. (7)
Final Word
Your hair care routine is incomplete without a conditioner, which improves your hair's health and appearance. It strengthens, protects, and moisturizes your hair and prevents hair loss.
Therefore, it is crucial to choose a conditioner that works for your hair needs and type and to learn its correct usage. Following the tips above will help you reap all the benefits conditioners have to offer.